The Journal As A Starting Place
Journal writing is an ideal way to express and develop ideas, emotions and creativity as well as a way to heal the self, discover hidden abilities and desires—and, of course, deal with life's realities. Writers often use journals to work out ideas, to sketch out characters, capture memories and describe settings. Being at Rancho La Puerta with a notebook is the perfect time to begin a journal practice or resume one that you might have left behind. The journal you keep will be a treasure trove of pieces to develop further in memoirs, non-fiction, fiction and all of your writing.
Three Journal Writing Workshops. All of them are hands-on writing experiences:
The List of 100 Desires
An exploration of the ways in which list-making can be an effective tool for writing.
Dialogue with the Self
An examination of why and how writing dialogues can unleash powerful insights and effects in writing.
Right Brain/Left Brain Collision
A journey into the ways external stimuli can be used to uncover new realizations and empower storytelling.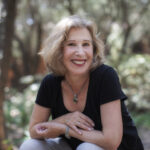 Rita D. Jacobs, Ph.D., is the author of The Way In: Journal Writing for Self-Discovery; Tommy: The Musical; A Day in the Life of America and A Day in the Life of Canada. She is a widely published journalist and book reviewer whose articles have appeared in The New York Times, The Los Angeles Times, PARADE Magazine, Diversion, Frequent Flyer, Glamour, SELF and GRAPHIS. She is Professor Emerita of English at Montclair State University and in the past twenty years she has taught workshops in journal writing nationally and internationally, often in Eastern Europe.  In fall 2012, Random House commissioned Rita Jacobs to write 20 columns titled, "From Journal to Memoir" which are available on her website. She is a judge for the National Jewish Book Awards and is currently developing a journal writing app for tween girls to promote introspection and combat bullying. On the Web: ritadjacobs.com