"Transformation" – the act or process of changing completely
How do people transform? – In this series we will experience the stories of those undertaking an epic pilgrimage as well as the other side of the coin: stories of incarcerated men, determined to become a force for good.
Walking the Camino: Six Ways to Santiago – Screening and Q&A
American's fascination with the Camino is exploding; eight times more Americans walked it in 2019 than a decade ago. "Walking the Camino" journeys into the hearts and minds of six modern-day pilgrims, ages 3 to 73, as they each face and triumph over their doubts and fears while they attempt to cross an entire country on foot. This award-winning film played at over 25 film festivals, was the #12 documentary in theaters in the US and Canada and had over 1.2 million viewers on PBS garnering a 90% Rotten Tomatoes rating.
Camino 101
Why are a half a million people walking the Camino de Santiago each year? Lydia will give you a brief history and overview of the Camino giving you a better sense if it's something you are called to do for your own personal transformation.   After walking more than 2000 miles on Camino trails, Lydia has plenty of tips and techniques for a successful and fulfilling pilgrimage as well.
Transformation Inside Prison
Have you ever wondered what it takes to truly transform yourself – literally from A to Z? Join award winning filmmaker Lydia B. Smith as she takes you on a journey of convicted criminals that have turned around their lives and become inspiring, accomplished peacemakers, hospice volunteers and spiritual leaders. Lydia will share clips from her new film, "Blooming Where Planted: A Quest for Hope and Humanity Behind Bars."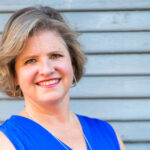 Lydia B. Smith has been a filmmaker for more than three decades– both in the camera department on films such as Ed Wood and Matilda as well as a producer and/or director on documentaries. Her last film, Walking the Camino: Six Ways to Santiago was a worldwide hit, with a 90% Rotten Tomatoes rating and over 1.2 million viewers on PBS