Beginner 'Ukulele Class-
This class is designed for beginners to the 'ukulele, a small, four-stringed instrument. In this one-hour class, you'll learn how to hold and play the instrument, as well as all the elements necessary to play a simple song. No prior musical experience is needed. This class will be limited to 9 people. Sign up in Main Lounge. 'Ukuleles will be provided. Come have an hour of fun that will exercise your hands and brain.
Intermediate 'Ukulele Class
This class is designed for people who have had some experience playing the 'ukulele and know at least four basic chords. In this one-hour class, you'll learn a strumming pattern that is applicable to many kinds of music and we'll apply that strum to at least one song during the class. This class will be limited to 9 people.  Sign up in Lounge. If you take one of the Beginner 'Ukulele Classes earlier in the week, you may also sign up for this class if you'd like to learn even more before week's end.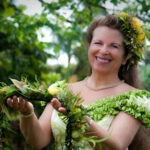 An award-winning singer/songwriter, with three albums on Columbia and Epic as well as two more independently released albums to her credit, Pamela Polland's ever increasing list of musical credentials reads like a veritable Who's Who of artists from all points on the musical compass. Over 50 years in the music business, this seasoned professional has both performed and recorded with such luminaries as Bonnie Raitt, Kenny Loggins, Jackson Browne, Van Morrison, Ry Cooder, Taj Mahal, John Denver, and a host of others. In 1970, Pamela joined the famed Mad Dogs & Englishmen Tour with Joe Cocker and Leon Russell, appearing on the resulting album as well as in the movie. Her songs have been recorded by, among others, Linda Ronstadt, Helen Reddy, The Byrds, Anita Carter and Bobby Bare. Pamela has also won numerous awards including 2 coveted gold records. After decades of success as performer, recording artist, composer and vocal coach, Pamela shifted focus to her life-long love of the Hawaiian culture. Living on Maui, she has studied 'ukulele and Hawaiian music with Hall of Fame recipient Kahauanu Lake and Walter Kawai'ae'a, as well as the study of hula and Hawaiian language. Pamela brings all her decades of experience and expertise to her online vocal and 'ukulele lessons, and is delighted to share her love of the 'ukulele at Ranch La Puerta.