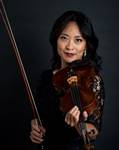 Pei-Chun Tsai, from Tainan, Taiwan, is two-time first-prize winner of the Taiwan National Violin Competition. She has performed in Carnegie Weill Recital Hall, Alice Tully Hall at Lincoln Center and the National Concert Hall in Taiwan. Pei-Chun has participated in many music festivals in the United States and Europe. After receiving Bachelor and Master's degrees in violin performance from The Juilliard School, she completed her Doctorate in Musical Arts from the City University of New York.         Pei-Chun is the founder and director of the Campanile Music Festival at San Diego State University where she curates innovative residencies of visiting artists from across the country. Recent guests include the Formosa Quartet and Brooklyn Rider. Pei-Chun has been a member of the San Diego Symphony since 2006. As a violin lecturer at San Diego State University, Pei-Chun performs with the San Diego State University Chamber orchestra regularly. She has recently released her solo violin album "Chaconnes" which you can find on Apple Music or Spotify.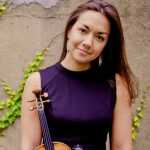 Noted by The New York Times for giving "the proceedings an invaluable central thread of integrity and stylishness" and having "played with soulful flair," violinist Ariana Kim made her New York recital debut at Carnegie's Weill Hall during her graduate studies at Juilliard and is now a tenured professor at Cornell University.  Together with the Aizuri Quartet, she was awarded the Gold Medal at the 2017 Osaka International Competition, the 2018 M-Prize, and a 2019 GRAMMY® nomination for their debut album, Blueprinting.  At 16, Ariana made her debut with the St. Paul Chamber Orchestra and at 24 was appointed acting concertmaster of the Louisiana Philharmonic in New Orleans and has since become one of the most respected artists of her generation.
A recipient of a Cornell University Affinito-Stewart Faculty Grant and a Society for the Humanities Grant, Ariana released her first solo album Routes of Evanescence in December of 2015. While on sabbatic leave from Cornell in 2016, Ariana lived and worked in Italy, teaching at l'Istituto Stradivari, performing with Milano Classica, and curating a cultural diplomacy public art project involving the Cornell Composition Department, the Cornell Architecture Department, and a group of North African and Mid-East refugees.  She performed two solo recital tours in Northern and Central Italy featuring works from J.S. Bach to Elliott Carter to bluegrass fiddle tunes; she is set to return to her "home away from home" this coming summer for a solo appearance with Milano Classica at the Paesaggi Musicali Toscani – a festival for which she became the newly appointed Co-Artistic Director in August 2019.
Ariana received her masters and doctorate from the Juilliard School under the tutelage of the late Robert Mann, her undergraduate degree from the San Francisco Conservatory with Ian Swensen and Camilla Wicks, and usually co-resides in Ithaca and New York City.  During the 2021 calendar year, she lived and worked in Seoul, South Korea studying ancient traditional Korean instruments and music, teaching as a visiting artist at Seoul National University, and rock-climbing many mountains.