Whether you are a beginner or you want to improve your walking workouts, do a marathon or small charity races, join me for technique drills and different ways to change up your daily walking routine for better musculature recruitment (which equals more calories burned!). There is more to good walking than simply putting one foot in front of the other. Learning to use good walking posture will help you breathe deeper, relax your shoulders and neck, and avoid back and hip pain. This week we will learn proper walking form: posture, foot motion stride and use of arm motion.  Regardless of your walking experience, make a difference in your walking speed and ability to walk energetically, increase speed and stamina, and make your walks more enjoyable.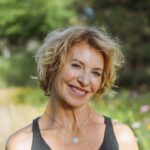 Conni Ramsey brings over 25 years of experience as a fitness walker to her practice, having completed several marathons (all under six hours) and shorter races. Whether it be hiking the Tetons, Cascade mountains, Dolomites in Italy or the coastal mountain range here at Rancho La Puerta, Conni will teach you what it takes to be a true walker.
Conni has been part of the Rancho La Puerta fitness staff since 1988, teaching Pilates from its beginnings in the early 90's, as well as teaching the walking program during that time.
Come out and have fun while learning more about fitness walking!