Stephanie Davis facilitates a panel with:
Terrica Ganzy, Executive Director of the Southern Center for Human Rights,
Atteeyah Hollie, Deputy Director of the Southern Center for Human Rights,
Taina Bien-Aime, Executive Director of the Coalition Against Trafficking in Women.
This panel of activists, facilitated by a long-time RLP guest, will discuss the discriminatory treatment of Black women who get caught up in the criminal justice system and those who are specifically criminalized due to their exploitation in the sex trade. Through strength and resilience, many of these women survive and thrive in a society that has historically marginalized and punished them. We will look at solutions to current conditions and explore policies to ameliorate the ways women are targeted.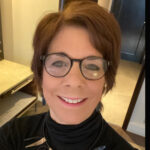 Stephanie Davis has been a guest of the Ranch for twenty years and is also a fractional owner of The Residences, and this place of respite has kept her in the fight for women's rights and social justice. She is the Chair of the Board of Motherhood Beyond Bars based in Atlanta, Georgia and serves on the boards of the Southern Center for Human Rights and, recently, the Coalition for Trafficking in Women. Her career included being the founding director of the Atlanta Women's Foundation, the Policy Advisor on Women's Issues to Mayor Shirley Franklin, the director of Georgia Women for a Change which passed model legislation on human trafficking, made the pimping of children a felony and raised the age of marriage in Georgia.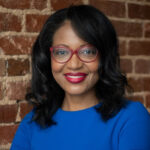 Terrica Redfield Ganzy is Executive Director of the Southern Center for Human Rights' (SCHR), where she leads the SCHR team in carrying out its mission to dramatically transform the criminal legal system through direct representation, impact litigation, policy advocacy, and public education.  Prior to becoming SCHR's Executive Director, Terrica served in several different roles at SCHR, most recently as Deputy Director, helping to coordinate SCHR's strategy and programs. Terrica also served as SCHR's development director, designing and leading SCHR's development strategy and building strategic partnerships. For nine years, Terrica served as a Staff Attorney in SCHR's Capital Litigation Unit, where her work focused on representing clients on death row in Georgia and Alabama. For five years, she also served as the National Association of Criminal Defense Lawyers (NACDL) Death Penalty Resource Counsel, providing training and resources to capital defense attorneys throughout the nation. Terrica received her J.D. from the University of Virginia School of Law and an LL.M. in trial advocacy from Temple University Beasley School of Law. She received a B.A. in English and Humanities, summa cum laude, from Tougaloo College. She received a Certificate in Nonprofit Management and Social Enterprise from Georgia State University's Andrew Young School of Public Policy. She is admitted to practice law in North Carolina, Alabama, Georgia, the Georgia Court of Appeals, the Supreme Court of Georgia, and the United States Supreme Court.  Terrica is a member of Leadership Atlanta Class of 2022, a graduate of Leadership Clayton, a member of the 2015 Class of the Georgia Center for Nonprofits' High Potential Diverse Leaders, a 2014 New Leaders Council Fellow, and a graduate of Georgia's WIN List's Leadership Academy. She serves as Vice-President of the Center for Death Penalty Litigation's Board of Directors and as President of the Georgia Association of Black Women Attorneys' (GABWA). Terrica also serves on the State Bar of Georgia's Professionalism Committee and as a member of the State Bar's Seeking Equal Justice and Addressing Racism and Racial Bias Committee. She is also a member of the Judicial Council of Georgia's Access to Justice Committee.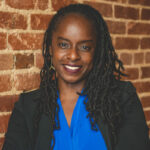 Atteeyah Hollie is the Southern Center for Human Rights' (SCHR) Deputy Director. She formerly served as a Senior Attorney and more recently Managing Attorney in SCHR's Impact Litigation Unit (ILU). Atteeyah originally joined SCHR as an Investigator in the ILU for four years before returning in 2010 as an attorney. Atteeyah has litigated cases challenging the denial of the right to counsel for poor Georgians, illegally closed courtrooms, wealth-based detention, inhumane prison conditions, and the denial of utility services because of court debt. In addition, Atteeyah, along with Managing Attorney Patrick Mulvaney, has spearheaded SCHR's efforts to end extreme sentencing in Georgia. Atteeyah is a 2010 graduate of Gideon's Promise and currently assists the organization with training public defenders. She was named a 2017 "On the Rise" Georgia lawyer by the Fulton County Daily Report. She received her B.A. in History from Dartmouth College in 2002, graduated from the University of California, Berkeley School of Law in 2010. Atteeyah is grateful to call Otis and Clive Stone her sons, and Nate Stone her loving husband.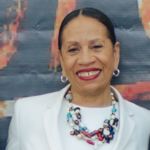 Taina Bien-Aimé has three decades of experience defending the rights of women and girls at the national and global levels. She is currently the Executive Director of the Coalition Against Trafficking in Women (CATW), one of the oldest international organizations dedicated to ending trafficking in women and girls and commercial sexual exploitation as practices of gender-based violence and discrimination. Prior to her position at CATW and for twenty years, Taina was involved with Equality Now, a global organization working to promote the human rights of women and girls, first as a founding Board member and subsequently as its Executive Director for ten years. She was also a Director of Business Affairs at Home Box Office and practiced international corporate law at the Wall Street law firm, Cleary Gottlieb Steen & Hamilton. Taina holds a Juris Doctor from the NYU School of Law and a degree in Political Science from the University of Geneva/Graduate School of International Studies in Switzerland. Taina has extensive media experience and was honored with a number of awards for her campaigns to secure equality for women and girls globally, among which being listed on the 2021 Forbes' inaugural of 50>50 Women Who Have Made a Social Impact. Earlier this year, she was pinned with the Knight of the Legion of Honor Medal, the highest distinction bestowed by the Government of France in recognition of civilian merit.