Yoga One Mixed Levels Flow classes synchronize strength, flexibility and skillful movement with breath and present moment awareness. Enjoy moving and breathing in unique, thoughtful sequences which vary by class and typically include sun salutations, standing, seated and reclined poses. Inversions and arm balances may be taught with detailed stages for each level of student. Mindfulness within and between the poses is encouraged throughout the practice.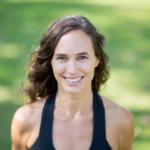 About Yoga One and co-founder / owner Amy Caldwell:
In 1997 co-founders Amy & Michael Caldwell quit their jobs in the Hollywood music business to explore different cultures and philosophies. They backpacked around the world for three and a half years and visited 15 countries. While picking apples in Australia to earn extra travel money, the couple discovered the joys and benefits of yoga.The Caldwells got more serious about their yoga practice – eventually studying in India with some of the country's top yoga masters, sometimes as much as 4 hours per day. Upon moving to San Diego, Amy led donation-based classes in Balboa Park. When winter came she moved inside and Yoga One was born.Since 2002 award-winning Yoga One has helped thousands of San Diego residents, visitors, businesses and schools enjoy healthier and happier lives. In 2007 Amy and renowned Los Angeles-based instructor Diana Beardsley led the first Yoga One Teacher Training (at that time just a 100-hour course). Amy was also featured on the cover of Yoga Journal twice. The Yoga One CD, which includes Thievery Corporation, Bliss and Zero 7, was released by Quango Music group. In recent years Yoga One has been voted "Best Yoga Studio" at least 10 times including last month in City Voters A-List. Amy created the best-selling iYoga Premium app in conjunction with 3D4 Medical, she co-taught the Yoga for Hope class at Petco Park and led the first ever yoga class aboard the historic USS Midway with approximately 800 yogis in attendance.Amy and Michael are so thankful for the practice of yoga in their lives and feel extremely blessed to share it with others. Each day they continue learning with each other, their Yoga One family, and their wonderful children Raya and Myles.
Amy Caldwell (E-RYT 500) has dedicated herself to the practice, study and teaching of yoga since discovering its joys and benefits in 1997 while backpacking throughout Asia, Australia, and parts of Europe. She trained in the disciplines of Ashtanga (Tim Miller, BNS Iyengar), Sivananda (Swami Sivanand, India), Iyengar (Roger Cole, Jo Zukovich, Aman Keays) and Anusara (Diana Beardsley) combining elements of these styles into a dynamic and inspiring alignment-based flow. She and her loving husband Michael have studied Vipassana meditation and incorporate its teachings of awareness into Yoga One and life with their two children.