Walk a mile
Then walk two
Let me walk there in your shoes
What you do and who you are
As you come from near and far
Should I nod, say hello
Or would you rather be alone
Or with your friends and not with me
On day one of Rancho week
Many answers we will seek
Peeking in our deeper selves
Worries left on hidden shelves
Somewhere we can't touch or feel
Things that don't ring pure and real
Dare a word of friendliness or silliness
Share a laugh that lets in light
Floating up to mountain heights
Sites of wild things, hot and mild things
On our plates and in our eyes
By day three or four or more
We dare explore
As strangers start to warm their hearts
Being part of something new
Someone from a different walk
Perhaps we talk or maybe pray
Silently breathe in the day
With flowers, trees and grazing deer
We might find we're drawing nearer
Maybe touch an arm or hand
As we pass on rocky hills
Are you a friend or stranger still
Maybe somewhere in between
As green surrounds us weaving grace
Memories of each new face
With smiling eyes from here and there
We are blessed, we're Rancho guests
Strangers before, strangers no more
One sun warms us all in this sacred place
Becky Mello, May 2022
Rancho La Puerta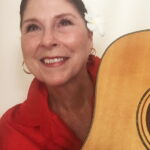 A Rancho La Puerta visitor for over a decade, Becky Mello is a Kailua Kona, Hawaii resident. Becky's musical history started at age 5 with a crowd-pleasing rendition of "I'm a Little Teapot" at a local civic club in her hometown of Fresno, California. In her teen years, Becky was crowned Miss Fresno County, won the talent portion of the state event, and was 2nd runner-up to Miss California in the Miss America Pageant.
In 1975 Becky launched a full-time music career in Hawaii, landing a spot on the prestigious Home Grown Album #2 with her original "Kona Country Song." Her album of original songs received numerous Na Hoku Hanohano Award nominations (Hawaii's Grammy), including best new artist, best female vocalist and best album of the year. Becky and her BMello Band headlined at the Waikiki Sheraton in Honolulu.
After working in sales, marketing and management for two large companies, Becky retired to Hawaii in 2015 and is now writing and singing again. Becky's music is inspired by the beauty of nature and matters of the heart. With a definite country flare, Becky is influenced by old-time country classics and generations of country rockers.