From our Hands-On Cooking Class, with Visiting Chef Nani Steele!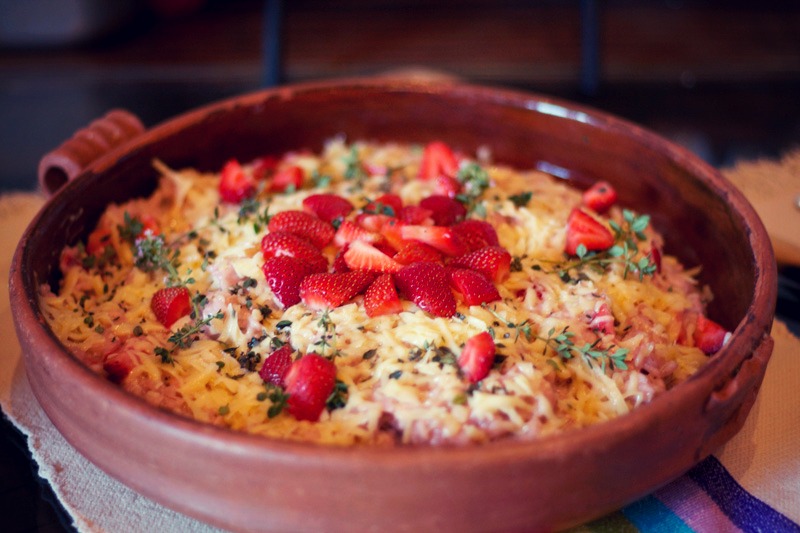 Inspired by a book of summer recipes from Italy, this savory strawberry risotto is surprisingly delicious, not at all cloying as one might suspect. The berries impart a pleasant tannic quality, as in wine-like, staining the risotto a pale rose color. Rice is traditional, but this is also delicious made with farro, an ancient wheat grain popular in Italy.
Recipe Serves 4
Ingredients:
1 tablespoon olive oil

1 tablespoon butter
1 small white onion
1 ¼ cups arborio rice or farro
2 to 3 teaspoons fresh lemon thyme leaves, plus more for garnish
Salt
1 cup white wine
1 ¼ cups strawberries, plus more for garnish
4 cups light chicken or vegetable stock or water, kept at a simmer
1/3 cup crème fraîche
Finely grated zest of 1 lemon
Grana Padano cheese, for grating
Directions:
Heat the olive oil and butter in a medium skillet.

Stir in the onion and sauté until softened, about 5 minutes.

Stir in the rice, thyme, and a pinch of salt and cook for 1 minute; add the wine and half the berries.

Cook until the wine is almost evaporated.

Gradually add ½ cup simmering stock, stirring until the stock is fully incorporated.
Repeat with the remaining stock, 1/2 cup at a time, cooking until the rice is al dente, about 30 minutes overall.
Add the crème fraîche and lemon zest towards the end, stirring vigorously until incorporated and the rice is creamy.
Stir in the remaining strawberries and cook for 1 minute.
Season to taste with more salt and freshly ground black pepper, as needed.
Divide the risotto among 4 bowls and grate cheese over each serving.
Garnish each with a few fresh berries, if desired, and a bit more fresh thyme to finish.
Nani Steele is one of our featured guests during our Culinary Week, La Fiesta De La Cocina Que Canta, during September 28 – October 5, 2013, along with other celebrated chefs Deborah Madison, John Ash and Marie Simmons!
You can read more about Chef Nani Steele's cooking class at The Ranch here…