The real gift of gratitude is that the more grateful you are, the more present you become.
-Robert Holden
I love feeling and expressing gratitude!
It is one of my favorite gifts of the human experience. November is often associated with gratitude as it ties in so much with the celebration of Thanksgiving in the United States. Families gather to give thanks for the bounty they have received throughout the year. Many families ask each person around the table to say one thing they are grateful for this year as a Thanksgiving tradition.
This practice of sharing is a great time to create connection and celebrate with each guest. Yet sometimes, the practice of sharing something you are thankful for can feel flat and rote. Over time, keeping a gratitude journal or creating a list each day of what you are grateful for can lose its luster.
How can you create a super-charged experience of gratitude in your life?
It begins by understanding what gratitude is. We all learned some version of gratitude in our youth as an expression of thankfulness. For example, we were encouraged to say "thank you" when receiving a gift or favor.
In my experience, gratitude can expand beyond thankfulness and lift us into higher realms of love and joy.
Gratitude is experienced in a confluence of many energies. It is the experience of giving and receiving love, feeling joy, and being vulnerable to yourself. It stretches into an element of surrendering to happiness and receiving the bounty around us. Expressing and experiencing gratitude is an emotional experience. It is filled with intensity in the present moment.
Here is how you can experience gratitude on a deeper level:
Step one: Come into the present moment. Take a deep breath and place your hand on your heart.
Step Two; Look around you. What do you see? Are you in your home surrounded by things you enjoy? Beloved people? Pets you adore? Begin by feeling thankfulness for these people and things. Next, include yourself; what are you thankful for in yourself?
Step Three: Take another breath and allow yourself to feel love for what/who you see. What gifts do you receive from their presence in your life?
Step Four: Allow yourself to fully experience joy in this moment. A bit of wonder and awe at the beauty in your life.
Step Five: Breathe again and see if you can surrender into more happiness, allowing and receiving the gifts you have been given.
This process can be a powerful experience, often bringing tears of joy and wonder.
It can take some practice to allow yourself to powerfully FEEL gratitude.
Watch for any stories you tell yourself about feeling foolish or arrogant to feel so strongly about things you have in your life. Your inner critic puts these obstacles in your way to block experiences that open your heart and make you feel vulnerable.
If these thoughts show up, let yourself know you are safe and learning something new. Then, as much as you are able, keep leaning into that feeling of thankfulness.
"Like attracts like". Therefore, the more gratitude you feel, the more you will have to feel grateful.
Here are some ideas for cultivating a practice of gratitude:
Develop a practice of taking a moment to feel grateful each day.
Keep a gratitude journal and slow down to feel gratitude for what you have journaled about.
Set up a gratitude "buddy" and schedule regular conversations to share your gratitude with each other.
Infuse your holiday celebrations with expressions of gratitude, encouraging others to go deeper with their thankfulness. For example, when a loved one says "I am grateful for my family." Ask them what they are specifically grateful for, like their kindness, sense of humor, or love they share.
My next visit to The Ranch is soon. I am grateful for the beautiful, lush land of Rancho La Puerta. As I open to feel into the gift that Rancho La Puerta is to me, I am present in my gratitude to Deborah and the Professor for their vision and inspiration. I feel deep gratitude to Sara Livia for the love, skill, and beauty she pours into the landscaping and keeping the vision of The Ranch alive. I sense the dining staff and chefs and am grateful for their care and attention in preparing healthy meals. I begin to feel joy bubbling up inside of me as I imagine the fitness trainers and their joy in teaching us in each class. I surrender to receiving the gentleness and tenderness waiting for me from the healers and practitioners at the Spa. And I am open to receiving the warm embrace of excellent service from the staff that works behind the scenes to make The Ranch experience so superb.
I am grateful for you, The Ranch guests, who attend my inner fitness talks and bring yourselves vulnerably and fully. You are a gift to me in your honesty and realness.
Wishing you a joyous season of Gratitude!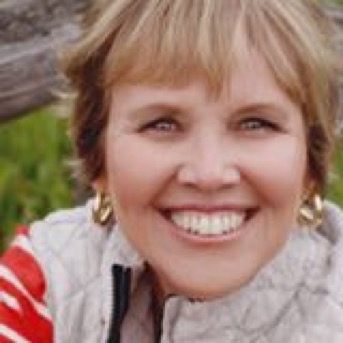 Jeanine Mancusi, CPCC LMCC, is a Certified Professional and Personal Life Coach based in the mountains of Northern California. She has been coaching clients and training coaches since 1997. She supports her clients to come into deep self-acceptance with self-love and live rich, satisfying lives that best express their true gifts and their unique Soul's calling.