Fran Costigan, culinary instructor, cookbook author, pastry chef, consultant, and the director of Vegan Pastry at Rouxbe cooking school, is internationally renowned as the authority on vegan desserts. Her vegan desserts are a highlight when she teaches at The Ranch's cooking school, La Cocina Que Canta.
Strawberry Shortcakes
The Lemon Scented Cream and Drop Biscuits are stand-alone recipes to use in many ways.
But for an unbelievable Strawberry Shortcake Dessert, follow the Game Plan below, assemble and serve proudly. No one will know these are vegan unless you tell.
Game Plan
Preheat the oven to 450°F.
Make the cream and keep it refrigerated.
Prepare the strawberries.
Make and bake the drop biscuits.
Assemble the shortcakes before serving: cut each biscuit in half using a serrated knife. Spoon on some of the cream and berries.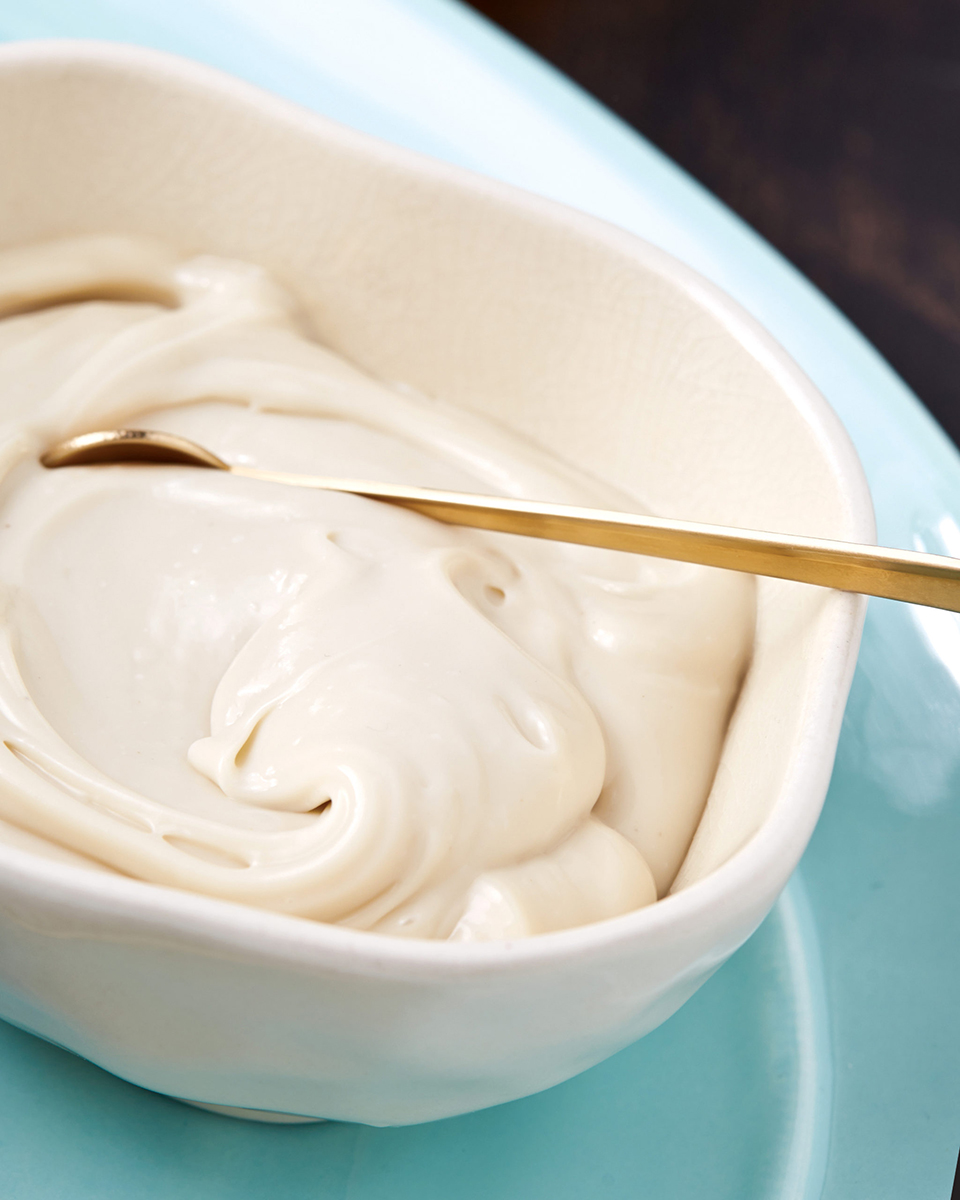 Lemon-Scented Cream
A couple of spoons of the luscious, silken lemon-kissed cream turns a simple dessert into a fancy one. Simply made in a blender from a base of heart-healthy cashews, the cream freezes beautifully too. Spoon a tablespoon over fresh fruit, pudding, gelled desserts or turn a drop biscuit into a fruit shortcake.
Makes: 1 1/3 cups
Ingredients
1 cup (5 ounces) raw cashews, rinsed, soak 4 hours to overnight
1 cup canned full-fat unsweetened coconut milk, mixed thoroughly (do not use light)
6 tablespoons organic cane sugar
1 tablespoon (1/2 ounce) mild-tasting extra-virgin olive oil or any neutral oil
1/8 teaspoon fine sea salt
Seeds from a vanilla bean or 1 tablespoon (1/2 ounce) pure vanilla extract
Finely grated zest of 1 organic lemon, more to taste
Procedure
Drain and rinse the cashews in a strainer. Blend cashews, coconut milk, 4 tablespoons of the sugar, the oil, and salt, in a high-speed blender starting on low. increase speed to high. Blend for 2 minutes, until the mixture is smooth, thick, and warm. It will be quite thick, and is easiest to remove while hot.
Pour the cream into a container. Stir in the seeds or extract and add the lemon zest.
The cream is ready to use or refrigerate for 2 hours to overnight to allow the flavors to blend. The cream thickens when cold.
Recipe adapted from Vegan Chocolate: Unapologetically Luscious and Decadent Dairy-Free Desserts, by Fran Costigan (Running Press), photo Kate Lewis
Macerated Strawberries
Ingredients
2 cups strawberries
2 to 3 tablespoons granulated sugar, or use a small amount of maple syrup
optional: Grand Marnier, good balsamic vinegar
Wash, hull, and slice the strawberries into a large glass bowl. Stir in sugar or maple syrup
Allow the berries to macerate 20-30 minutes until sweet juice accumulates but not so long that they get mushy. If using Grand Marnier, citrus juice or balsamic vinegar, add at the same time as sugar
Drop Biscuits
I added nut flour for nutrition and better flavor and nixed the typical butter and cream used to make typical white flour and butter biscuits.  These are delicious, quick and easy and without the optional sprinkle of sugar, you've got savory biscuits.
Makes 12 biscuits, about 2 ½ inches each
Recipe from Fran Costigan's Essential Vegan Desserts Course at Rouxbe Culinary School
Ingredients
1 1/3 cups canned coconut milk, (do not use light) stirred until thoroughly mixed
1 teaspoon pure vanilla extract
1/4 teaspoon almond extract, optional
finely grated zest of one organic orange, about 4 teaspoons
3/4 cup (118g) all-purpose flour
1/2 cup (70g) whole wheat pastry flour
1 tablespoon aluminum-free baking powder
1 1/4 cups (130g) almond meal
1/2 teaspoon fine sea salt
Sugar for sprinkling biscuits before baking, cane or coconut sugar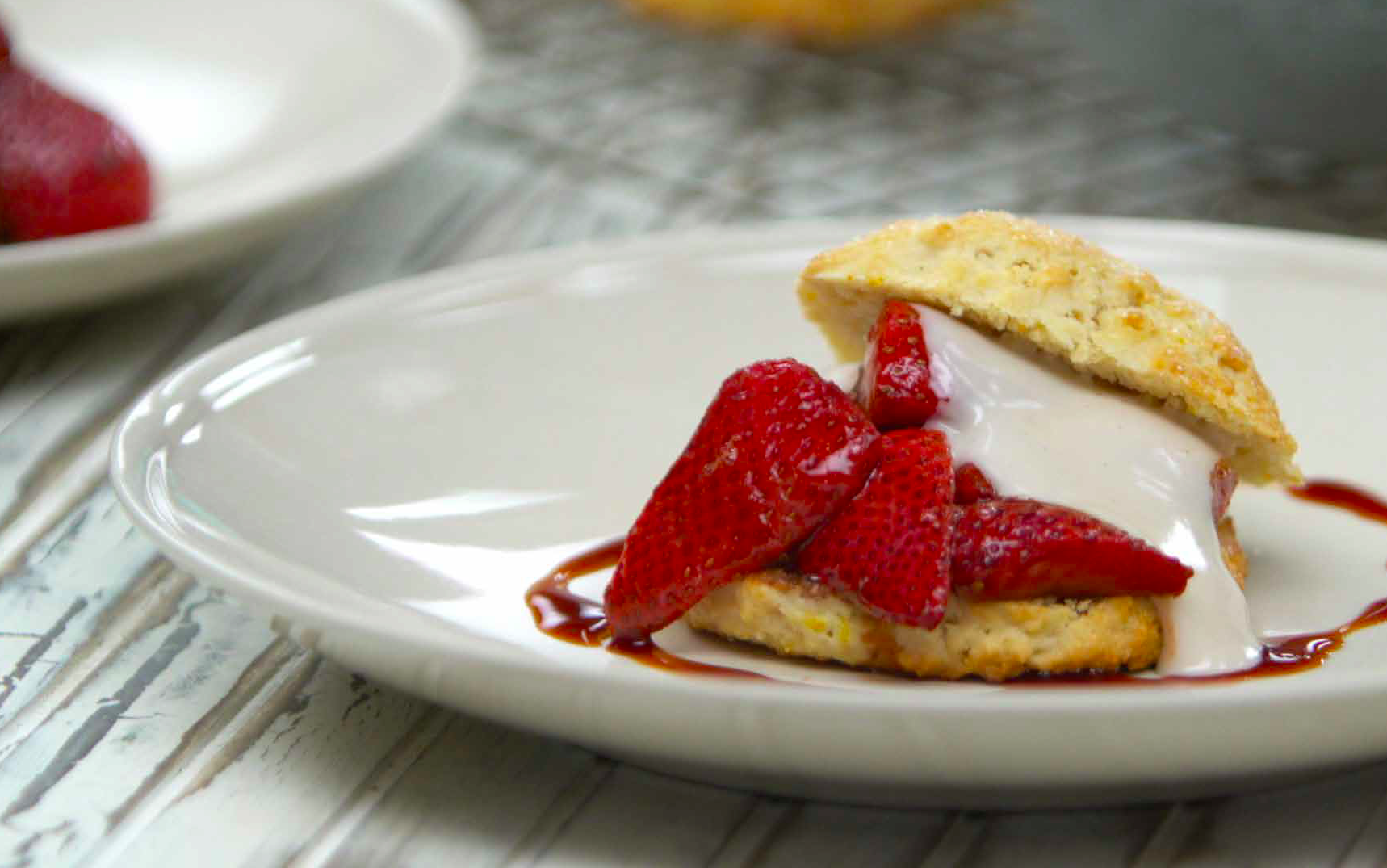 Procedure
Position a rack in center of oven and preheat to 450°F. Line a heavy baking sheet with a double layer of parchment paper.
Pour the coconut milk into a measuring cup and add the vanilla, almond extract (if using) and zest. Set aside while you sift the dry ingredients.
Put a wire mesh strainer over a medium bowl. Measure the all-purpose flour, whole wheat pastry flour, baking powder, and salt into the strainer. Whisk to sift the ingredients into the bowl. Stir to mix.
Make well in center of the dry ingredients and pour in coconut milk mixture. Mix the dough by bringing the dry ingredients into the liquid, rotating the bowl as you go. Do not press or over mix the dough. It comes together quickly into a craggy, soft dough.
Scoop scant 1/4 cup of batter per biscuit onto the baking sheet leaving 2 inches in between. For ease, use a 1/4-cup ice cream scoop. Sprinkle with your choice of sugar, if using.
Bake 14 to 15 minutes, or until set and very lightly golden. Flip one over; the bottom should be brown. Cool on wire rack for a couple of minutes before slicing.
TIP Freeze biscuits in airtight container. Defrost covered. Warm in low oven.
All Photos from Rouxbe Culinary School except Lemon Scented Cream by Kate Lewis in the Vegan Chocolate Cookbook.
See more most excellent family-pleasing desserts on our blog.