How to Stay Healthy During COVID-19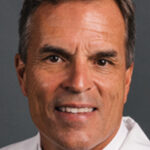 Dr. Sallis is a family medicine physician practicing at Kaiser Permanente Medical Center in Fontana, California, where he serves as Director of their Sports Medicine Fellowship program.  He is a Clinical Professor of Family Medicine at the University of California Riverside (UCR) School of Medicine.  He is a Past-President of the American College of Sports Medicine (ACSM) and currently chairs Exercise is Medicine™, a joint initiative of ACSM and the American Medical Association.  He also chaired the Healthcare Sector for the U.S. Physical Activity Plan.
Dr. Sallis received his Bachelor of Science degree from the U.S. Air Force Academy (where he played intercollegiate basketball) and his Medical Degree from Texas A&M University.  He completed his residency in Family Medicine at Kaiser Permanente Medical Center in Fontana, CA, where he served as chief resident. He is also the head team physician for the Los Angeles Football Club and Chairs the Ironman Sports Medicine Conference in Kona, Hawaii.  He is Board Certified in Family Medicine and holds a Certificate of Added Qualifications in Sports Medicine.
Dr. Sallis has cared for COVID patients both in the inpatient and outpatient setting since the beginning of the pandemic.  He will be sharing his views on how a healthy lifestyle can influence the risk of this disease.