Jennifer DeMarco Discusses The Eight Limbs of Yoga on Chats with Barry
Join Jennifer DeMarco, Rancho La Puerta's contemplative coordinator, and Barry as they explore the eight limbs of yoga. Most of us think of yoga as warrior pose or downward-facing dog; which are both parts of the asana limb or physical practice of yoga. There are seven other limbs on the yoga tree that add to the practice and help us live our best lives. Join us and learn more about them. This is an interview format, not a workout class.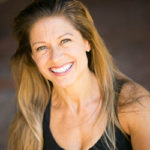 Jennifer has been part of the Golden Door and Rancho La Puerta family since 1990. Jennifer pursued her master's degree in Health Education while also obtaining two bachelor's degrees in health and fitness fields. An all-around athlete, she was a competitive swimmer for 19 years, twice an All-American women's cross country runner, and was nationally ranked in triathlons including the half-ironman. Jennifer's journey teaching meditation and yoga began 36 years ago. In 2016 she published a book:  The Ancient Art of Yoga: A Modern Application. In January of this year, she completed a two-year course in mindfulness and insight meditation through the Berkeley Mindfulness Studies Program. Along with being at the Ranch Jennifer also teaching at two colleges in San Diego.  Jennifer is the mother of two amazing young adults, a dog owner and lover, an ovarian cancer survivor, and can be found teaching meditation, sound healing, yoga, and a variety of other classes at the Ranch.