Meet the RLP Staff: Featuring Jill Thiry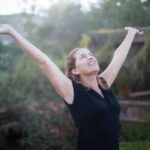 Jill Thiry spent over 15 successful years in the High Tech B2B Publishing World (CMP/United Business Media) prior to considering her "next path."  That next path STARTED in 2002 with some hikes at The Ranch!  After 9/11, a divorce, and with the Internet changing the publishing world pretty drastically, Jill was ready for a change.  She started exploring "new Yes's."  For example, she joined a choir in the San Francisco Bay and did some independent business development work to toe-dip back in the health care and recreation fields.
In 2002, Jill also was "invited" to join her brothers and father in an annual goal-setting weekend.  Both of those events transformed her life.
Jump to today, where after nine years of having The Ranch be a "vacation" (or health investment) stop, she spent two years there in a volunteer role, and now she's spent a total of seven years teaching and working in guest services….all of these new Yes's, (and new No's) have transformed her health, her attitude, and her life!
Join us on Wednesday to hear about Jill's path, the role of intention setting, and how meditation and community have played in her journey. Plus, learn all about the launch of Jill's new Business "Club Change."  A longer bio can be found on the Ranch website, or at www.jillthiry.com