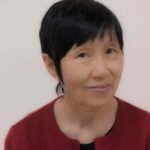 Dancer and Tai Ji Quan trainer, Lin Lin Choy trained at London's Royal Ballet School and at the University of London, and she danced professionally in the 70s and 80s in England. If you are of a certain age, you might have seen her dancing leading roles with Yul Brynner in "The King and I," and in the original production of "Cats" in London's West End.
During Lin Lin's dancing years, while exploring Chinese culture, she realized how much dance and Tai Ji Quan had in common, and undertook the study and practice of Tai Ji Quan. After intensive training with masters in mainland China and from around the world, Lin Lin trained at the Beijing Sports University and Renmin University of China.
In 1985 she began her teaching career and realized she had found her calling. She has taught Tai Ji Quan in Hong Kong, Beijing, Belgium, London, and from coast to coast in the US. Linlin is recognized for her expertise and approachable teaching style, and her students, of all ages, revere and respect both her knowledge and the enjoyable learning environment she creates.
In 2012, Lin Lin expanded her scope to include "Tai Ji Quan: Moving for Better Balance" (TJQMBB), an evidence-based therapeutic Tai Ji Quan for Fall Prevention. Her master teaching techniques and clinical knowledge are now available to people of all ages with movement difficulties and balance concerns, and especially older adults at high risk of falls. She is now an acclaimed Train the Trainer of TJQMBB, and she shares her evidence-based techniques with other trainers around the world.