Sacred Geometric Signatures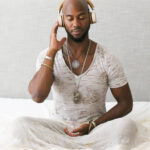 Josiah Samadhi has been a yogi for close to 20 years and has devoted himself to studying vibrational sound healing & meditation therapy for the last 10. With a focus on chakra frequencies, cell regeneration and the neuroscience of the brain-heart-connection, his guidance supports full system healing.
After extensively researching the benefits of specific vibrational sound healing & meditation techniques, he began applying these to groups and individual sessions with life-changing results.
He has since realized the significance of using these healing technologies to bring coherence into the body and morphogenetic field.Josiah was born into a devoted spiritual family with deep clairvoyant roots in Toronto Canada. Life was, and still is, a ceremony everyday.
With the onset of a serious prostate diagnosis and skin issues at the age of 19 just after his father's passing, he took the opportunity to work on his trauma, anxiety and shame that created these conditions within the body. This is when the real journey into meditation & self healing began.
Year after year, he began to travel the world, looking at the shadow emotional self and how to be in joy & love to help those in need.
He is now on to his next venture with sound & meditation, combining high-end technologies to help the body & brain transform and heal.