I arrived at The Ranch feeling overwhelmed by my to-do list this week, so instead of panicking, I took a trip to the Villas Spa Center and scheduled a Warm Stone Deep Moisture Facial. This treatment sounded perfect for this time of year since as the weather gets warmer, I find myself outside more often. I am resolved not to let the worry of wrinkles to keep me from the sunshine.
My esthetician, Kate, was seriously superb. To begin, she applied towel around my head to keep the products she used out of my hair and a warm towel over my face to soften my skin. Then, she dove right in with a silky cleanser. It's creamy consistency immediately revitalized my skin and prepared it for the amazing experience to come. Next came a radiance exfoliant polish with vitamins A and E to boost collagen production, and raspberry, jojoba, and rosemary seeds to provide texture and help sweep away dull, pigmented skin. Like a snake shedding its skin, my skin felt brand new. Kate followed the exfoliant with a face, neck, and décolletage massage using a skin calming reparative treatment oil to transform the dry, flaky texture of my skin to a smooth, nourished glow. Thanks to the fatty acids and antioxidants included in the product, my face was prepared to meet the environmental conditions present in this time of year: heat, sun, wind, and pollution.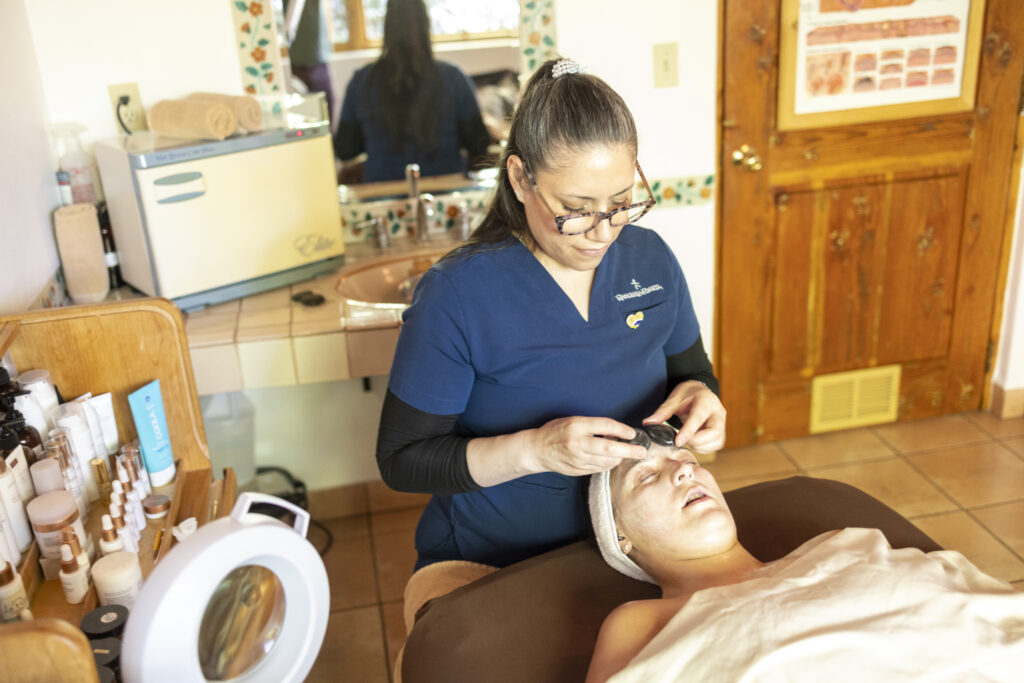 At this point, I was very relaxed and excited because I knew that the hot stones were coming next. To help guide them across my skin, Kate applied a pre-pro biotic hydrating yogurt mask and replenishing rosewater mist. She ran two large, warm stones around my décolletage and neck, using upward motions, followed by two small stones which worked their way down from my hairline to my chin. The heat and weight of the stones felt fantastic on my skin and relieved the pressure in my sinuses.
The cool mist of the balancing toner applied next was incredibly refreshing after the warmth of the stones. Kate began another wonderful face massage using a weightless vitamin C serum with hyaluronic acid and quick, short movements of her fingers. She cleared my sinuses around my nose, eyebrows, and under my eyes. It felt so nice that I couldn't stop the smile that formed on my face. The penultimate step was a hydro comfort omega-rich moisturizer that restored, soothed, and repaired the irritation in my skin. Any dryness that remained vanished with the application. My skin was plump and glowing. Kate finished with a light sunscreen since the sun was still out as I was finishing the treatment and an oil lip balm with SPF. She led me to the locker room so I could show off the luminescence of my 'new' face.
Since the focus on self and self-care can sometimes be isolating, I always enjoy the community aspect of bonding with guests in the locker room before or after our treatments. Sharing what brought us here, what treatments we chose and why, and celebrating our efforts to send love to ourselves, while adding to our mental 'bucket lists' of what we will try next, for me it will be a  Japanese Restorative Facial. Spas not only provide methods to relax and recharge, but they also inspire us to. Now I am ready to head into summer worry and wrinkle free!
A million thanks to Kate for her kind self, incredible talent, and taking the time to educate me about skin care and the products she used in this treatment. Thank you to the ladies at the Villas Spa Center for arranging my appointment.