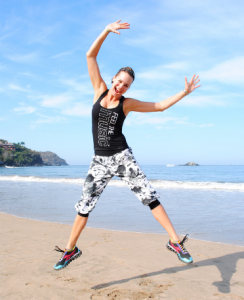 A couple of weeks ago while at the Ranch, I decided to take Zumba on a whim.  It was Zumba Week with Jennifer Laursen, so I thought why not?  However, I was a little nervous.  I'd taken Zumba once before, and although I had tons of fun, I had a hard time keeping up.  My hips and upper body don't really connect with each other in the way that Latin dancing calls for!
With this particular class, I had a much easier time.  Jennifer suggested just focusing on the lower body at first and not to try to do too much at once.  That's what she did when she first started learning Zumba.  Watching her teach,  I swore I thought she had been dancing professionally her entire life.  She gave me hope!
Jennifer also suggested not doing too much with my hands at first as well.  Conquer one move at a time, and eventually it will all come together.  As I said, I was positive she was a professional dancer turned Zumba teacher, and it turns out she was just like me.  She  tried Zumba one day with no experience whatsoever and found that she loved it.  Years later and after much practice, she's teaching.
The class was a blast.  Jennifer has such a great spirit and really made the class fun.  Even though most of us didn't have the steps down, we were smiling and laughing the whole time.  Most of all though, I was inspired by her journey to fitness.  Not only is she a Zumba teacher, but she's also a mother of three young ones!  Very impressive!
An interview will be coming soon with Jennifer and how she creates time for health and fitness in her life as a busy mom.  Stay tuned!