Last month I interviewed Terese Linke, Global Educator of Amala Beauty, about the wonderful skincare line she represents and why it is a natural fit at our wellness resort and spa. The conversation was fascinating, and there was so much care and attention put into every element of the brand that I couldn't squeeze it all into one blog post! If you have not already, check out Part I of my interview here. And now, the interview continues:
How is Amala uniquely different from other spa skincare lines, particularly in the 'all-natural space'?
I get this question all the time! Consumers often find it difficult to decipher which brands are authentic and which products are true to label, and really contain only 100% natural ingredients. They may expect a spa brand to smell and feel great, but not to do much to improve skin. Our products have a beautiful aroma, feel incredible, and provide long-lasting visible results. These qualities are what sets Amala apart from many skincare brands in the natural space!Before Amala was even a brand, we spent decades building in-depth knowledge about the healing properties of plants, seeds, clays and algae, and the benefits of ancient techniques such as fermentation. We learned how to extract the most value in our ingredients while creating the purest formulas. We combined this expertise with the latest technologies of living bio-botanical active ingredients to elevate and raise the bar in natural skincare. The living bio-actives in every Amala product taps into both nature and our bodies' intelligence to work together, synergistically, and deliver results that are put to the clinical tests!
That is impressive – I love that it's all-natural and clinically proven to improve the skin. Can you tell our readers about some of the unique ingredients included in the brand?
Thank you, yes, our ingredient philosophy is simple: Amala uses only the purest, most powerful bio-nutrients that can impart true skin results, naturally. Each ingredient is responsibly sourced from every corner of the world. Our brand has a long history of supporting Fair Trade farming practices through careful selection and sourcing practices. We also don't engage in any unnecessary processing of our raw ingredients, which means no bleach, deodorizing, radiating or overly refining our raw ingredients so each plant maintains its original attributes, as nature intended. We have many unique complexes and ingredients in all our formulas, such as:
Living Beauty Bio-Active Complex: This exclusive formula is in Amala's Rejuvenate and Brighten Collections and is a potent cocktail of skin revitalizing actives of 23K Rose Gold, Spirulina, Amla and Peony.
Essential Mineral Complex: This is found in Amala's Soothe and Clinical Collections. It is a potent cocktail of vital minerals, including copper, magnesium, zinc, and iron, which work synergistically to nourish, heal and calm sensitive skin and quell skin irritation and reactivity.
Moth Bean Extract: This powerful pro-aging plant ingredient is in Amala's Skin Plumping Hyaluronic Serum and Youth Renewing Powerhouse Eye Cream, among other Amala products, and is a non-irritating natural alternative to synthetic retinol which helps smooth the look of line lines and plump the skin.
Avocado and Maca Root Peptides: These plumping plant peptides are in Amala's Advanced Firming Complex, as well as some other products. It helps restore firmness and elasticity, to reveal a fresh, glowing and more youthful- looking skin. It dramatically boosts moisture to help firm and plump the skin and reduce the appearance of fine lines and wrinkles.
Cupuacu Seed Butter: This soft, creamy butter, pressed from the seeds of the Cupuacu Tree is rich in hydrating, protective Omega-3 essential fatty acids, and is used in Amala's Silkening Creamy Moisture Cleanse.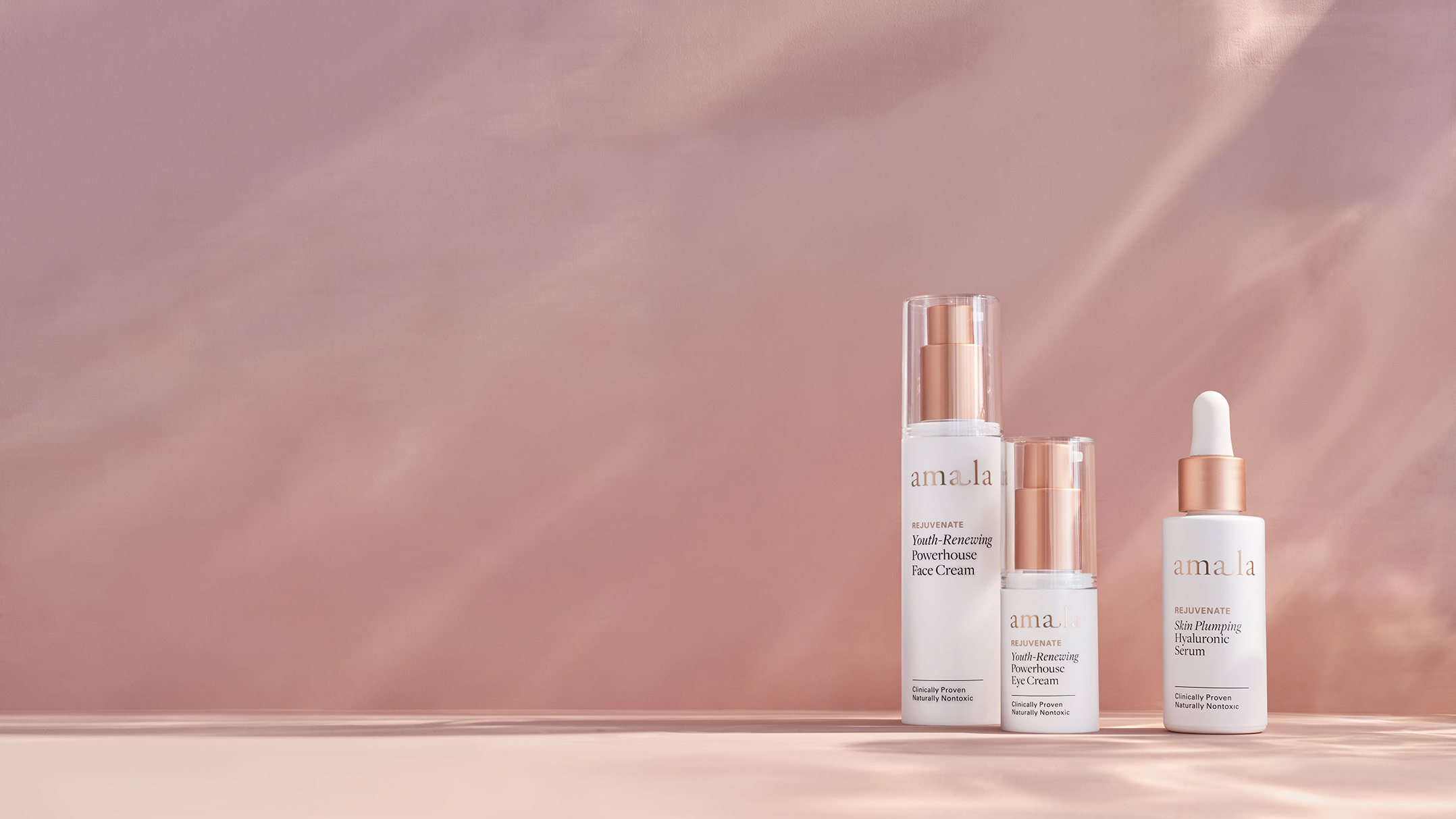 Tell me more about your product collections. Is there something in Amala for everyone's skin concern?
Yes, absolutely! With four different collections to select from, Amala offers a comprehensive assortment of skincare solutions for all ages and stages of life!
The beautiful thing about all our collections is that they are designed to work together. That means that each individual can have a highly-tailored, customized experience!
Terese – it's clear that you have a great passion for Amala. I know you love The Ranch as well! Tell me, when were you first introduced to Rancho La Puerta?
I have been blessed and honored to be a part of the Rancho La Puerta community for well over a decade now, representing Amala as the Global Educator. Working closely with your experienced and knowledgeable Spa Team has enabled me to experience all The Ranch has to offer. My family and I have also had the privilege of experiencing The Ranch together as guests and feel a deep connection and a sense of belonging while there — we hold The Ranch very close to our hearts.
I once came across a quote by your inspirational founder, Deborah Szekely, that read, "I have come to believe that The Ranch has a special quality – and it's shown through the Happy Guests." That resonated with me because my friends and family affectionately call Rancho La Puerta, "Terese's Happy Place," which is exactly how I feel when present at The Ranch, every visit. I have traveled to many places worldwide, and I can truly say that I have never felt as connected on a level such as I do when at The Ranch. It is a special place.
Thank you for sharing your knowledge, Terese! We are honored to have you visit and work with our wonderful Spa Therapists. Learn more and find all the products at shopamala.com.
Terese Linke, Director of Education, Amala LLC.
Terese has a career spanning over 30 years with experience in education, manufacturing and sales, specializing in international training of products and healing lifestyle treatments. Terese is the Director of Education at Amala Beauty, the world's first authentic ultra-luxury, plant-powered, clinically proven skincare. She has worked in sales management and international training for several international companies and worked with many luxury spas globally.
Terese's passion and enthusiasm in various disciplines within the health, beauty, and fitness industry, specializing in the training and education of others, has been a major force in energizing and inspiring others with whom she has worked and trained.