Ken Goldman, Artist in Residence
"Sheltering in Place"
None of us had control over the arrival of Covid-19. Even Rancho La Puerta in it's 80th year of existence, has been forced to seek out new ways to adapt. We can't control what comes our way, but we can control our response to it.
Having painted so many Ranch landscape, flora and fauna images during the last 50 years (including the 50th anniversary celebratory jacket), I was looking forward to being involved again in this year's 80th anniversary celebration. But that was not to be, so I decided to look for a silver lining instead.
During this enforced "artist in residence" saga, I am celebrating the 80th anniversary by painting four new springtime La Puerta images (acrylic on watercolor paper, 22×30), two of which are now complete. In addition to these two new paintings, here are several other springtime images painted between 1970 to now. As you view these images, I hope they provide a vicarious sense of springtime joy.
Ken Goldman, Sheltering In Place at Rancho La Puerta.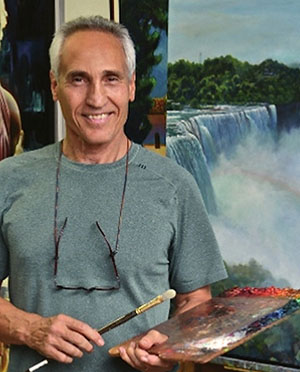 Ken Goldman is an internationally known artist, author, teacher and art juror. A recipient of numerous awards, Goldman has exhibited widely in various group shows and solo exhibitions in Holland, Paris, Italy, Greece, China, Colombia, Mexico, New York, Boston and Washington, DC.In California Goldman has shown at Oceanside Museum of Art, Fischer Museum of Art and Autry Museum. Recently, (2012–2018), Ken's work has been exhibited throughout China at The Shanghai International Biennial, two Shenzhen International Biennials and five Universities: Jimei, Quanzhou, Tsinghua, Qingdao and the Shanghai University.Goldman's work is included in the permanent collections of the San Diego Museum of Fine Art, Hilbert Museum of California Art, North Carolina's Hickory Museum of Fine Art, the Zhuo Wen Museum in Qingdao China, the San Diego Museum of Natural History and the San Diego Watercolor Society. In 2018, Ken curated an exhibition for Oceanside Museum of Art titled National Watercolor Society, Southern California Inspirations: Past and Present – December 22, 2018 – April 21, 2019
https://www.youtube.com/watch?v=zPUjW5UF26Q
The author of fifteen instructional books on Pastels, Acrylics, Charcoal and Artistic Anatomy, Goldman has also been featured in several magazines, including The Art of Watercolour, Southwest Art, International Artist, Watercolor Magic, Splash 12, 13 & 19 and The Artist's Magazine, among others.
Ken is Past-President of the National Watercolor Society and is represented by CaliforniaWatercolor.com Gallery.
For more information please visit www.goldmanfineart.com