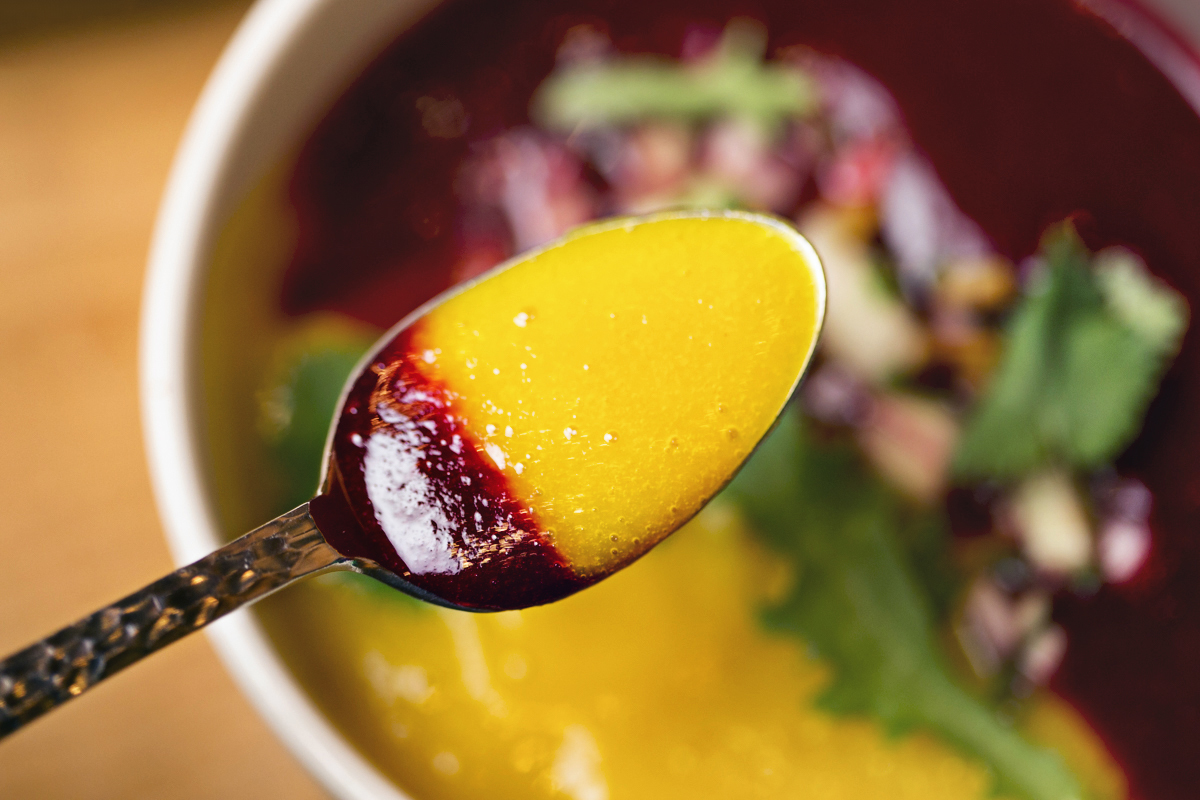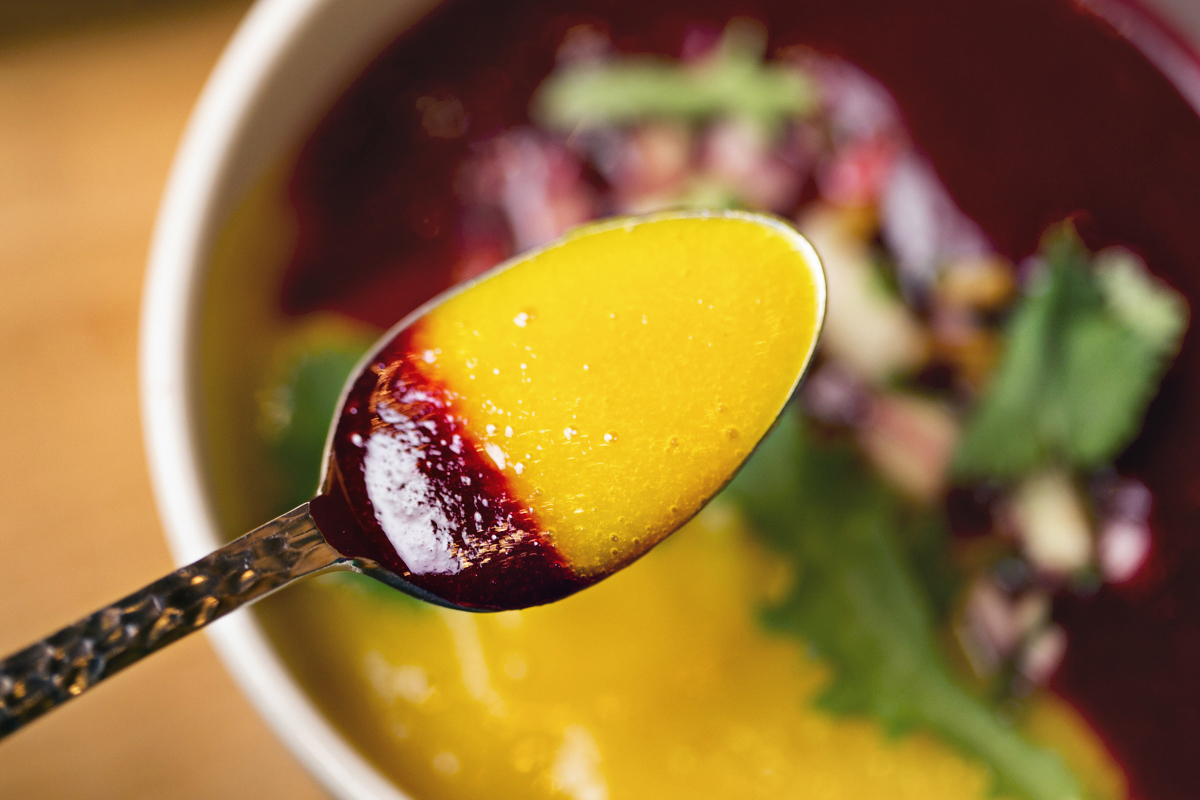 Chef David Cohen of Oren's Hummus in Palo Alto and Mountian View, California,  spent a week at The Ranch teaching us recipes such as his amazing beet soup with a gazpacho salad garnish.  Full of vitamin C, this fun and colorful soup looks as amazing as it is delicious.
Serves 4 – Serve hot or cold
Special Equipment: Aluminum foil, fine-mesh strainer, and 1 – 1 ½ ring molds, and four pre-chilled shallow soup bowls are needed. Latex gloves or other hand covering is suggested for peeling beets and juicing jalapeños.
Beet Soups
12 ounces small red beets, unpeeled
2 tablespoons canola oil
12 ounces small yellow beets, unpeeled
3-4 cups vegetable stock
2 teaspoons champagne vinegar
2 tablespoons red wine vinegar
2 tablespoons lemon juice or jalapeño juice- use sparingly (to make jalapeño juice purée two jalapeños in a food processor and strain through a fine mesh strainer)
Gazpacho Garnish
¼ cup fine brunoise cucumber without seeds
¼ cup fine brunoise red onion
¼ cup seeded and fine brunoise red or yellow bell pepper
1 teaspoon finely chopped cilantro
1 tablespoon extra-virgin olive oil
4 sprigs cilantro for final garnish
Salt and pepper
Optional (but it provides a great effect):
1 English cucumber cut in half and then sliced into 24 paper-thin circles (approximately 6 per serving) and the rest cut into fine brunoise 
Prepare the soups:
Preheat the oven to 350 degrees Fahrenheit. Place the red beets in a bowl and dress with 1-tablespoon canola oil. Season with salt and pepper, wrap the beets in a sheet of aluminum foil and place onto a baking sheet.  Repeat for the yellow beets. Bake both packages in the oven for about 30-45 minutes or until the beets are knife tender. When cool enough to handle, remove the beets from the foil, keeping the red and yellow beets separate.  Cover hands with latex gloves and keep COLORS SEPARATE.
Place the first color of beets into a blender and add vegetable broth to just the top of the beets blender and purée until smooth (still keeping colors separate).
REMEMBER, YOU CAN ALWAYS ADD MORE STOCK TO MAKE IT THINNER, BUT YOU CAN'T TAKE OUT THE STOCK IF IT IS TOO WATERY!
Strain each soup separately through a fine-mesh strainer into separate mixing bowls and either return to sauce pans. Season the red soup to taste with up to 2 teaspoons of red wine vinegar, and the yellow soup with up to 2 tablespoons of lemon or jalapeño juice or champagne vinegar (be careful – the heat of the jalapeño will intensify as the soup sits – a little goes a long way). Refrigerate until ready to serve.
For the Garnish:
Toss all brunoised vegetables and chopped cilantro in a mixing bowl with olive oil salt and pepper.
To assemble:
Place a metal ring mold in the center of a chilled shallow soup bowl. If you don't have a ring mold, a round cookie cutter will work.
Fill the inside of the mold with the brunoise salad.
Once filled, pour about ½ cup of each soup simultaneously and carefully into the bowl. Try and prevent the soups from merging into each other.  (I suggest using two ladles from opposite far sides of the bowl.  If the soup consistencies are similar they should not run into each other).
Gently remove the ring mold and repeat in other bowls.
Drape a large sprig of cilantro over the salad and drizzle the soup with good olive oil.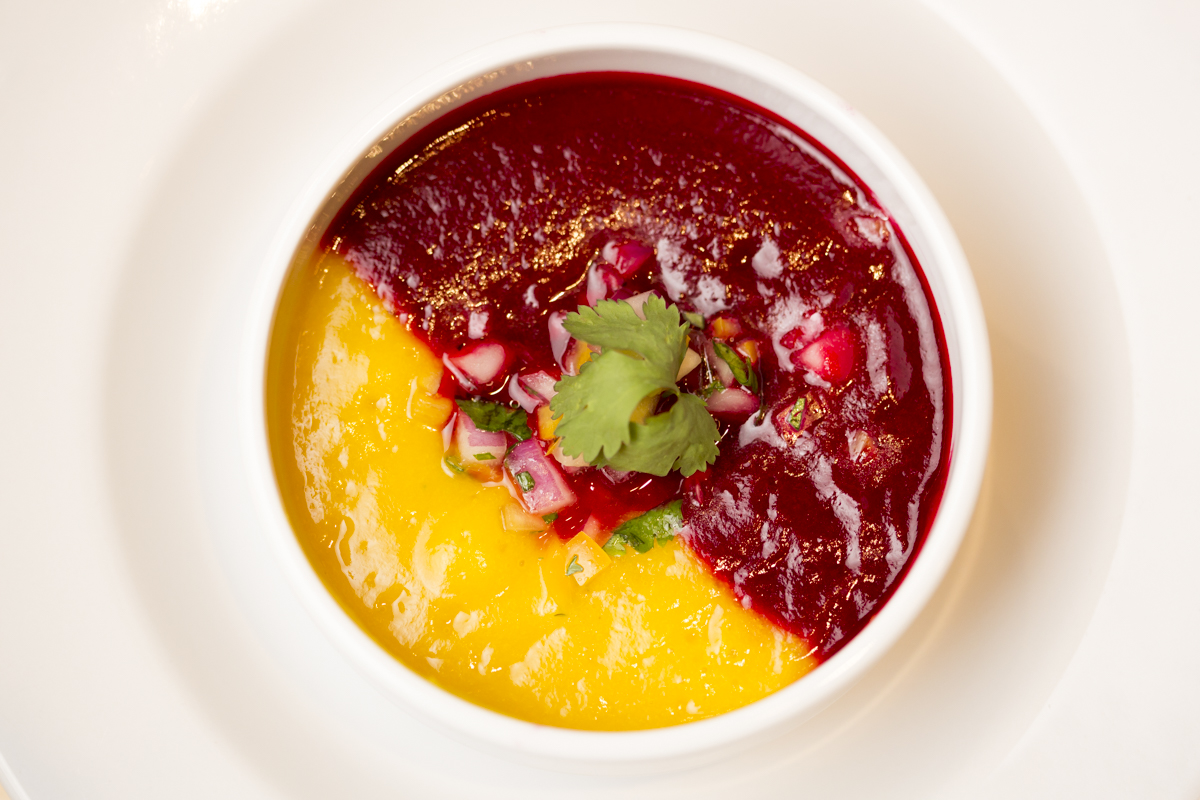 See more delicious recipes and learn about our organic farm and cooking school, La Cocina Que Canta.