Calling all chocolate lovers!
Just when I thought it couldn't be done, I found my new favorite activity at Rancho La Puerta: the Xocolatl Skin Replenishment treatment at the Villas Health Spa. If I could choose a treatment to do every day, it would have to be this one.
What I noticed immediately when I walked into the room was the shower – inside the treatment room. Turns out, the room I was in was specifically designed with this massage in mind. Talk about special! The second thing I noticed was the giant piece of foil covering the table. I had never seen that in a treatment room before. It seemed to allude to me that I was about to be transported out of the mental and physical state I arrived in; I was about to be beamed up to bliss. And dang it, I was.
To begin, I positioned myself face down on a heated massage table and was covered with a towel. The practitioner exfoliated my back body with a pair of dry gloves. Her hands moved in large circles in a peaceful rhythm. As a rather ticklish person, there were certainly a few moments of light giggling. I was grateful to have not gotten any new tattoos lately, so no surface was ignored.
A second round of exfoliation came next. This time, instead of gloves the Core Essentials Cocoa Sugar Scrub in the Xocolatl Collection was applied. It reminded me of my 'home exfoliations' as a kid in San Diego, rubbing sand on my legs to soften them. Of course, the sugar scrub was much more effective in its exfoliating abilities and hydrated my skin with luxurious oils, like avocado, jojoba, and rice bran. It was much better smelling and removed all the dead skin cells and impurities, conditioning my skin for the next step, when hot towels removed the bulk of the scrub I was covered in. And then, the moment I'd been waiting for: the Cocoa Body Butter!
After a few seconds in the microwave, the body butter filled the room with its incredible chocolatey aroma. I thought I had walked into a bakery specializing in chocolate cakes. The practitioner used a paint brush to apply it to my body. I enjoyed the warmth of the mask and the texture of the soft brush bristles on my back, all the while taking deep breaths because I couldn't get enough of that cocoa scent. She applied the whole layer to my back body and then had me flip over onto my back. She then repeated the whole process of dry glove rubbing, sugar scrubbing, warm toweling, and painting chocolate onto my front side. I was so incredibly relaxed, which was perfect because a nap came next. I was wrapped in the foil, truly like a cake in the oven, the lights were dimmed, and I snoozed until I was 'baked'.
When the massage therapist returned, she had me rinse off in the shower. It was one of the most rewarding showers I've ever taken. I loved rubbing off the layers of chocolate as water ricocheted them down my body, watching the cocoa spin around my feet and down the drain, revealing the softest skin I've ever felt on anyone over a few years old. The treatment could have ended right there and I would have been pleased. However, I was delighted to learn that we were not finished yet! The 'cooling period' of this delicious cake (me!) involved a 30-minute massage using, you guessed it, Cocoa Body Oil! Let me say, I needed that. The final parting gift was a delicious chocolate snack, which I greatly appreciated since I'd been craving some for the past 90 minutes. I even got to keep the exfoliating gloves that were used in step one so that I could maintain the beautiful supple skin we achieved. I am happy to say that it is working so far.
My skin has never felt so soft. I relished the fact that the sweet chocolate scent lingered on my body until halfway through the next day. I arrived thinking that I was simply preparing my skin for spring by stimulating it with antioxidants to reduce deterioration and prevent premature aging as I am enjoying the sunshine this summer. I left with a big ole smile on my face, feeling completely invigorated. Cocoa really is the ultimate body nourishment. I would absolutely recommend this treatment. Book a week and add it to your list of spa favorites now!!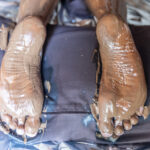 A footnote: Thank you to the incredible staff at Villas Health Center who made this treatment possible and oh so very enjoyable.