This is a guest post by world renowned chef, John Ash, who will be teaching hands-on cooking classes at The Ranch the week of December 13-20, 2014.
As we gather for the holidays with friends and family for great meals and get togethers, you may find that some of your guests are on a gluten-free diet. It is becoming more common as an increasing number of people discover they are allergic to gluten.  Some folks choose to adopt this way of eating for its health benefits.
Gluten is a type of protein found in wheat, barley, and rye. It is the ingredient that give dough elasticity. It is sometimes added to foods to thicken or flavor them. People who have been diagnosed with celiac disease have a high sensitivity to gluten. Eating a gluten-free diet has been linked to a decrease in cholesterol levels, and some feel it increases their energy and efficiency levels. Gluten is also used in a variety of processed foods, so by avoiding those, you avoid eating gluten as well as many other unhealthy ingredients.
Next month I'll be teaching cooking classes at Rancho La Puerta, a health resort and spa in Baja California, Mexico. We'll be making some gluten-free recipes in one of these sessions, and I would like to share some of those recipes with you below. These will be great dishes to make for the holidays and throughout the year. They will satisfy guests who are following a gluten-free diet, and those who are just looking for great food to eat!
WILD MUSHROOM PATE
Makes enough to fill a 3-cup mold or dish
The simplicity of this recipe belies its great taste. Serve with crisp non-gluten croutes, toasts or crackers of your choice and, as the French do, with some little cornichons and grainy mustard on the side.
Ingredients:
1 ounce dried wild mushrooms such as porcini
5 tablespoons butter
1/2 cup chopped shallots or green onions (white part only)
1-1/4 pounds thickly sliced fresh wild or exotic cultivated mushrooms*
2 teaspoons finely chopped garlic
2 teaspoons curry powder or to your taste
1/2 teaspoon ground cumin
1 cup toasted, preferably unsalted cashews
2 tablespoons toasted nut oil such as walnut or olive oil
2 tablespoons finely chopped mixed herbs such as parsley, chives and/or basil
2 teaspoons finely grated lemon zest
Kosher or sea salt and freshly ground pepper to taste
Directions:
Rinse the dried mushrooms quickly and let soak in warm water to cover for 15 minutes. Drain, squeeze dry and chop.
Heat the butter in a large sauté pan over moderately high heat. Add the shallots (or green onions), all mushrooms, garlic, curry and cumin to the pan. Sauté and stir until mixture is just beginning to brown and all liquid has evaporated.
While mushrooms are cooking add the cashews to a food processor and process until they are finely chopped. Add oil and continue to process to make a paste or butter. Add the mushroom mixture and process till almost smooth. Stir in the herbs and zest and season with salt and pepper to your taste and place in a 3-cup pate mold or other ceramic dish. Can be stored covered and refrigerated for up to 3 days. Allow to return to room temperature to serve.
*A caution here – – only use wild mushrooms that you are certain are edible. If you are not a hunter you can certainly substitute wild or cultivated mushrooms found in the market such as chanterelle, shiitake, cremini, portabella, oyster, etc.
GRILLED BRINED SHRIMP WITH SALSA VERDE
Serves 4 – 6
Brining is a terrific way to add flavor and succulence to not only shrimp by poultry, pork, and finned fishes. Note that kosher salt is called for in this recipe. If using sea ordinary table salt reduce the amount of salt to 1/4 cup. Also note that I'm asking you to save the shrimp shells. They can be used to make a delicious shelf fish stock for use in other recipes. Store them frozen until you are ready to make stock.
Ingredients:
1 pound large shrimp (16 – 20 per pound) peeled and deveined (save the shells!)
For the Brine:
1/3 cup each kosher salt and brown sugar
1 quart cold water
For the Marinade
1/4 cup olive oil
2 teaspoons finely chopped garlic
1 tablespoon chopped parsley
1/4 teaspoon red pepper flakes (or to taste)
2 tablespoons dry white wine
Salsa Verde (recipe follows)
Garnish: Sprigs of cilantro
Directions:
Prepare brine by stirring salt, sugar and water together until dissolved. Add shrimp and refrigerate for 20 minutes or so. Mix the marinade ingredients together in a small bowl and set aside.
Remove shrimp from the brine and rinse thoroughly. Toss with the marinade to coat the shrimp and marinate for up to 1 hour, refrigerated.
Grill shrimp on both sides over medium hot coals (or alternately under a hot broiler) until they are just cooked through, about 3 minutes total, turning halfway through. Place shrimp on plates and top with the salsa and cilantro sprigs. Serve warm or at room temperature.
SALSA VERDE
Makes about 1 cup
This is a quick little sauce of Spanish origin that is delicious on all kinds of grilled, pan seared or roasted meats, fish and vegetables. Note that I've used blanched or roasted garlic rather than the fresh raw type. I think this is especially important if you are going to make the sauce ahead. Over time, raw garlic can become harsh and hot. Blanched or roasted garlic maintains its more subtle and sweet flavor and doesn't overpower the sauce as it sits.
Ingredients:
2 cups coarsely chopped parsley
1/2 cup chopped fresh basil or mint
4 (or more) anchovy fillets in oil
2 tablespoons drained capers
2 tablespoons blanched or roasted garlic (see note below)
1 tablespoon finely grated lemon zest
2/3 cup or so fruity extra virgin olive oil
Salt and freshly ground black pepper to taste
Directions:
Add the parsley, anchovies, capers, garlic (blanching and roasting directions below), basil (or mint) and zest to a food processor or blender. With machine running, slowly add the oil until just blended. Sauce should still have a little texture. Season with salt and pepper. Can be stored covered and refrigerated for up to 1 day.
To blanch garlic, separate cloves but don't peel. Place in a small sauce pan and cover with at least ½ inch of cold water. Place on stove over high heat and bring to a boil. As soon as water boils, drain and repeat process one more time. Rinse to cool off cloves. Remove husk from poached garlic and store covered in refrigerator for up to 2 weeks.
To roast garlic, cut off top quarter of a whole head to expose each of the cloves. Drizzle with a little olive oil and season with salt and pepper. Wrap loosely in foil and roast in a preheated 375-degree oven for 30 – 40 minutes or until garlic is soft when gently squeezed. Store covered in refrigerator for up to 2 weeks. Squeeze out as needed.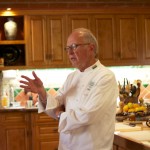 John Ash has written three books:  John Ash Cooking One-on-One: Private Lessons in Simple Contemporary Food from a Master Teacher was published spring 2004 by Clarkson Potter and won a 2005 James Beard award. He has authored two other books: From the Earth to the Table: John Ash's Wine Country Cuisine and American Game Cooking. The former was awarded the IACP awards for Best American Cookbook and the Julia Child Cookbook of the Year. He is an occasional contributor to culinary magazines such as Fine Cooking and Eating Well.
John offers two hands-on culinary experiences, 3.5 hours each, during which you will enjoy preparing your own meal along with fellow cooks. Classes take place at La Cocina Que Canta, our culinary center on Tuesday and Thursday at 4pm. For more information and registration, please click here.