How do you update a classic? Executive Chef Reyna Venegas looked back into The Ranch's history and found this Vegan Granola recipe. It's still crunchy and delicious but uses blue agave instead of honey to meet our Vegan guest's requests. ¡Buen Provecho!
Ingredients
3 cups old-fashioned rolled oats (or substitute with gluten-free rolled oats)
½ cup sunflower seeds
½ cup chopped almonds
½ cup raisins 
1 tablespoon whole wheat flour (or substitute with gluten-free flour)
1 tablespoon ground cinnamon
¾ teaspoon ground ginger
¾ teaspoon ground cardamom
¾ cup agave syrup
½ cup orange juice
Zest of 1 orange
1 teaspoon vanilla extract
1 teaspoon safflower or coconut oil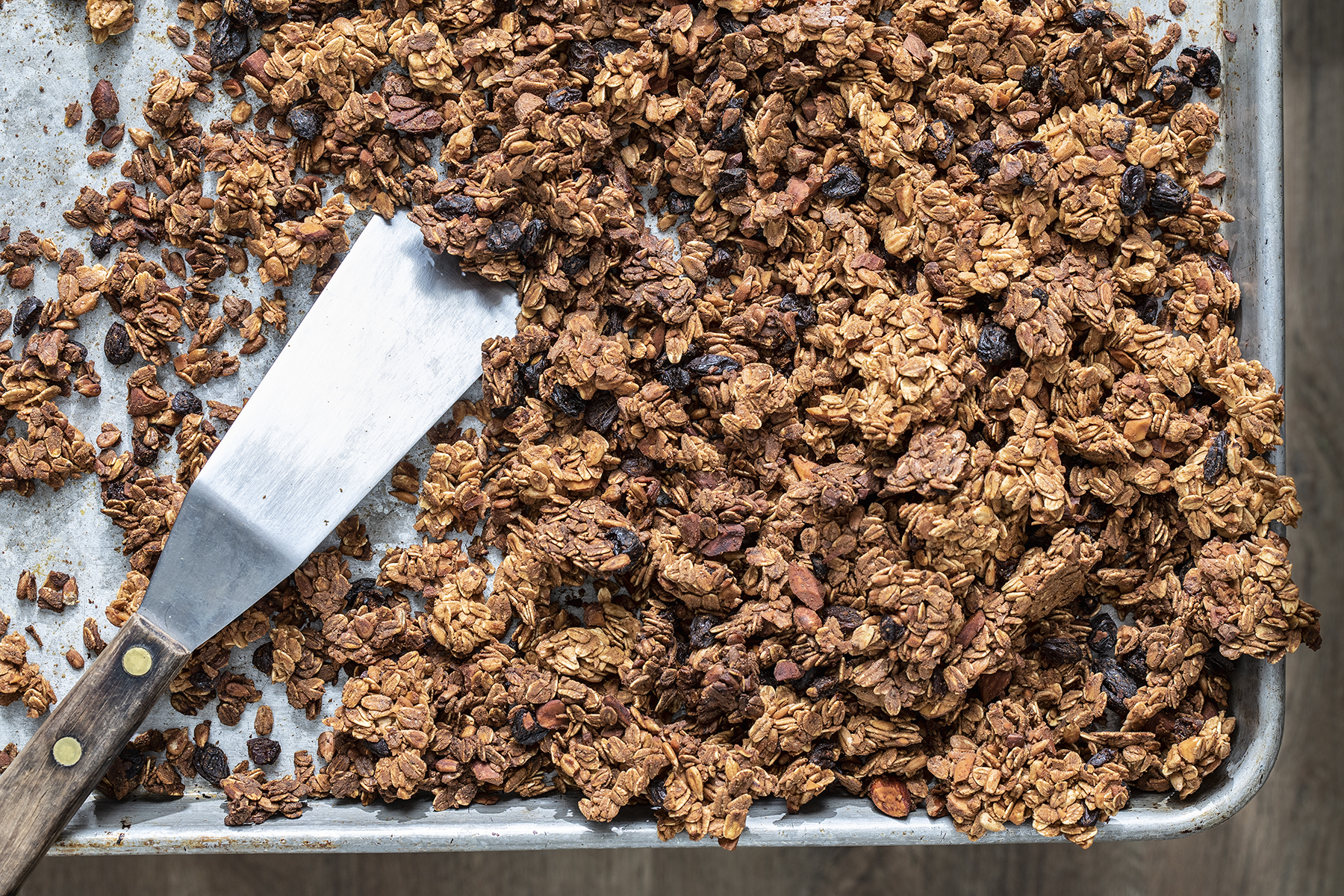 Method
Preheat the oven to 325˚F. Lightly coat a baking sheet with safflower or coconut oil.

In a large mixing bowl, combine the rolled oats, almonds, seeds, flour and spices.

In another bowl, whisk together the agave, orange juice, zest, and vanilla.

Pour the wet ingredients over the dry ingredients and mix well.

Spread the granola evenly over the baking sheet and bake for 1 to 1½ hours, checking every 15 minutes. When the granola starts to brown, gently stir it with a spatula. Take care that the outside edges do not burn. When the granola is golden and dry, scrape it onto a plate or a cool baking sheet and set aside to cool.

Store the granola in an airtight container until ready to use.
Nutritional Information
Per ¼ cup:
110 cal
Total Fat: 6.44 g
Saturated fat: 0.8 g
Polyunsaturated fat: 2.0 g
Monosaturated fat: 3.2 g
Chol: 0
Sodium: 50.0 mg
Total Carbohydrates: 12.09 g
Sugars: 8.33 g
Fiber: 2.1 g
Protein: 3.5 g
You can still make The Ranch's delicious granola with honey. Learn more about The Ranch's sustainability practices.