La Puerta Core Essentials Muscle Recovery Collection
The Core Essentials Muscle Recovery Collection promotes relaxation and feels incredible on the body. It includes the Energizing Foot & Leg Lotion, Muscle Soother Liniment Roll-On, and Cooling Muscle Gel with Arnica. This collection contains healing botanicals to help soothe muscle aches and pain from sports and a wide range of activities.* It's the perfect complement to an adventurous week at The Ranch and is ideal for anyone with an active lifestyle and also for those who sit in cars or at desks for prolonged periods of time.
Like all Core Essentials, our all natural collection contains certified organic and wildcrafted ingredients with numerous benefits, so you can feel good about using it on your body. Each product has natural botanical extracts and essential oils to provide therapeutic effects for sore muscles, stiff muscles, and inflammation.   Read on to learn more about our powerful muscle recovery line.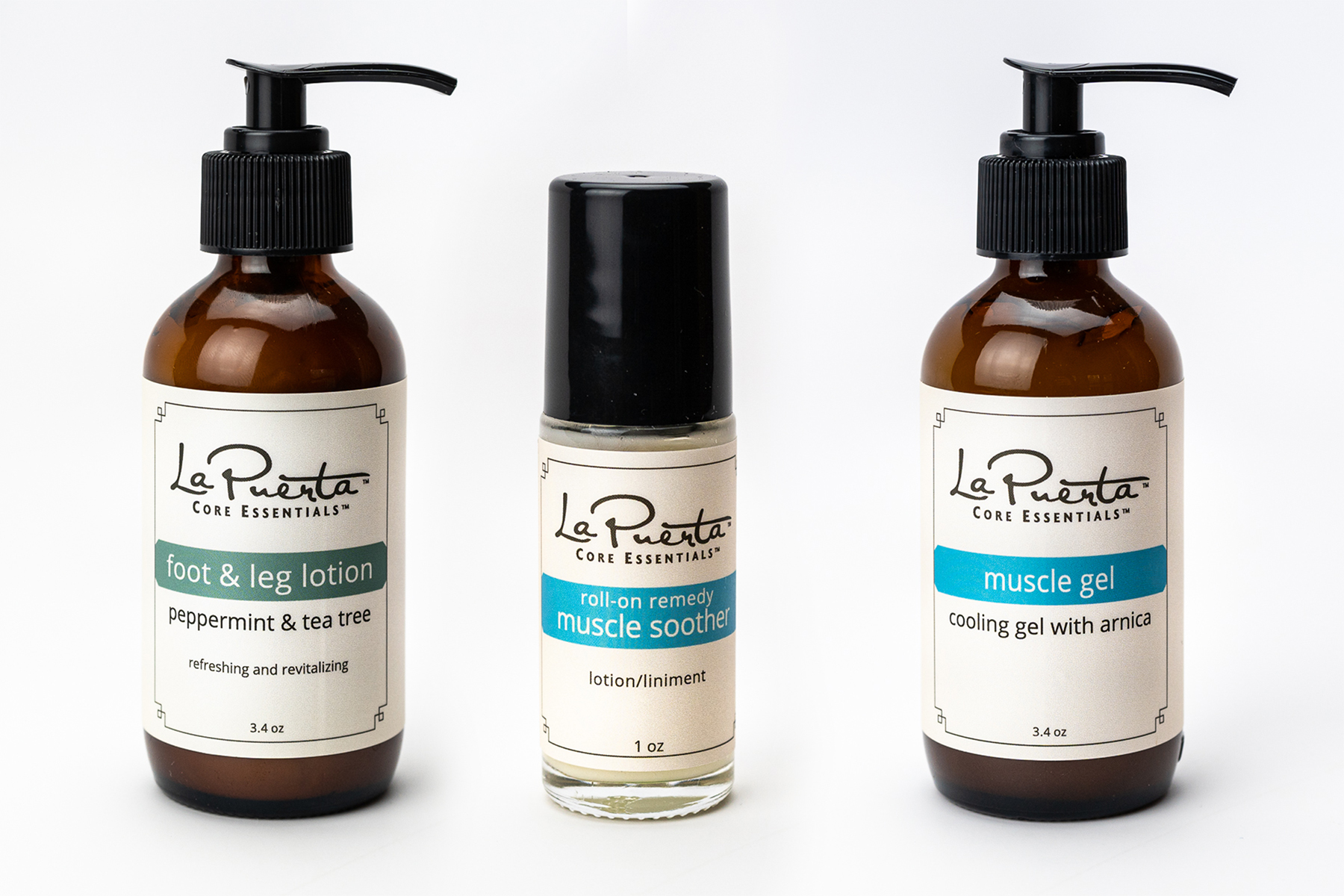 Muscle Soother Roll–On Remedy
If you have tender or sore spots on your body then the Muscle Soother Roll–On Remedy Liniment is a must-have. Within seconds of application it will help ease muscle discomfort and strain with warming essential oils. This therapeutic remedy is made with beneficial ingredients including Yellow Birch Essential Oil to help relieve pain and calm muscle and joint sprains. It contains Eucalyptus Radiate Essential Oil which is known to warm and relax tense muscles and joints. The addition of Propolis Resinous, an anti-fungal, anti- inflammatory and natural antibiotic, can help support the immune system. Muscle Soother Roll–On Remedy has a base of organic aloe vera and jojoba which are easily absorbed into the tissues so it is truly effective for muscle recovery. Apply only to sore spots as needed – do not use this as a body lotion.
Cooling, Soothing Muscle Gel with Arnica
You are in for a treat with our Cooling, Soothing Muscle Gel. This is specially formulated for targeted application to address aches and pains in muscles and/or joints, especially when there is inflammation. Our formula features Menthol, a cooling agent to calm inflammation, and Arnica, to aid healing and recovery from trauma to the tissue. Camphor as an analgesic, and Cooling Peppermint Essential Oil helps relieve headache, muscle pain and joint conditions. Eucalyptus Essential Oil is also a key ingredient as it warms muscles and helps relieve stiff joints due to rheumatism and arthritis.
Energizing Foot & Leg Lotion
Your feet and legs will thank you for using Energizing Foot & Leg Lotion. This formula is boosted with essential oils which refresh, stimulate and energize you from your toes to your thighs. Massage onto tired legs and feet to heal and awaken them after standing all day. It's soothing for those who suffer from swelling, plantar fasciitis, or varicose veins. Like the Cooling, Soothing Muscle Gel, this product contains Peppermint Essential Oil and Eucalyptus Essential Oil, which uplifts the mind. The lotion also has Tea Tree oil which is an anti-fungal and anti-inflammatory.
So often our bodies take a hit when our hearts go on an adventure. Whether you over-exerted yourself in sports, went on a challenging expedition, or pushed yourself too hard at The Ranch – the Muscle Recovery Collection can help restore your body's balance and well-being. Keep these indispensable products in your gym bag, at work, and definitely pack them on your next Ranch visit.
*Though the Muscle Recovery Collection can be helpful in preventative care and help your body heal, the products are not a substitute for professional medical treatment. Rancho La Puerta makes no health claims for the Muscle Recovery Collection.