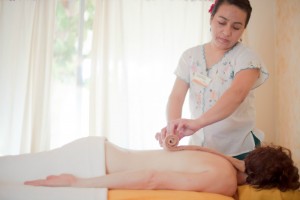 The New Detox Massage at Rancho La Puerta is one of the most therapeutic, cleansing, and unique treatments that I've ever experienced. It's cupping — but not the traditional kind. While traditional "cupping" uses alcohol and fire in a glass cup, our cups are made of flexible silicon and involve no alcohol or fire. The same benefits are reaped without the risk of burning the skin. During the massage I literally felt my body detoxing!
Here is how it works: the therapist applies scented massage oil onto the back, and uses a small silicone cup (pictured below) to create a little area of suction on the skin. The cup is then glided across the body toward the lymph nodes. Next, the therapist lifts up the adhered cup to a new location on the back, and slides it to the lymph nodes once again. The same procedure continues along the entire body.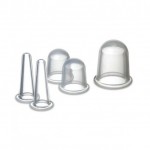 The cupping action in the detox massage moves stagnant fluids from the lymph vessels below the skin into the closest lymph nodes, where toxins are broken down into their most innocuous form and drained from the system. Muscles and connective tissues are deeply stretched, toxic congestion is broken up and expelled, and the immune system is strengthened. This can help to relieve inflammation and calm the nervous system. It can also help to alleviate muscle and joint pain, stiffness, and arthritis.
The purpose of this massage is not for relaxation, but rather for detoxification. The pressure of the cups made my skin tender, but my body felt invigorated and renewed after the treatment ended. This is a powerful and restorative treatment, and I encourage you to try it during your next Ranch visit!