Rainbow Chard, Onion and Panela Cheese Enchiladas Baked in a Tomatillo Salsa
A healthy take on a Mexican classic! These baked vegetarian enchiladas created by Rancho La Puerta's Executive Chef Denise Roa, fairly ooze with a delicious sauteed filling of chard, cheese and onion for a light and healthy main course.  A wonderfully tart tomatillo sauce finishes each serving with its tangy, garden-fresh zing.
Serves 6
Ingredients:
3 cloves garlic, peeled
1 jalapeño, seeded
1 tsp salt
12 tomatillos, husked, rinsed and halved
1 cup vegetable broth
3 tbsp. Mexican créma, or thick Greek-style yogurt
3 tbsp. extra virgin olive oil
2 large bunches of Rainbow chard
1 medium white onion, medium dice
10 oz. panela cheese, a Mexican cheese made with pasteurized milk or you can  substitue with queso fresco
12 corn tortillas
1/4 c. grated Parmesan
1/2 large red onion, small dice
1 handful fresh cilantro leaves
Salt to taste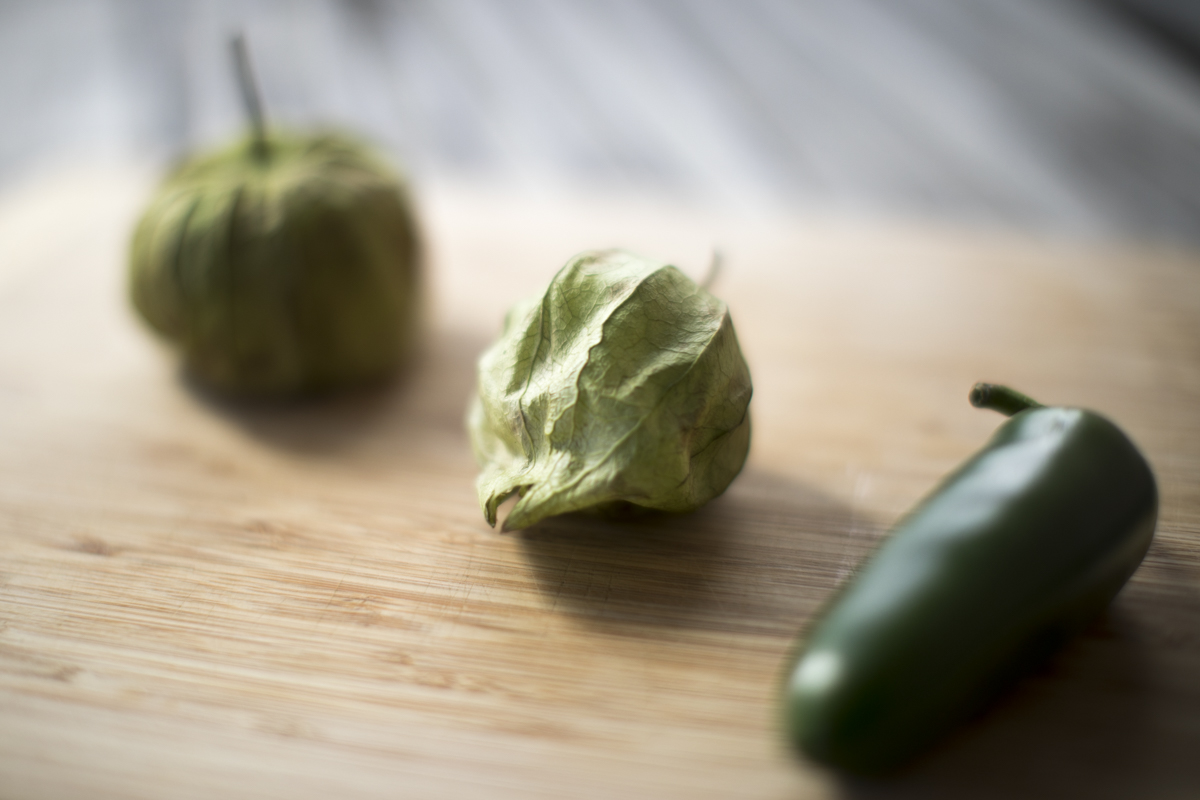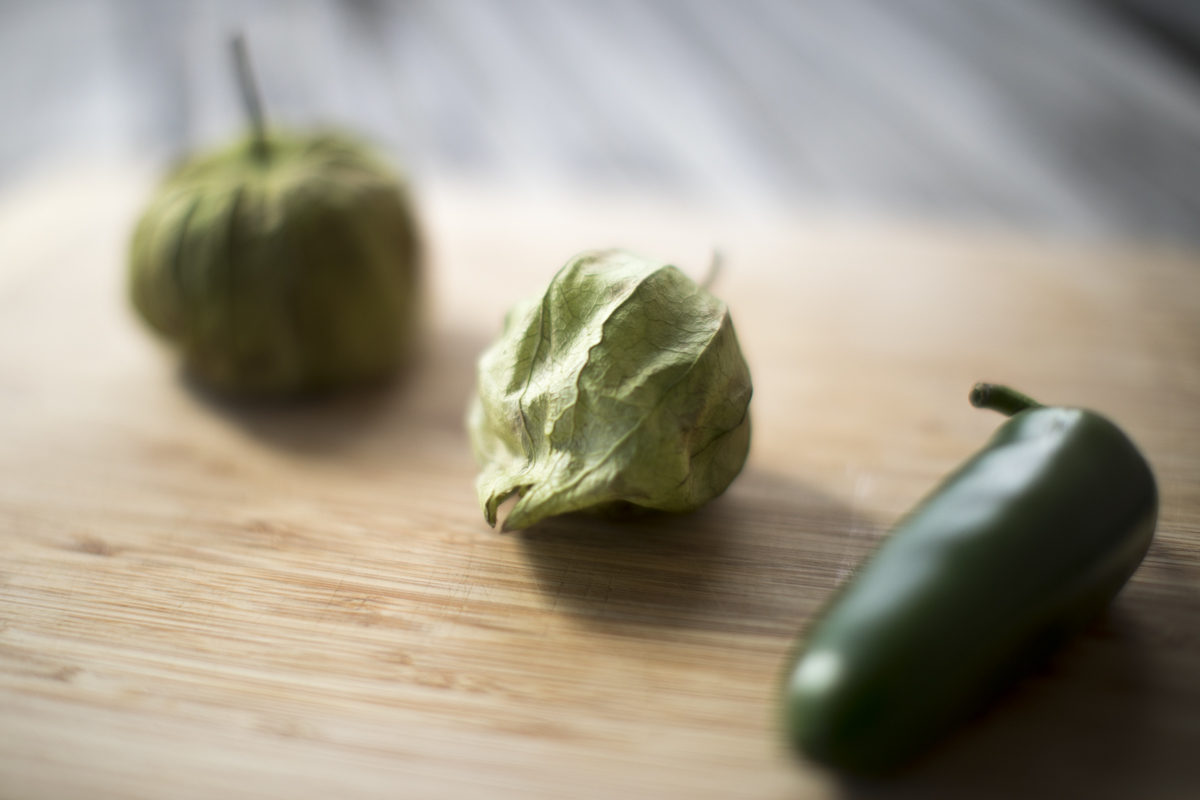 Preheat the oven to 375 degrees.
Combine garlic, jalapeno, tomatillos, and 1 tsp. of salt in the blender. Purée until smooth.
In a medium saucepan, heat 1 tbsp. of oil over medium-high heat. Add the purée and bring to a full boil, stirring frequently. Reduce heat to a simmer, and then add the broth. After 15 – 20 minutes, turn off the heat and stir in the créma or yogurt.
Note: If it isn't thick enough, simmer some more. If it is too thick, add a bit more broth. Turn off the heat and allow to cool.
To prepare the chard, strip the leaves from the stems and cut into rough ribbons, about 1/2″ wide. Rinse the stems thoroughly.  Remove the toughest end of the stems, then chop the remaining part in 1/4 inch pieces.
In a large sauté pan with a lid, heat the remaining 1.5 tablespoons of oil on medium heat. Add white onion and sauté for 30 seconds. Add chard stems and sauté for one minute. Add all the chard leaves and toss. If they don't fit all at once, wait one minute until the first part wilts, then add the rest. Add 1/4 cup of water and then cover and reduce heat to low. Cook for about 10 minutes, stirring occasionally, until thoroughly wilted and tender. Remove the lid, and cook off the remaining water until fairly dry (about 5 minutes).
In a bowl, combine the chard and onion mixture with three-quarters of the panela cheese.
Heat each tortilla in a sauté pan over medium heat for a minute on both sides. Wrap tortillas in a moist dish towel to soften.
To assemble, ladle 1 cup of sauce in a 9×13 casserole pan. Dip each tortilla in the remaining sauce and then lay it in the casserole. Fill each tortilla with 1/4 cup of filling and roll, then push to one side, seam side down. Twelve will just fit snugly lengthwise in the pan.
Pour another cup of sauce over the top, then top with the remaining cheese and the Parmesan.
Bake for 25 minutes, until the sauce is bubbling and the cheese is melted. Raise the heat to 450 degrees and carefully cook a couple more minutes until the cheese has slightly browned. Remove from the oven and top with the red onion and cilantro sprigs. Salt to taste.
¡Buen Provecho!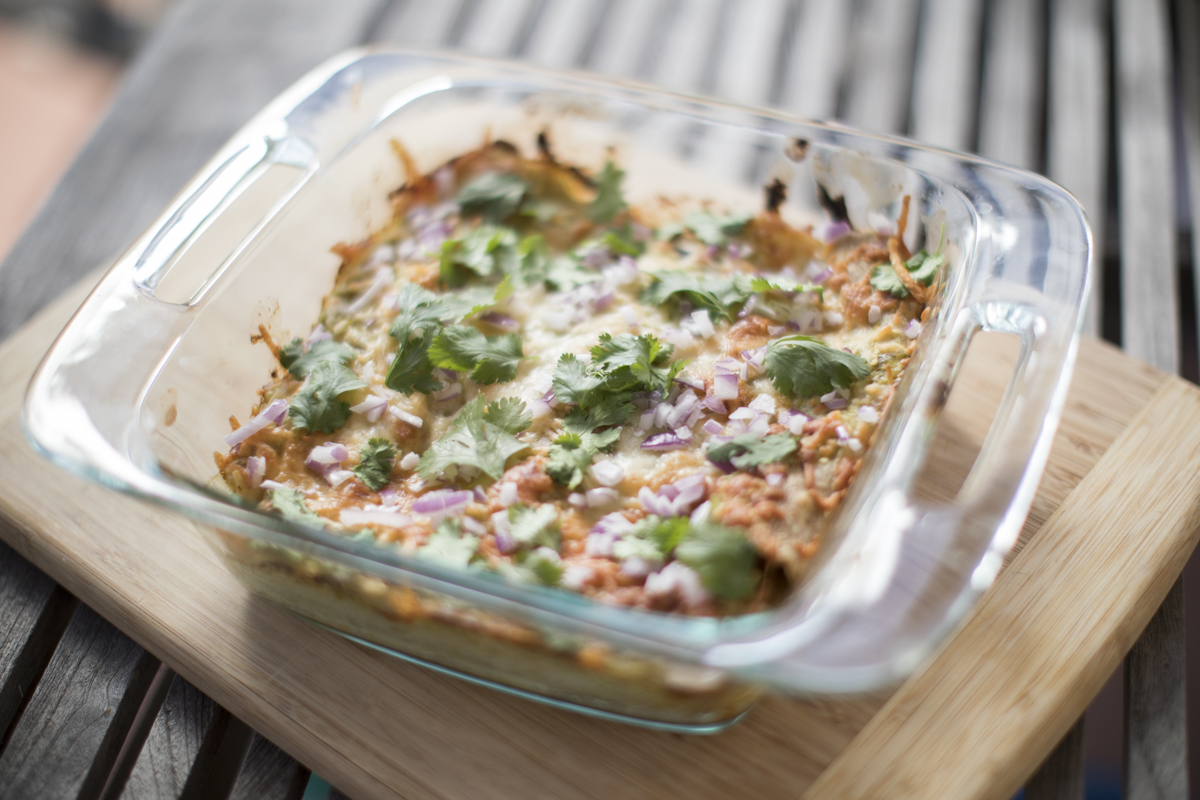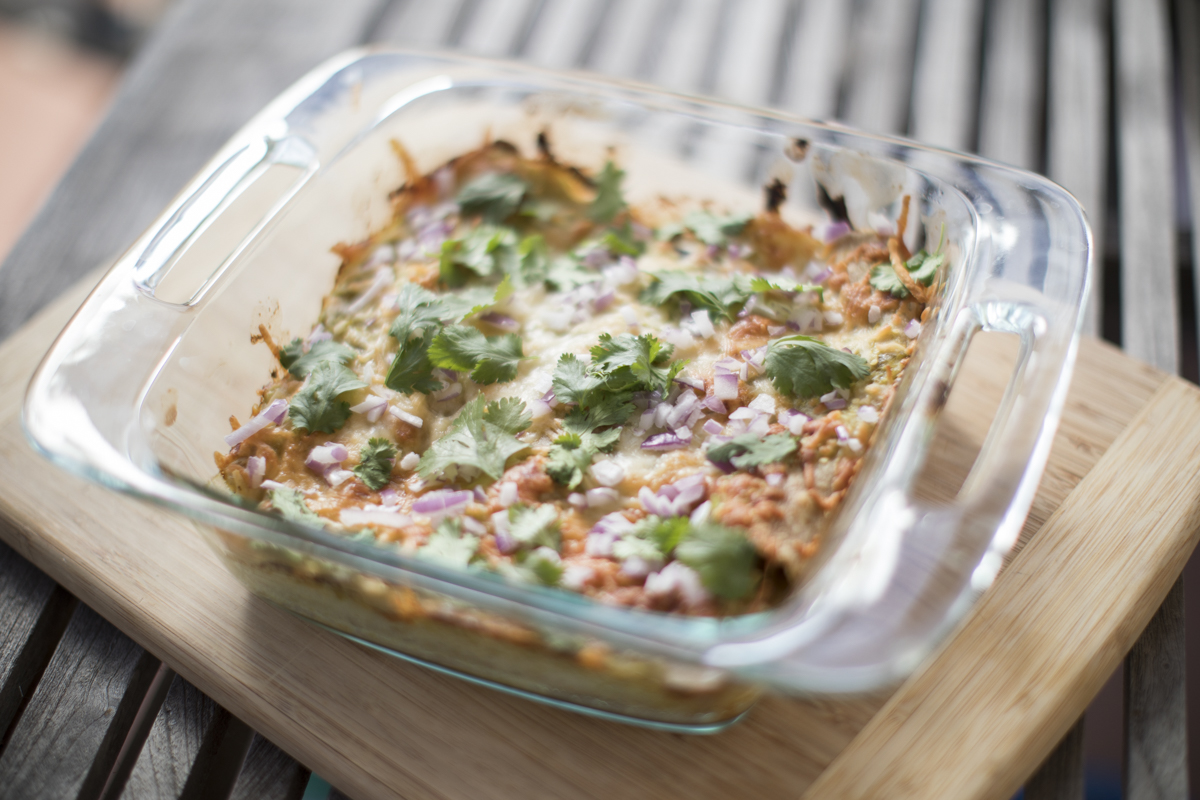 See more recipes or learn more about The Ranch's culinary philosophy.