This garden-fresh Rainbow Lasagna with Vegetarian Lentil Bolognese Sauce is a seasonal pleaser. "For me," says Executive Chef Reyna, "this represents spring and the rebirth of Tres Estrellas with all the veggies, and at the same time we are providing a nutritious meal by 'eating the rainbow.'" Any of your favorite tomato sauces would be a nice addition to the recipe, but we love the lightness of the lentil bolognese sauce in this two-part recipe.
Serves 4
Ingredients for Lasagna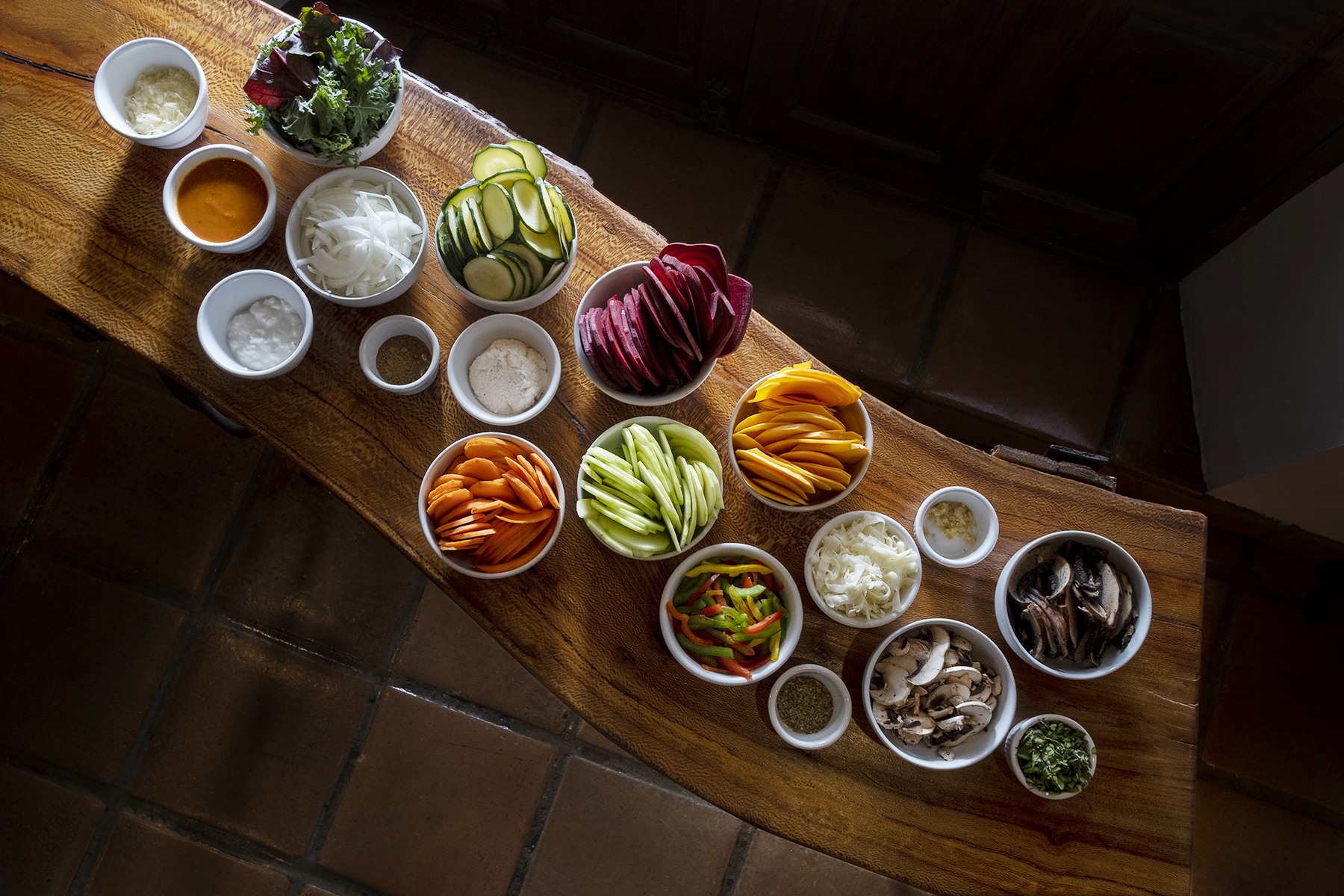 2 tbsp olive or avocado oil- divided
½ onion, finely diced
2 garlic cloves, minced
1 bell pepper, seeded and finely diced
2 cups white button, oyster or portobello mushroom (you can combine)
2 cups greens (kale, chard, spinach, collards, and/or beet greens)
1 tbsp dried oregano
½ tsp ground cumin
salt to taste
pepper to taste
1 cup mozzarella cheese
½ cup ricotta cheese
¼ cup cottage cheese
¼ cup parmesan cheese
1 egg
¼ cup chopped basil
1 butternut squash or chayote squash, sliced
1 cup marinara sauce, divided
1 large beet, sliced
2 large carrots, sliced
1 large zucchini, sliced
¼ cup parmesan cheese
Method for the Lasagna
Preheat the oven to 350°F. In a sauté pan heat half of the oil on low to medium heat and cook the onion until golden brown, add the garlic, bell pepper, and mushroom and cook until most of the liquid in the pan has evaporated.
Add the greens and cook until tender. Season with the dried oregano, cumin, salt, and pepper to taste.
In a bowl, combine the mozzarella, ricotta, cottage, and parmesan cheeses with the egg and freshly chopped basil.
Place the remaining oil in a square or rectangular lasagna pan. Next, arrange a layer of butternut squash, place the cooked mushrooms and greens followed by half the marinara sauce and a layer of cheese mixture. Repeat the process alternating with layers of beet, carrot, zucchini, and squash until finishing the ingredients to create a rainbow effect when you cut the lasagna.
Cover with foil and bake for 30-45 minutes.
Let sit for 15 minutes before slicing, allowing the lasagna to settle. This will help create crisper slices.
Serve topped with the Lentil Bolognese sauce and shaved parmesan.
Ingredients for the Bolognese sauce
1 tbsp olive or avocado oil
½ small onion, finely diced
1 garlic clove
1 carrot, finely diced
2 celery ribs, finely diced
¼ cup vegetable broth or white wine (optional)
2 cups marinara sauce or peeled and diced tomatoes
1 bay leaf
1 tsp dried oregano
2 springs of thyme
Salt and pepper, to taste
1 cup cooked lentils
Method for The Vegetarian Lentil Bolognese 
Heat a pan over low to medium heat and pour in the olive oil. Sauté the onion, carrot, garlic, and celery until fragrant. Add the white wine, marinara, and bay leaf. Let cook for 5-10 minutes or until all flavors meld together. Season to taste with oregano, thyme, salt, and pepper.
Add the cooked lentils and cook or low heat until the sauce starts bubbling. Add salt and pepper to taste.
Ladle onto the lasagna or serve with your preferred pasta.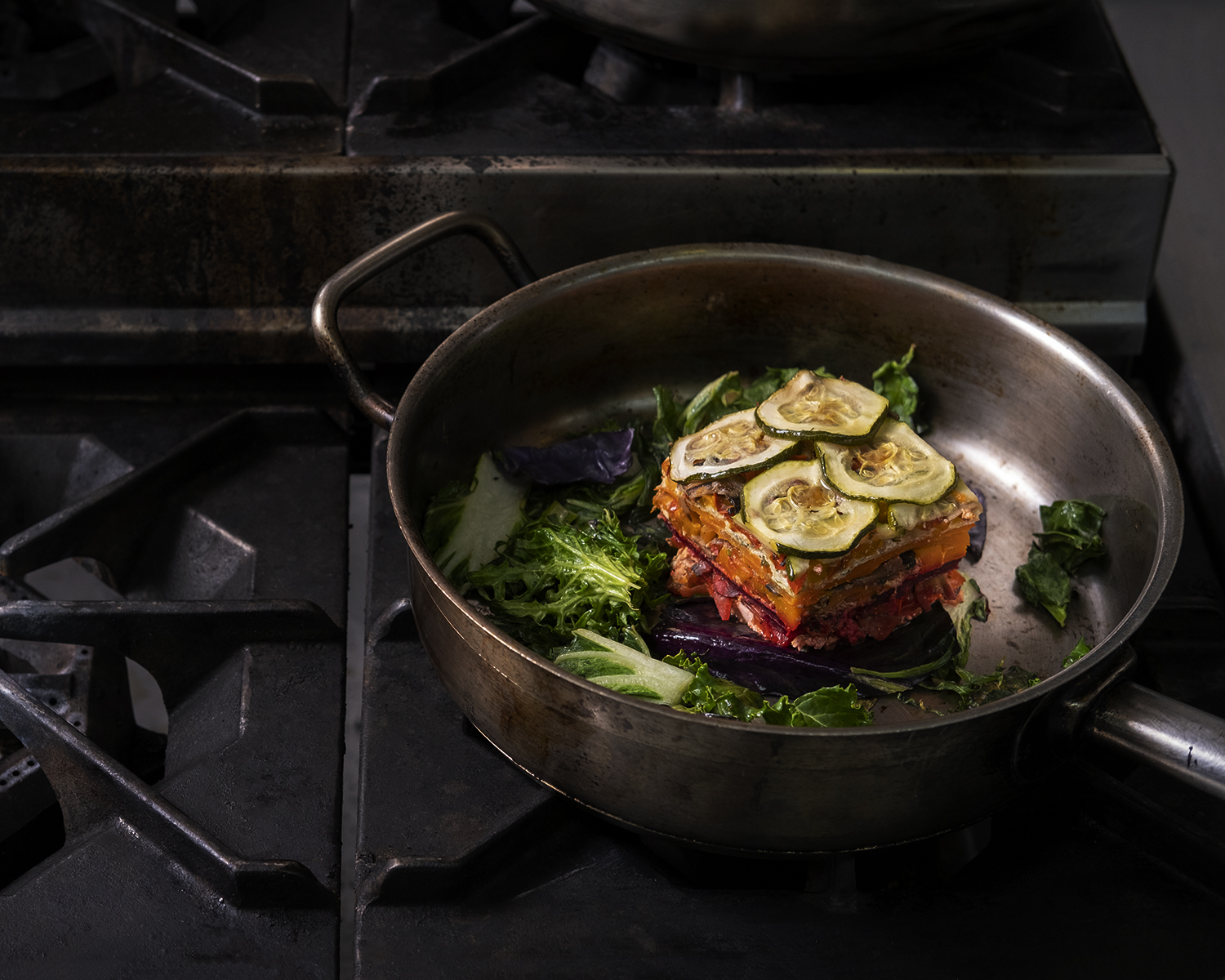 See more deliciousness or learn about our amazing farm.