Ranch Reset is a one-day juice detox program based on our bodies natural healing process. This holistic approach to self-care is centered on helping restore balance in our bodies and lives. Spa and Spa And Holistic Therapy Specialist And Acupuncturist Regina Montalvo oversees the program, which she introduces in her lecture "Ranch Reset-Restore-Revitalize" on Sunday mornings. I hadn't participated in an intermittent fast before so was I intrigued by this one-day* program, and I'd like to share how it unfolded.
Sunday Lecture 9:00 am
The first step in the Ranch Reset is Regina's lecture at the Library Lounge. She gave us an overview of the juice cleanse and explained The Ranch's approach to the natural healing process. "Our goal," said Regina, "is to live in rhythm with our bodies and the earth. A day of juicing gives our body a chance to rest." She encouraged us to make an appointment with her for a consultation so she could help us get the most out of our week and achieve our goals.
10:30 am Consultation
I made an appointment to meet with Regina the same morning as her lecture by calling the scheduler at the Villas Health Center. When I arrived and checked in, they had me fill out a questionnaire listing my goals and areas I'd like to focus on. Regina went over a few classes and spa services that would help me achieve my self-care goals and signed me up for the one-day Green Juice Detox on Monday. The program includes five juices on Monday starting with breakfast at the Dining Hall at 8:00 am. The other green juices I picked up at the juice bar, Tierra Alegre, at 10:30, 1:00, 3:00, and the last one at 6:00 pm in the dining hall.
11:15 am Infrared Sauna
One of the first activities Regina recommended was the infrared sauna at the Men's Health Center. The Women's Health Center has one too. Since the infrared heats your body directly and not the air or steam around you, it was a milder experience than the wet sauna and had lower temperatures. I spent my time inside meditating for 15 minutes. It was wonderfully relaxing and prepared my skin for a facial.
12:00 pm Facial
After a refreshingly cold shower, I walked to the Villas Health Center for a facial with Catalina. Regina said a cleansing and hydrating skin treatment would help kick off my reset and it left me refreshed and feeling great. The rest of the day, I spent my time reading a book and relaxing. There's a handful of other cleansing options if you prefer, but this one was perfecto for me!
Monday
8:00 am First Juice
I was delighted to sleep in and skip the morning hike. Typically, hiking is a highlight of my day.  I went to the Dining Hall for my first breakfast green juice, which was made from fresh celery and lemon. It was blended that morning and put in a mason jar. I went out to the Oak Grove to drink it and set my intention for the day.
9:00 am Meditation
I went to a group meditation led by Phyllis Pilgrim. "Sometimes our mind," she reminded us, "is like a grand central station with ideas coming and going without a schedule. It can be exhausting." To keep us from becoming a mental train wreck and restore balance, she encouraged us to focus on our breath to stay present and centered.
10:00 am Pickleball
Since I usually do strength training during the week, Regina thought a more social, cardio activity would be a good match for me. I had a blast at Pickleball led by Instructor Mike Bee. He had great tips for doubles games and vast knowledge of the rules.
10:50 am Second Juice at Tierra Alegre
11:00 am Nature Walk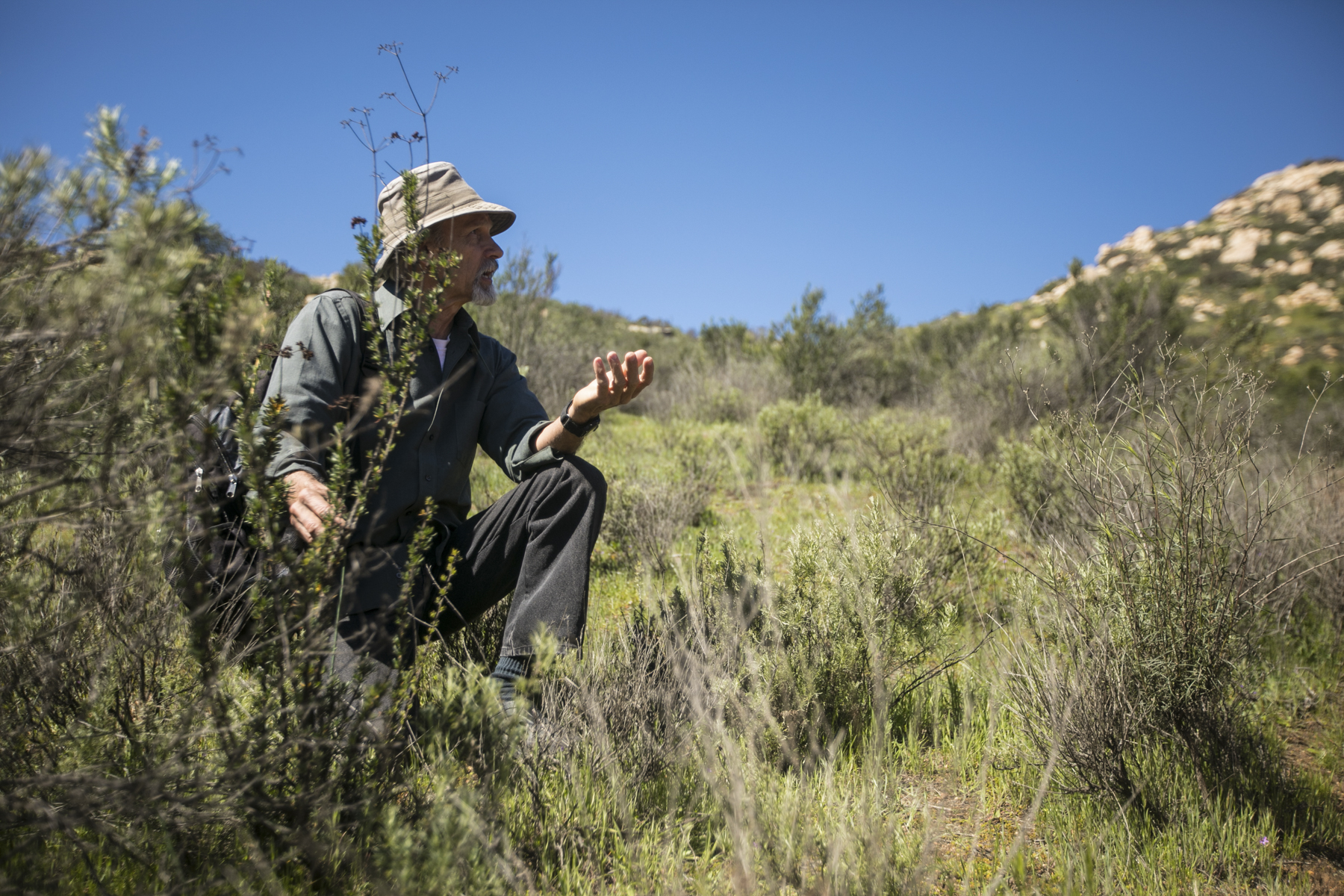 Rob Larson led us on the Nature Walk through the gardens. He introduced us to the native plants while interspersing the history of The Ranch. This was a wonderful way to discover more about Rancho La Puerta and the indigenous fauna.  This will be on my "must do activities list" since every walk is different, and he changes the talk with the seasons.
12:00 pm Juice It Up Lecture
Alejandra and Jasmine are specialist on a mission to provide delicious and nutritious fresh juices. Their smiling faces greeted me each time I went to Tierra Alegre Juice Bar to pick up my jar of juice. They also led a lecture on the best practices for making juices at home. One great tip they shared is that after buying, washing, and preparing the vegetable ingredients, place them into single serving size containers in the fridge. It'll help make the preparation time more efficient. They also recommended slicing celery into thirds since it's very stringy and can clog a cold press juicer.
1:00 pm Third Juice
2:00 pm Craniosacral Therapy
Regina recommended that I meet with Michael Brightwood at Villas Health Center for a Craniosacral Therapy session to help with stress and calm my nervous system. During this 50-minute session, Michael gently touched my temples then put his hand on my back and said he was feeling for "vibrations," indicators of increased cortisol, the adrenal gland's stress hormone which activates our flight or fight response. This was a completely new experience for me, and as the session proceeded, I felt calmer. We talked about stress in my life and working on inner personal tools to reduce it.
3:00 pm Fourth Juice at Tierra Alegre
6:00 pm Fifth and Final Juice
I picked the last juice at the Dining Hall while dinner was being served. It smelled wonderful. I was surprisingly satisfied and didn't miss eating. I took it to my room, showered, and relaxed. I was feeling energetic and got ready to attend the 8:00 pm lecture.
8:00 pm Lecture at Oaktree Pavilion
What a great way to wrap up the day. Rancho La Puerta co-founder Deborah Szekely and Program Director Barry Shingle held a talk at the Oaktree Pavilion. At 97, Deborah's witty, sharp and full of wisdom. Her positivity and joy was the perfect ending to a beautiful day. And with that, I headed to my Villa to snuggle deep into my blanket and pillow.
* The Ranch also offers The Natural Healing program which offers more spa services that take you beyond a one-day program.