Summer is upon us, which means it's time to level up your sun protection game to full force. This is essential because skin cancer is the most commonly diagnosed cancer in the U.S. each year, and many of these cases could have been prevented by taking precautionary measures against the sun (American Cancer Society). The Ranch provides numerous ways for guests to protect themselves all year round—from the clothing and hats we sell at the Mercado, to the skin care products we sell. Read on to learn about The Ranch's sun care and how these products can help prevent skin cancer, heal the skin, and prevent fine lines and wrinkles.
The Ranch's Favorite Sunscreens
If you plan to be in direct sunlight, use the La Puerta Core Essentials™ Sun Protection With SPF 30.  This lotion will protect your face and body from the sun, and also helps to revitalize dull skin. It's free of synthetic chemicals found in most sun care products, as it uses natural Titanium Dioxide as UVA and UVB protection. The formula contains Shea Butter to assist in healing damaged skin cells and Rosehip Seed Oil which is known to improve the elasticity in skin and reduce the appearance of wrinkles. It also contains Aloe Vera Gel to help balance the Ph of the skin and soothe any irritations. Don't forget to apply sunscreen behind your ears and on the tops of your feet!
Insider tip: Pat this sunblock gently onto your face and body in a circular motion until it is fully blended. A little goes a long way.
Did you know that harmful sun rays can penetrate glass, meaning that your skin can be damaged while you're driving or sitting indoors near a window (Skin Cancer Foundation)? And even if it's a gray day, the sun can still take a toll on your skin. It's important to wear sunscreen every day, and an easy way to incorporate it into your daily routine is by using mineral makeup. The Ranch's Skin Care Centers feature Jane Iredale products, such as Glow Time® Full Coverage Mineral BB Cream,  which contains a broad spectrum (UVA/UVB) sun protection. Use this and Jane's other mineral makeup for protection that's natural, clean, and good for the skin.
Insider tip: This mineral makeup line is powerful – a little bit of product will go a long way!
Protect your pucker! Lips are vulnerable to sun, and The Ranch recommends using Classic Liplux Organic Lip Balm from COOLA, which is available on property at the Skin Care Centers. This line of luxury organic sun care is effective and safe to use.  COOLA uses natural ingredients whenever possible, and offers sunscreens that contain over 70% certified organic ingredients. Your lips will feel moisturized and smooth when you wear this protective balm.
Insider tip: Wearing lipstick or shiny lip gloss can actually redirect harmful sun rays to your lips, so make sure to stick with a lip balm with SPF or wear a matte colored lipstick.
After Sun Care
Whether you spent too much time at the beach, got stuck in a windstorm, or went on an intense outdoor skiing adventure, La Puerta Core Essentials ™ Sun Care line is the perfect way to help heal your skin. This collection of products work in harmony together to revitalize skin that has been exposed to the elements.
Use Lavender Face & Body Mist throughout the day to replenish dehydrated sun-exposed skin. Made from 100% organic Lavender Hydrosol, this uplifting and refreshing Face & Body Mist will instantaneously awaken your senses and can help soothe and moisturize your skin.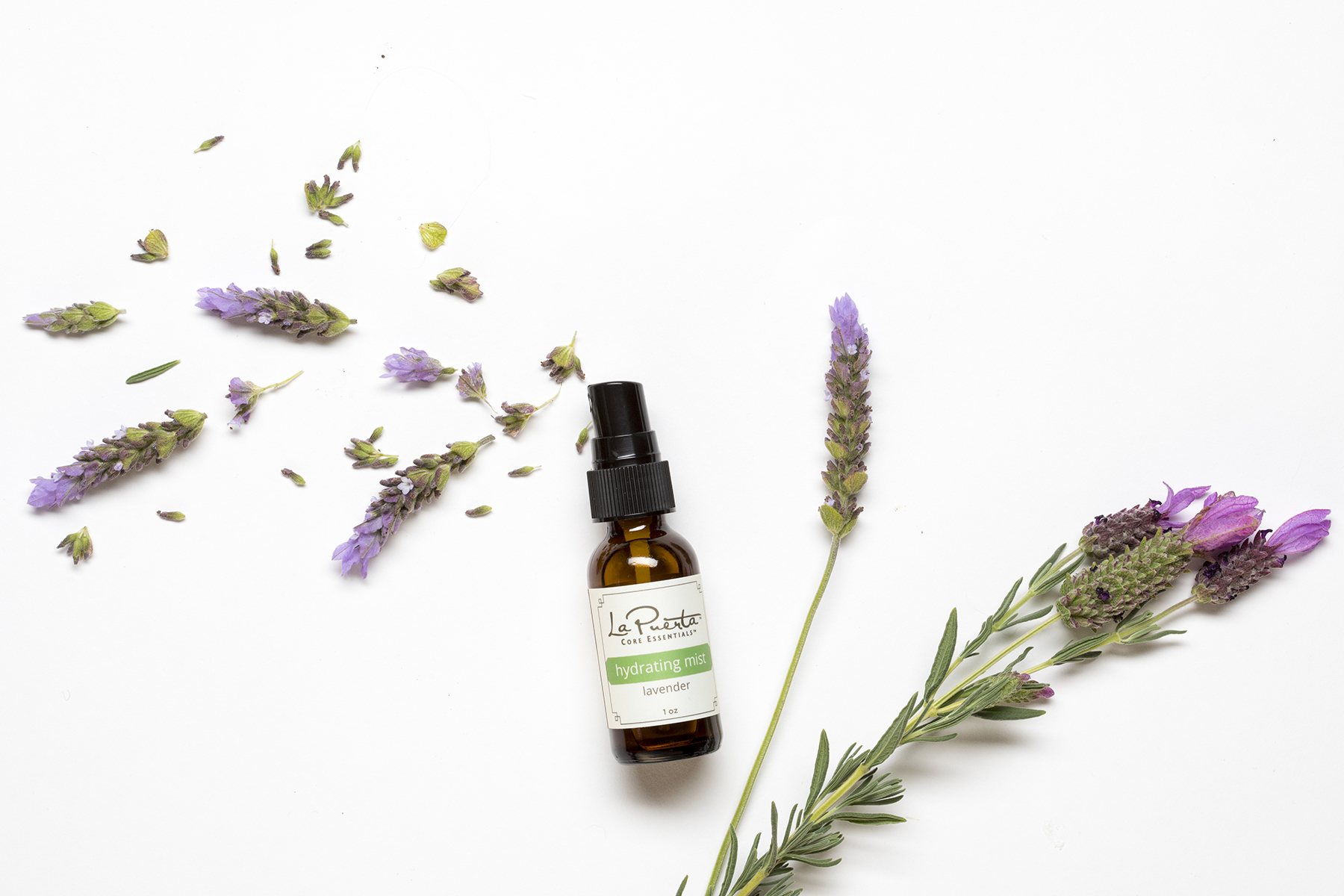 Insider tip: Store the mist in your fridge for an especially cooling aromatherapy pick-me-up.
Apply Recovery Gel with Aloe Vera and Lavender to help to relieve the pain, burning, and agitation from sun-exposed or sunburned skin. The gel is infused with Aloe Vera, which helps soothe and heal sun-exposed skin with its hydrating, cooling and anti-inflammatory properties. This powerhouse plant is naturally emollient and provides a layer of protection that keeps moisture in and environmental pollutants out of the skin.  It also contains Lavender Essential Oil to which is known to help relieve sunburns, eczema, and other dry skin conditions.
Insider tip: Dab on the Recovery Gel to help relieve itching from small mosquito and insect bites.
La Puerta Core Essentials™ Rehydrator Lotion with Rosehips and Aloe helps nourish dry skin, promotes suppleness, helps heal sunburns, and helps prevent peeling after sun exposure.  The sweet aromas of Orange, Vanilla and Jasmine will stimulate your senses and is reminiscent of a creamsicle. Aloe is known to synthesize collagen and connective tissue. Apply Rehydrator Lotion daily after showering to restore and balance your skin while stimulating the senses with pure essential oils.  For sunburned, chapped or dry skin, apply generously throughout the day to soothe and cool skin.
Insider tip: This product smells good enough to eat and is a great way to uplift your mood during cold weather.
Whether you plan to go to The Ranch, the beach, or on a road trip, it's paramount to be prepared. Store sunscreen in your car, your travel bags, and your luggage so you're always ready to protect yourself.