The first truth about seafood paella is that it starts with the pan. This entrée is named after the pan itself. Instantly recognizable, a paella pan is shallow and wide, allowing the rice to rest in a thin layer across the bottom.  The second truth about seafood paella is that it tastes better when leisurely eaten with friends or family and on special occasions or fiestas.
This delicious version is served on Wednesday nights throughout summer at The Ranch. I'm sharing a recipe that is proportionally reduced from the Rancho La Puerta Culinary Team variation which can be made for up to 200 diners. If you make your own fish stock, this two-part recipe will take about an hour and a half. Otherwise, the paella will take about an hour to cook.
Feeds 4-6
INGREDIENTS:
2 cups Bomba Rice (paella rice)
1 small onion, finely chopped
2 garlic cloves, finely chopped
3 bell peppers (red, green and yellow), sliced
½ cup peas
2 tablespoons olive oil
1 pinch saffron threads
1 tablespoon organic tomato paste
1 teaspoon pimentón or smoked paprika
6 white clams, washed
12 medium prawns, peeled and deveined
6 mussels, washed
1/2 cup white wine
4 cups vegetable or seafood stock
Salt and pepper to taste
¼ cup scallions, finely chopped
4-6 lemon wedges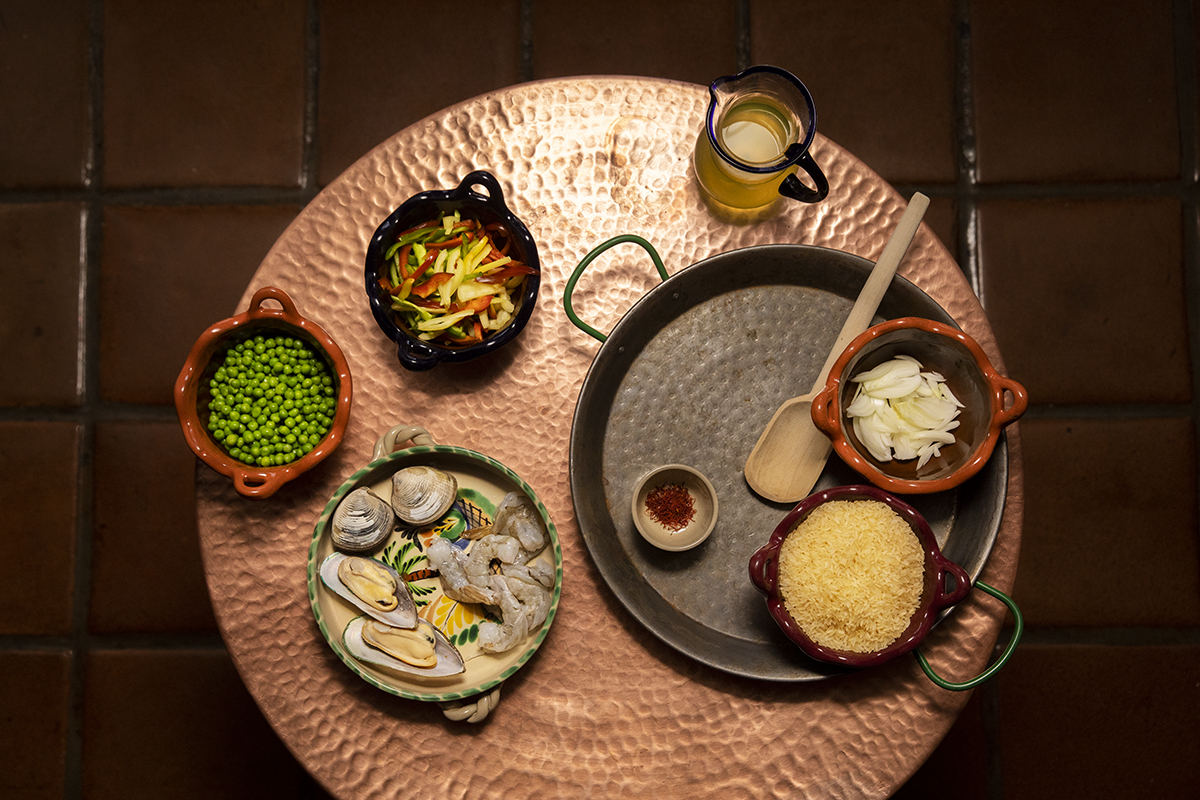 *INGREDIENTS FOR SEAFOOD STOCK:
4 cups water
1 small onion
2 garlic cloves
2 stalks of celery
2 carrots
1 cup shrimp, cleaned
4 oz. fish
Add all the stock ingredients to a medium pot and bring to a boil.
Simmer for 30 minutes.
Strain and reserve.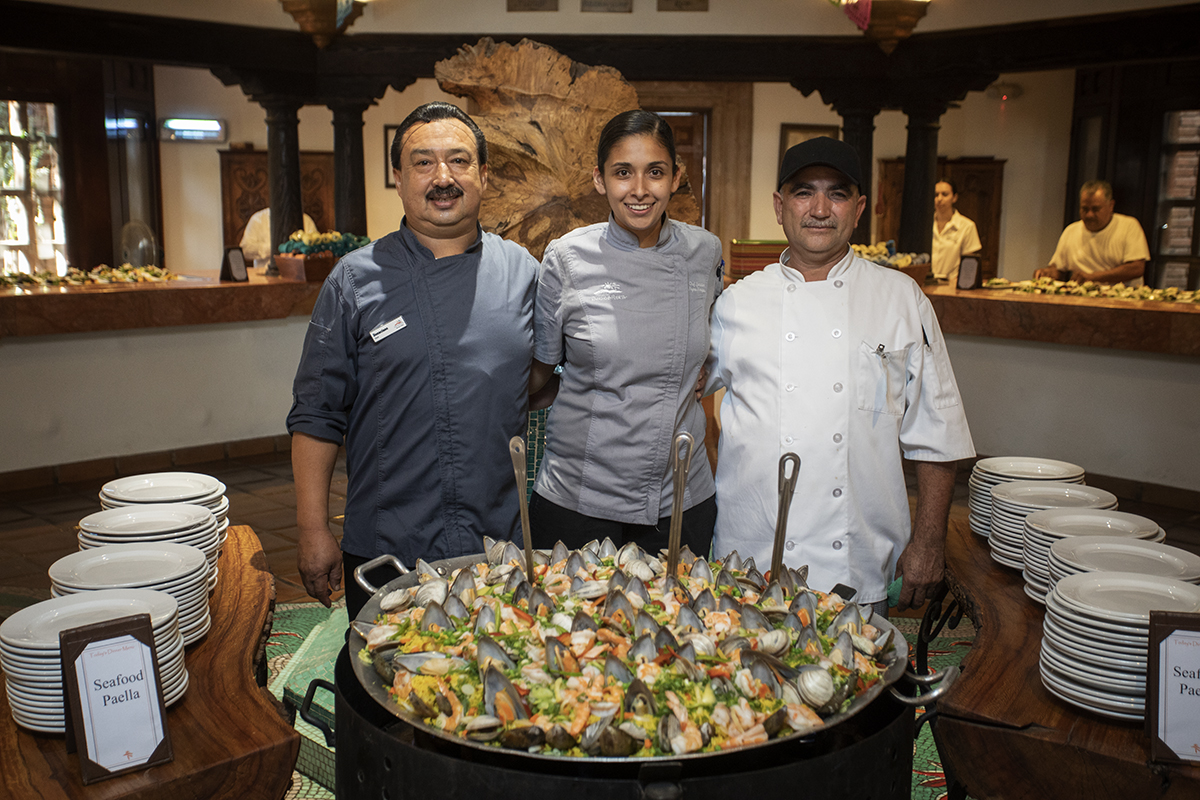 METHOD:
Prepare and measure all your ingredients before starting to cook.
IIn a large paella pan, cook the diced onions in a splash of olive oil on medium heat. Once translucent and almost cooked, add in the paella rice and stir to coat it in the oil. Fry for 3-4 minutes on medium heat.
Add the smoked paprika, tomato paste, and garlic then pour in the white wine. Let it evaporate then add enough *stock to cover the rice. Let simmer on low heat until the rice has almost soaked up the stock.
Add the saffron and stir the rice to make sure it's not stuck to the bottom of the pan. Continue to simmer on low heat. Add more stock to cover the rice again. Season with salt and pepper to taste.
Spread the prawns, mussels, clams, and peas across the top of the rice.
Slowly pour more stock over the rice until it stops absorbing the liquid. You should have some stock leftover and the rice should be firm, al dente, not sticky and overcooked.
Cover and allow the seafood to cook in the steam. After 4-5 minutes the prawns will be delicious, and your paella will be ready to eat.
If you want to create the coveted socarrat, the crunchy toasted rice on the bottom of the pan, crank the heat for the last 3- 4 minutes and allow the rice to form a crust. But watch out! It's easy to burn. Listen for a pop and crackle and you'll know you're rice is ready. Serve with a wedge of lemon and top with chopped scallions.
¡Buen Provecho!
We make ocean-friendly choices about our seafood through Seafood Watch. See more main course recipes.