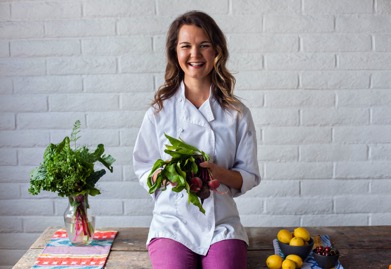 Chef Kathryn Rogers, Founder of Vivacious Dish, has dedicated her life to discovering the best that nature has to offer and sharing it around tables worldwide. With more than 15 years' experience creating colorful dishes from locally sourced ingredients, she works with food as medicine and creates delicious opportunities for positive transformation – in our bodies, our communities and for Mother Earth. She specializes in creating decadent dishes from whole ingredients, including gluten free, vegan and paleo desserts. As a member of the international Slow Food movement and San Diego Board Leader, she loves connecting people with the values of good, clean and fair food in the local community and beyond.
Kathryn resides in San Diego, CA and has hosted cooking classes and retreats around the world.
Chef Kathryn Rogers offers three hands-on culinary experiences, 3.5 hours each, during which you will enjoy preparing your own meal along with fellow cooks. Classes take place at La Cocina Que Canta, our culinary center on Tuesday, Wednesday and Thursday at 4 pm. For more information and registration, please click here.