Dana Rae Paré gives you the tools to create a healthy and fit lifestyle that leads to a positive connection with yourself. Her OM Body Method is an intelligent, strategic plan for complete body/mind wellness. A synthesis of traditional yoga, the science of fitness and 20+ years of teaching worldwide. Dana's system delivers a series of techniques that bring proven results.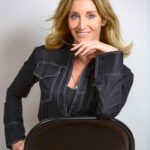 Dana Rae Paré began training in dance, voice & theater at an early age and performed professionally throughout the world for a decade. During that time, when not on the road, she taught popular dance-cardio/fitness classes in Los Angeles, Japan and Germany.
When she retired from performing, she made a natural transition into Yoga. Studying Iyengar, Ashtanga Vinyasa, Forrest and Yoga Therapy, she traveled to India multiple times to deepen her knowledge. Dana soon found herself teaching specialty weeks at Rancho la Puerta and other exclusive resorts known for their celebrity clientele.
Dana's desire to make yoga accessible to all led her to create Infinite Yoga, a San Diego based yoga studio providing classes, workshops, yoga retreats and teacher trainings. Feeling the need for more music and cardio, she opened an indoor cycling studio adjacent to Infinite Yoga – eventually merging the two businesses into one brand – CycleOM.
In response to the pandemic, Dana immediately designed an online program for her members to provide a positive daily connection during a time of crisis. The goal was to offer at-home classes that would maintain physical strength and help with their mental wellbeing. The results were phenomenal: "more strength", "more energy", "happier", "staying sane" and "in my best shape ever!". Plus former students & clients who lived throughout the world found an online sanctuary through the new virtual connection: "It felt like coming home".
Proven results, renewed connections, and the vision of a healthy and positive worldwide community became Dana's inspiration for launching OM Body. Join her for a special week of Empowerment Through Movement at Rancho la Puerta.