Since I was a little girl, I was a natural underwater. My mom and dad would toss me up in the air and let me go under the surface of the pool. I would come up smiling with my eyes wide open. I discovered synchronized swimming in Richmond, Virginia, at age 7. I was already taking gymnastics and diving. One day at diving practice, I was drawn to the music underwater. A synchronized swim clinic was taking place, and I told my mom I wanted to try it.
When I was born, I had severe breathing problems, and my lungs were fragile. I had severe asthma with lots of asthma attacks, allergies, and breathing problems. I was in an oxygen chamber for the first few weeks. I also was born with scoliosis, which really didn't affect me until later in life. Swimming is my savior as I feel light, and my spine feels straight in the water. I find freedom of movement.
The doctor told my mom and dad that I should stay on the sidelines and not do a lot of activity. Running fast and doing activities kids like to do would only bring on more asthma attacks. My mother did not listen to that. She did the opposite. She put me in the swimming pool at a very young age to build my lungs and make them stronger. My parents had me in the pool before I turned one year old, putting my face in the water and letting me float in their arms.
I was drawn to the music like a mermaid is drawn to the ocean waves. When I joined the clinic, I was an absolute natural. I could swim underwater very gracefully. This was precisely the therapy my little lungs needed to get me over the hump of having asthma attacks.
Also, my parents gave me so much gumption, telling me they wouldn't listen to the doctors! I wasn't going to be on the sidelines. I was going to be a mermaid! I was obsessed with mermaid tails and swimming in the water as a little girl.
Ever since that first synchronized swimming clinic, I was hooked. That Fall, I joined the team at the University of Richmond for workouts. The coach, Peg Hogan, is one of the best coaches in synchronized swimming.
We practiced at the college pool. By age 12, I was already practicing four hours a  day and training for competitions all around the United States. My goal was to be on the Santa Clara AquaMaids synchronized swimming team. I made the team in 1987 and moved from Virginia to Santa Clara, California. We practiced up to eight hours a day when I was on the Santa Clara AquaMaids. We trained for flexibility, underwater breathwork, full conditioning workout, yoga stretching, ballet, and hours practicing our synchronized routines to beautiful music. I competed worldwide and had the opportunity to do mini-shows and performances. I performed at SeaWorld, in San Diego and in the Splash show in Las Vegas. Later, I had the chance to do commercials, TV shows, and even a movie.
Synchronized swimming combines the skills of ice-skating, dance, music, ballet, Yoga and flexibility, scuba diving, floating, water polo, speed swimming, showmanship, and glamour.
I love synchronized swimming because of the beautiful artistry of making up a routine in the water. It's genuinely a fun, thrilling, and fascinating art in the water!
The week that I'm at The Ranch, I will also teach yoga and aquatic jogging. My passion is to be of service, to be a teacher, and help others find ease in their body like I have.
I'm so looking forward to letting people know about synchronized swimming. It's one of the hardest sports in the world. It takes many years to perfect at the level that I achieved!
I will teach an elementary synchronized swimming class Esther Williams style, making beautiful patterns in the water, the efficient way to kick and have more freedom in their bodies, and learning how to float correctly. Growing up, Ester Williams was my idol, and I dreamed of going to Hollywood and being a real mermaid. I realized my dreams came true when I started doing movies and tv shows.
This is also an excellent workout for your entire body, especially your core muscles. You need that to hold yourself straight in the water and for healthy movement and mobility throughout the day.
We will also be exploring how to hold your breath underwater for 15 or 20 seconds at a time to help expand your lungs. We'll be using goggles, a nose clip, and a swim cap.
I'm also going to be teaching Aerial Yoga when I'm at The Ranch It's also a therapy specialty practice that decompresses the spine and its traction. Aerial Yoga is such a joy because I spent most of my life upside down underwater.
Bring your goggles, nose clip, and a swim cap. Join Katie at The Ranch August 20- 27 and channel your inner mermaid or merman.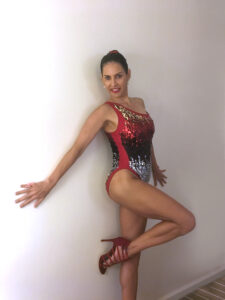 Kaite Killebrew is a National & World Champion swimmer and head coach and owner of Angel Fish Synchronized. In addition to being a Paralympics coach at the 2016 Rio Paralympics, she is a Yoga Alliance Certified Coach, and owner of Flow & Glow Skin Care Services in Hollister, California.
Learn more about The Ranch's Water Program or learn about Katie's fantastic week August 20.