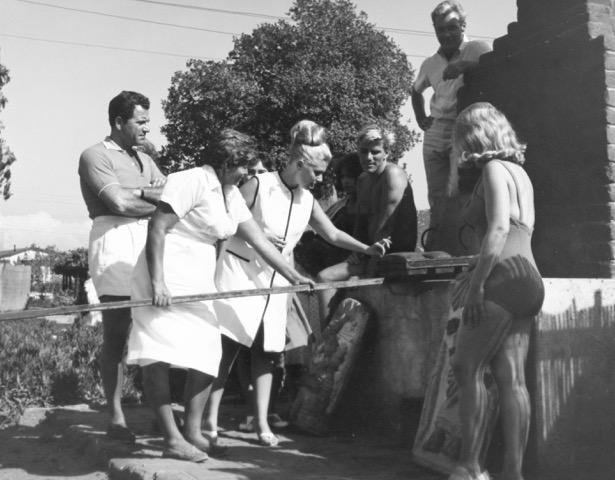 "How to make bread is not as important as what goes into it," wrote Professor Edmond Szekely in a Rancho La Puerta cookbook of long ago. "In other words, the ingredients are what decide whether bread is indeed the 'staff of life' of the Bible, or the sickly commercial white loaf found in the supermarket." Since the Ranch's earliest days, a hearty whole-wheat bread has sustained guests. Taking a loaf home on the last day became a tradition-a way to, literally, "take The Ranch home" in addition to your reinvigorated mind, body and spirit! Here's the classic recipe. 
Ingredients:
3 cups of warm water 105-110°F
¼ cup of wild-sage honey
1 packet of active dry yeast ( ¼ oz)
½ cup of cold-pressed safflower or sunflower oil
8 ½ – 9 ½ cups of stone-ground whole-wheat flour
1 cup of wheat-bran flakes
2 tbsp plus 1 tsp of poppy or sesame seeds
1 ½ tsp of sea salt
1 egg white, beaten (for glaze)
Directions:
In a medium bowl combine water and honey.  Sprinkle over yeast; stir to dissolve.  Let stand 5 minutes or until frothy.  Stir in oil if preparing dough by hand; knead thoroughly to ensure lightness and as much gluten as possible.
In electric-mixer bowl or large bowl, combine yeast mix with oil, 8 ½ cups flour, bran, 2 tbsp seeds and salt.  Knead dough in electric mixer fitted with dough hook.  (Or knead by hand about 10 minutes on work surface.)  If dough is very sticky, add ¼ cup flour at a time; continue to knead 10-15 minutes or until dough pulls away from sides of mixing bowl and is smooth and elastic.
Shape dough into ball.  Lightly brush large bowl with vegetable oil.
Add dough, turning to coat surface.  Cover with damp kitchen towel; let dough rise about 1 hour until volume doubles.
Brush lightly with oil two 9 x 5 x 2" loaf pans.  Punch down dough; divide in half.  Knead until smooth.  Shape into loaf pans.  Make 1/8" lengthwise slash on each loaf.  Let rise about 45 minutes until volume doubles.
Brush tops with beaten egg white; sprinkle with remaining seeds.
Preheat oven to 350 degrees.
Bake 35-40 minutes or until loaves sound hollow and golden brown on top.  Remove from pans.  Cool completely on racks before slicing.
Makes 2 loaves, or 50 ½ -inch slices
To freeze, wrap sliced loaves in plastic bags and keep up to 2 months.
Enjoy more Ranch recipes!