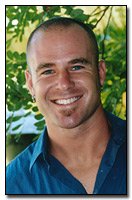 If you're ever down at the Ranch and have a chance to go to Pete Kirchmer's series of classes on Self-Control and Willpower, you must go.  I'm telling you!  His class was packed each day I was there and for good reason.  Pete is an amazing speaker, is easy to understand and to the point.  Both days I left his class I feeling like I could tackle any issues I had regarding lack of willpower (hmmm, chocolate and sweets were the main ones that came to mind).  Here are some highlights that Pete mentioned when it comes to why we need willpower and how to access it.
What is willpower and why do we need it?
Willpower is the "yes I can kind of energy".
It's a myth that you don't need willpower to succeed.
We all know what we're supposed to do, right? Eat fruit and veggies, moderate alcohol, caffeine and sugar, do high intensity short duration workouts 3 times a week, sleep 7 or 8 hours, manage your stress, etc…but how many of us actually do that?  That's why we need willpower.
Willpower is the greatest predictor of success.
Studies have shown that people with strong willpower are happier, healthier, make more money and are more stable emotionally.
Willpower is a better predictor of success than IQ.
Willpower is the process of reconditioning.
As soon as you engage in that internal conflict you've already lost the battle.  Ex: Should I have the piece of cake?  No I shouldn't I have that piece of cake, but I really want it!
How to train your brain for more willpower is being mindful in the present moment on purpose.
Most habits run on autopilot, but when you wake up to your own behavior patterns and observe yourself, your impulses are no longer in charge of you.
The strategies and steps to stronger willpower:
Who Power-Knowing who you are at your best and your worst.
Want Power-Being clear about what you want.
Why Power–Being tapped into a source that motivates consistent action and progress.
We Power-The understanding of social norms and the impact others have on your health and behavior.
Where Power– What places give you energy and which drain your energy.  More clutter leads to less willpower.
Will Power-Having a solid action plan and structure that breaks down each goal into manageable steps.
Won't Power-Setting up firm boundaries around commitments and planning ahead for potential obstacles.
So we can see that willpower is really the tool that we can use to better our life, our health and our goals.  While this is just an overview of Pete's presentation, it will give you some insight on the types of steps you can do to flex your willpower muscle!  However, Pete goes over so much more in the class and I can't stress enough how valuable his teachings are.
Pete Kirchmer is a life coach who teaches the series of classes, The Surprising Science of Self-Control at Rancho La Puerta.  To learn more about Pete, you can go to his website, http://www.mindfulnessbasedhealth.com.