This delicious vegan, chocolatey, creamy, fruity, crispy crust and beautiful tart is from Executive Chef Reyna and her crew of kitchen conjurers at The Ranch. It calls for dates and cashews which have been soaked overnight, so they're tender when whirled into cardamom ganache. The Ranch's Granola is used for the crust in this multi-step recipe. And every step of this recipe is worth the journey.
Ingredients for the crust:
2 cups granola
¼ tablespoon nutmeg
½ tablespoon orange zest
1 teaspoon ground flaxseed mixed with 1 tablespoon water
¼ cup agave syrup or honey
oil
Directions:
Preheat the oven to 350°F.
Place the granola, nutmeg, orange zest, flaxseed, and agave in a food processor. Process until paste consistency.
Grease a tart mold with oil or butter and gently press the granola mixture to create a thin tart base.
Bake for 20-30 minutes until the crust is crispy. Cool completely.
Ingredients for the chocolate ganache:
1 ½ cup 70% Dark Chocolate, chopped
1 can (19 fl. Oz.) Coconut Cream
1 vanilla bean
1 pinch sea salt
Directions:
Place the finely chopped chocolate in a large bowl.
Heat the coconut cream in a saucepan over medium heat. Do not let it come to a boil. Add the vanilla bean and pinch of salt.
Once hot, pour the cream mixture over the chocolate and stir.
If necessary, you can place it in a bain-marie to melt the remaining chocolate pieces. Pour the chocolate mixture into the cooled tart base. It should fill 1/3 of the tart.
Chill in the refrigerator for 1-2 hours before serving.
Save the extra chocolate cream in an airtight container or pour into small ramekins and keep refrigerated.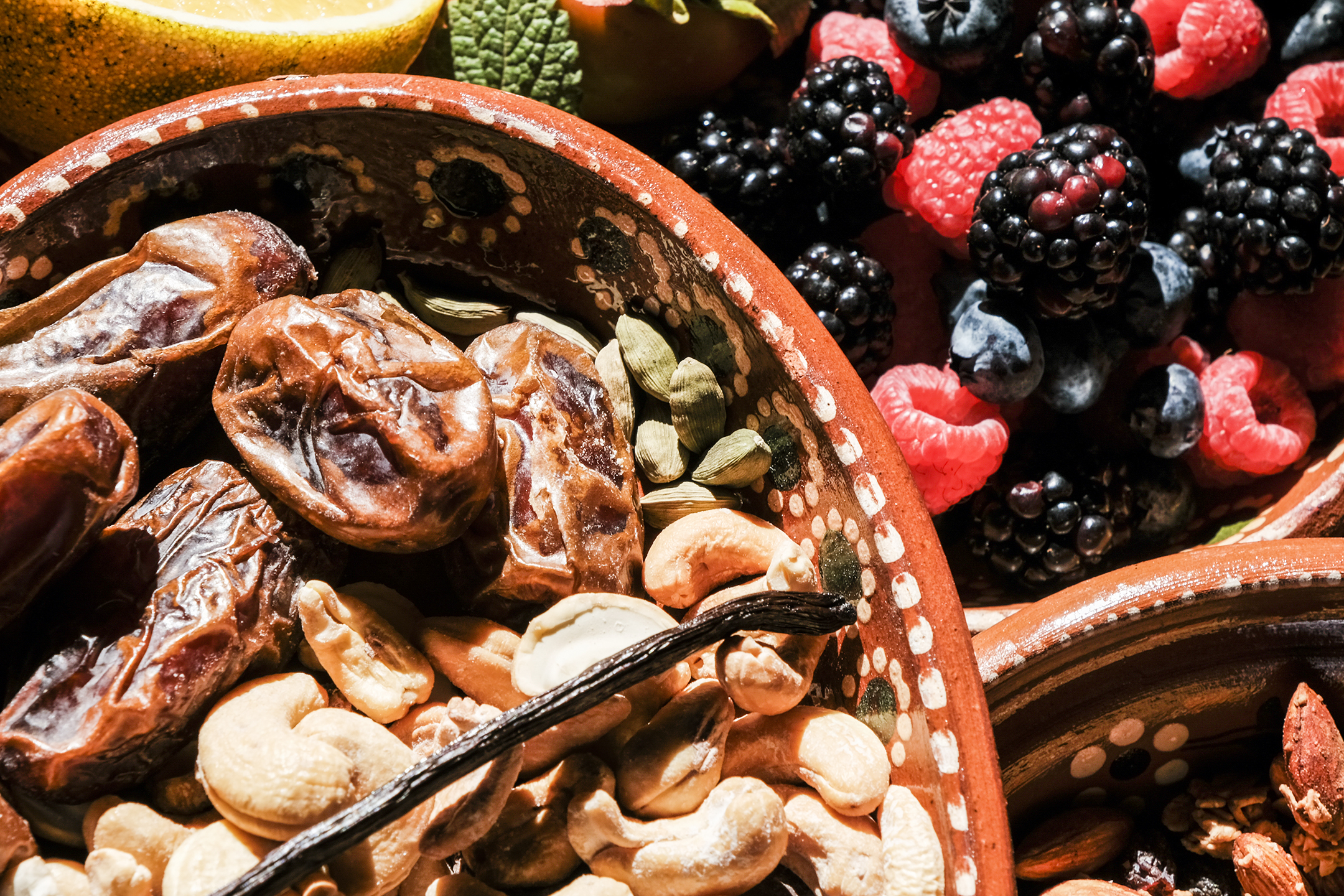 Ingredients for the cardamom cream:
1 ½ cups unsalted cashews, soaked overnight
¼ cup dates soaked overnight and pitted
½ teaspoon vanilla extract or 1 vanilla bean
1 teaspoon cardamom
1 pinch of salt
¼ cup water
Directions:
Drain the cashews and place them inside the blender. Add the dates, vanilla extract, cardamom, salt, and water.
Process until you have a smooth paste. Add more water if needed.
Refrigerate until ready to use.
Ingredients to garnish:
1 ½ cups fresh seasonal fruit, sliced (We used persimmons from Tres Estrellas Garden!)
½ cup fresh berries
1 small bunch of fresh basil or mint
Edible flowers
Directions:
Take the tart shell with the chocolate mousse and pour the cashew-cardamom cream on top of the chocolate.
Decorate with seasonal fruit, berries, fresh basil, mint springs, and edible flowers.
Refrigerate until ready to serve.
See more dessert recipes from our kitchen and guest chefs or learn about our cooking school.