"Viva Mexico!" These vegetarian Chiles en Nogada have a depth of flavor and texture much like the diversity of Mexico. There's the heat of the poblano chili, the delight of cinnamon, the smooth butteriness of walnuts, and the sweet subtly of apple… all dancing together in a harmonious celebration of character and flavor.  The culinary team at Rancho La Puerta would like to share this recipe in honor of Mexican Independence Day, September 16. The green parsley, red pomegranate seeds, and white walnut – nogada in Spanish –  represent the colors of the Mexican flag.
Serves four and once prepped, takes an hour and a half to cook.
Ingredients
4 Poblano or Anaheim Chilis
Filling
3 tablespoons olive oil, divided
½ onion, finely diced
3 garlic cloves, finely chopped
½ pear, finely diced
½ quince, finely diced
½ plantain, finely diced
½ apple, finely diced
¼ cup almonds, chopped
1/8 cup raisins
1/8 cup green olives, diced
1 tablespoon capers
1 ½ cup white button mushrooms, finely chopped
1 cup cooked lentils
1/8 tsp ground clove
1/8 tsp ground cinnamon
1/8 tsp ground allspice
Salt
Pepper
Nogada Sauce
1 cup walnuts, soaked in water overnight and strained
1 cup unsweetened almond milk
1 cup gluten-free bread, diced without the crust
1 tablespoon date paste (dates soaked in water and blended)
1 tsp white wine
Sea salt, to taste
Garnish
1 cup pomegranate seeds
4 parsley springs or ¼ cup minced parsley
Prep
Soak the walnuts overnight, make date paste (method below), and precook the lentils.
Date Paste
1. Soak a handful of pitted dates for 30 minutes in water, and then drain.
2. Place in a blender until smooth.
3. Voila! You made date paste.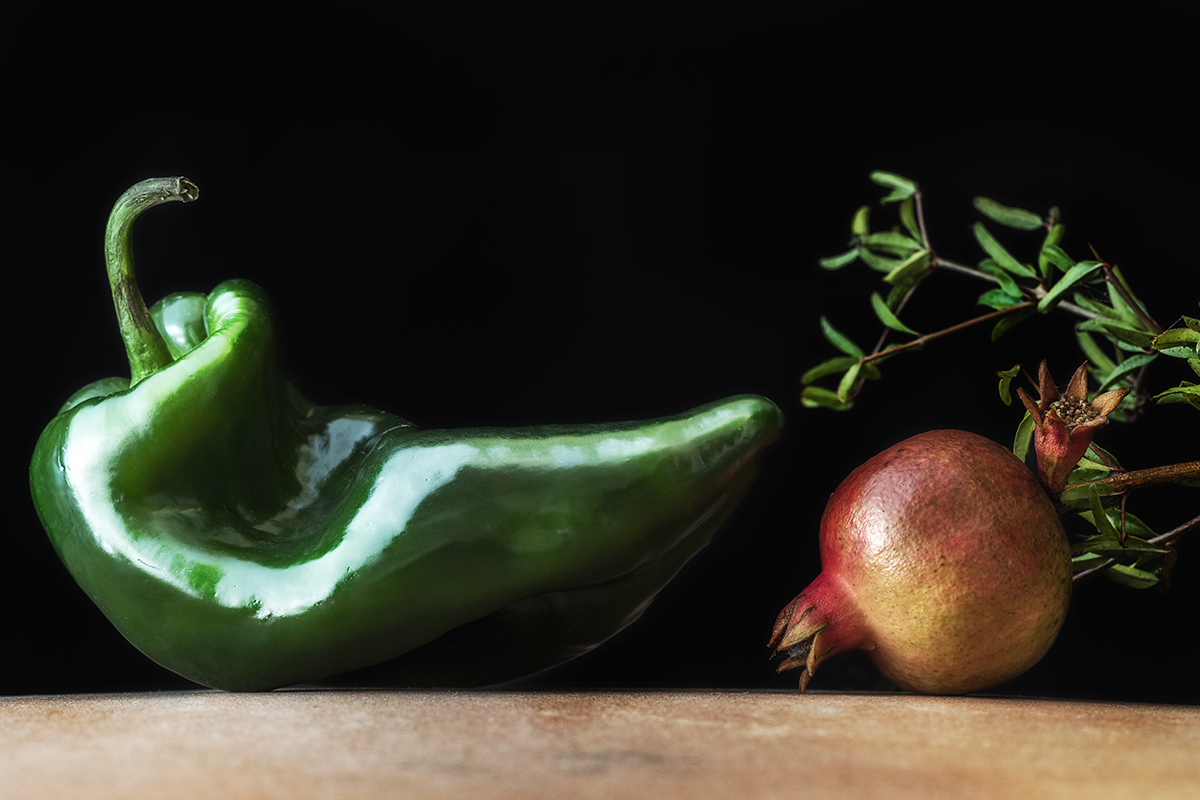 Method for the Filling
Heat a skillet and add 1 tablespoon of olive oil and sauté the onions until translucent, add the garlic, pear, quince, plantain, apple, almonds, and raisins. Cook until golden brown and then add the olives and capers. Reserve this stuffing in a bowl.
Add another tablespoon of olive oil and cook the chopped mushrooms until all water evaporates.
Add the lentils, the stuffing, and spices. Cook and stir until everything is well combined, season to taste with salt and strain any liquid.
Method for the Chilis
Toast chilis over an open flame until the skins are blistered and blackened on all sides. Transfer to a paper or plastic bag and let rest for 10 minutes, so the skins become soft and easily removed.
Peel the skin to just below the stem of each chili.
Make a 2-inch split lengthwise in each chili and remove the seeds.
Carefully insert stuffing in each chili and set aside.
Using an electric mixer set on medium-high speed, beat the egg white until it doubles in volume. Add the whole egg and season with salt and pepper and continue to whip until mixture doubles again in size and reaches soft peaks.
Sprinkle flour on a plate and dredge the chilis through the flour to coat all sides.
Lightly spread a sauté pan with ½ tablespoon of olive oil and place over medium-high heat. Dip each chili into the egg batter and cook for about 1 ½ minutes on each side.
Lightly coat a baking pan with olive oil. Transfer the chilis to the baking pan and bake at 350 degrees for 15 minutes. While chilis are roasting make the Nogada sauce.
Nogada Sauce
Place the walnuts, unsweetened almond milk, gluten-free bread, date paste, and wine in a blender. Blend until smooth and creamy texture season to taste. Serve at room temperature.
Plate the stuffed chilis and spoon the sauce to completely cover each chili.
Sprinkle the pomegranate seeds and parsley.
¡Buen Provecho!
See more recipes or brush up on your cooking skills during your stay with us at a class at La Cocina Que Canta.