What I love about The Ranch is the answers to the questions in my head are always right around the corner.  This morning I knew I was in need of a workout, but did not have the energy for a hike or intense cardio activity.  I bumped into Veera in the Dining Hall at breakfast and seeing her reminded me to take her Gentle Yoga class at 10:00am.  I'm used to heated power yoga at home, but today my body wanted some gentle stretching instead of a string of chaturangas to pumping music.
The class couldn't have been more perfect; in fact, there was not one chaturanga!  Just gentle yoga stretching for my tired body, which ironically woke it up a bit.  The class was packed, yet peaceful.  I felt that we were all in need of the same thing right after breakfast. The sun shown through the windows and the birds chirped outside.
It was a lovely practice.
During our stretches, Veera in her soft yet powerful voice, would tell us wisdom passed down from yogis in India or quotes or tales.  My favorite was the Cherokee "Tale of Two Wolves" which I had heard before, but am so glad she reminded me of it this morning.
ONE EVENING, AN ELDERLY
CHEROKEE BRAVE TOLD HIS
GRANDSON ABOUT A BATTLE THAT
GOES ON INSIDE PEOPLE.
HE SAID "MY SON, THE BATTLE IS
BETWEEN TWO 'WOLVES' INSIDE US ALL.
ONE IS EVIL. IT IS ANGER,
ENVY, JEALOUSY, SORROW,
REGRET, GREED, ARROGANCE,
SELF-PITY, GUILT, RESENTMENT,
INFERIORITY, LIES, FALSE PRIDE,
SUPERIORITY, AND EGO.
THE OTHER IS GOOD.
IT IS JOY, PEACE LOVE, HOPE SERENITY,
HUMILITY, KINDNESS, BENEVOLENCE,
EMPATHY, GENEROSITY,
TRUTH, COMPASSION AND FAITH."
THE GRANDSON THOUGHT ABOUT
IT FOR A MINUTE AND THEN ASKED
HIS GRANDFATHER:
"WHICH WOLF WINS?…"
THE OLD CHEROKEE SIMPLY REPLIED,
"THE ONE THAT YOU FEED"
I'm so thankful I was able to experience Veera's teachings this morning.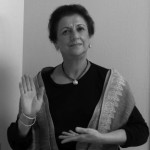 Veera Sanjana approaches her yoga practice with gratitude, reverence and love. Veera is a certified Hatha Yoga teacher and her teaching style is best described as 'meditation in motion'. Veera's unique yoga teaching style stresses a strong fluid practice with emphasis on mind, body and breath connections to direct our attention inwards. She sets a rhythm that allows her students to explore their own inner world.
Veera was born in India and was schooled in the ancient yoga traditions from a very early age. Veera is able to bring alive the essence of ancient wisdom teachings for modern seekers, in a way that allows students to connect deeply with their own authentic power and spirit.
In her classes, she skillfully weaves together the teachings and time tested practices of Hatha Yoga, Ayurveda and Vipassana Meditation to create a dynamic and integrated practice, that help us lead healthy, happy and effective lives. Each class is unique, based on a theme related to body, mind and spirit.
Interested in learning more about achieving a marvelous balance of mind, body and spirit?  Join us for a week at our 3,000-acre health and fitness resort in Tecate, Baja California, Mexico—about an hour's drive from San Diego, all with transportation provided. Make your reservation or request more information by calling 800-443-7565, or use our convenient online reservation form by clicking below.