This vegan Oat-Banana & Jam Power Muffins recipe from Fran Costigan (www.francostigan.com), the Queen of Vegan Desserts, is delicious any time of day. Fran shared these mini-cakes at her hands-on cooking class at La Cocina Que Canta. They make an easy lunchable, a  great dessert, or treat at breakfast.
Keep these moist, chock-full of healthy breakfast or anytime muffins in the freezer for grab'n'go.
Note: Set the batter aside 5 or so minutes before filling the tin, it 'grows'.
Makes 10 to 12 standard muffins; about 1/2 cup batter each.
Ingredients
1/2 cup + 2 tablespoons / 80g whole-wheat pastry flour
1 tablespoon coconut sugar, ground in a blender if coarse
1 1/4 teaspoons aluminum-free baking powder
1/2 teaspoon baking soda
3/4 teaspoon cinnamon powder
1/8 teaspoon fine sea salt
3 tablespoons rolled oats
3 tablespoons raisins, or currants or dried cranberries, your choice
1/4 cup sesame seeds toasted and cooled
1/2 cup / 4 ounces any non-dairy milk
1 ripe banana mashed, about 1/3 cup / 55g
3 tablespoons/ 1 1/2 ounce pure maple syrup, Grade A dark
1 tablespoon any neutral vegetable oil
1 teaspoon apple cider vinegar
1 teaspoon pure vanilla extract
1 to 2 tablespoons all-fruit jam, 1/2 teaspoon per muffin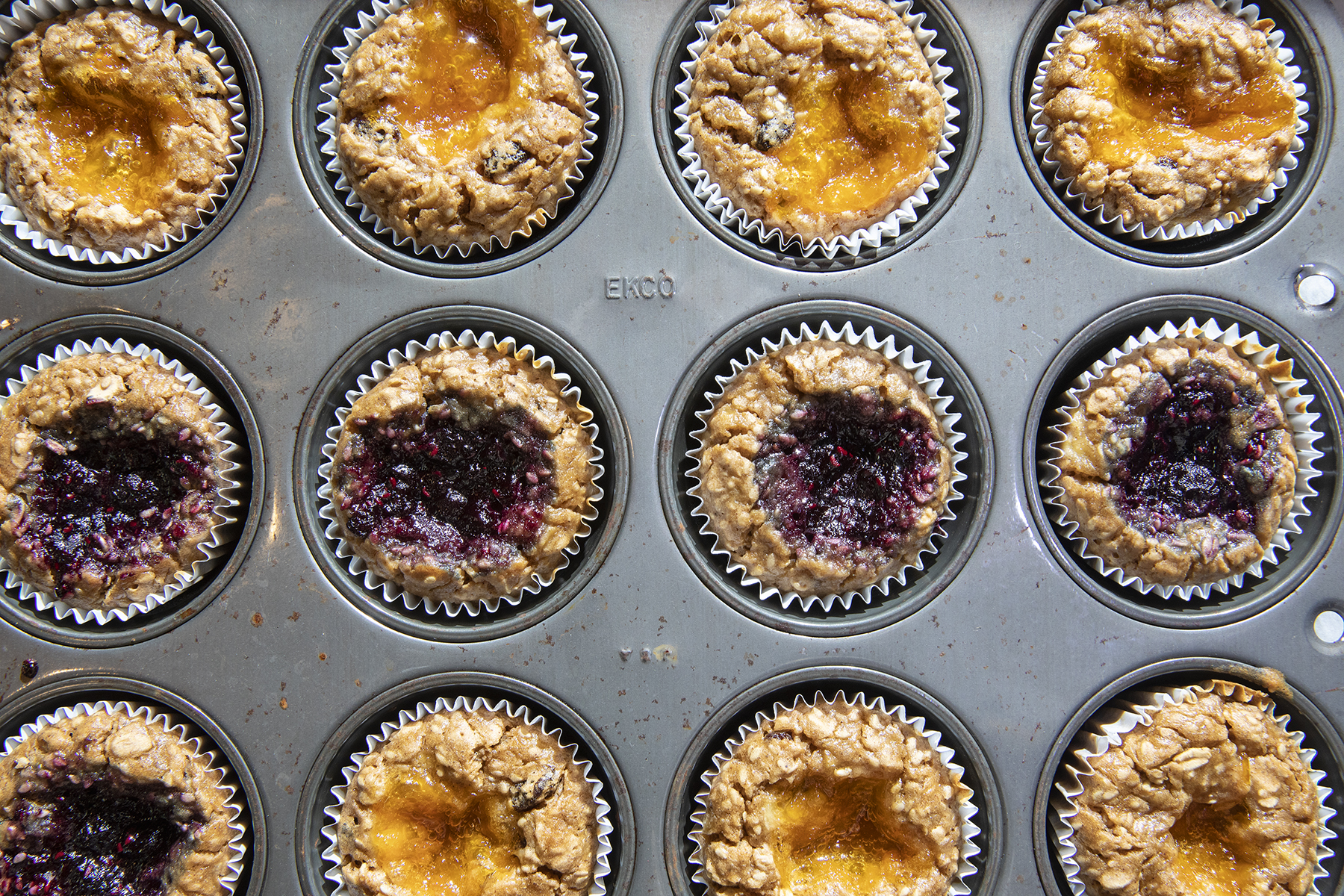 Position a rack in the upper third of the oven and preheat to 375°. Oil the cups and tops of a standard 12-cup muffin tin or use paper liners. You do need to oil the top of pan, unless nonstick. Mini muffin tins are a great choice too.
Place a wire mesh strainer over a medium bowl. Add the pastry flour, coconut sugar, baking powder, baking soda, cinnamon, and salt to the strainer, and sift the ingredients into the bowl. Stir the oats, raisins and sesame seeds into the dry mixture.
Mix the non-dairy milk, mashed bananas, maple syrup, oil, vinegar, and vanilla in a separate medium bowl until well blended. Pour into the dry mixture and stir with a spatula only until the ingredients are moistened. Allow the batter to rest for 1 minute.
Fill each cup 2/3 full. Drop about 1/2 teaspoon of jam in the center of each muffin. Bake for 14 to 15 minutes, or until the muffins are firm and light brown and a toothpick inserted into a muffin or two comes out clean or with a few crumbs. These muffins don't dome.
Cool the tin on a rack for 5 minutes and then use an offset spatula to lift them onto a cooling rack. You can eat them warm, but not hot- the jam will burn your mouth.
Keeping
Store the muffins in a tightly covered container for a day or two, or freeze them for up to a month.
Find out who's sharing their recipes at our cooking school, La Cocina Que Canta, or discover a special week for you to seek serenity.