We asked The Ranch's Yoga Instructors to reflect on their yoga practice and their bodies. This is the second entry in our two-part blog series.  Below are our instructor's answers to the question: "How has your relationship to yoga and your body changed as you've aged?"
Nathan Briner is in his forties.
In 1997 I was 22, and to be honest I started yoga as an ego thing. I was born bendy and flexible so it was easy for me to do the poses. I started in San Diego at a local massage school. It was the beginning of my trade in the therapeutic arts and medical massage. I saw yoga was offered and thought it would benefit my practice and understanding of the body.
Within three to four years my body hurt. I was getting injured in yoga. I had muscle problems, tendon issues and chronic aches. I was going too far into the poses and not listening to my body. It's what I call the language of defense. Our body doesn't speak in words, it speaks in sensations. When your body's trying to get your attention it speaks in pain. It speaks emotionally, you feel it in your solar plexus, in your heart, in your throat. I tried to push through the pain to get to the final pose but my body kept pushing back. The injuries continued.
Around five years into my practice, I switched from Ashtanga yoga to Iyengar yoga. My teachers showed me how to understand the appropriate movements and actions needed to do the poses safely. They taught proper alignment and how to use props to support my body and modify things according to my unique structure. My body started to improve.
At 10 years, an understanding came to me. I discovered what meditation was. Not necessarily the techniques of meditation, but the realized experience that is meditation. With awareness as my guide, I began to feel for myself  how and why to make a particular adjustment in the poses. And remarkably, when the body is in alignment, the quiet stillness of meditation arises effortlessly. And further, that precise alignment that reveals inner stillness is the exact alignment to not injure yourself. It is a beautiful feedback loop and it is what inspires me to get on my mat to practice. 
As I enter my 20th year of practice, my relationship with yoga has gone from an ego focused gym class to something that I deeply respect and look forward to. The gifts of discovery offered by this practice have helped me to have a wonderful relationship with my body. It continues to open my heart, and it has given me compassion and insight into helping others who struggle with pain and injuries.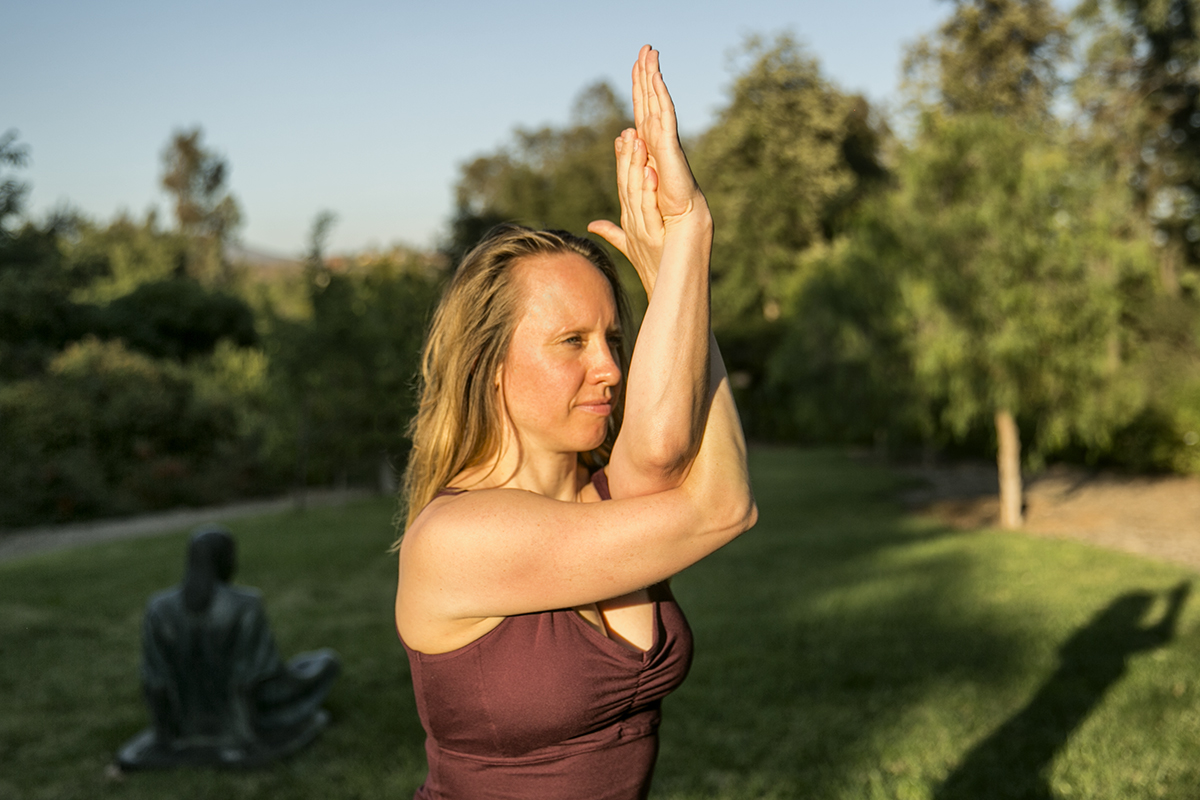 Hazel Stricker is in her thirties.
After finishing an aerobics class in college, I remember walking by the yoga class next door. I found it quite strange with the soft lighting and candles, and the students just lying there. When I finally tried it myself a few years later, I loved it — the intensity, sweat, the workout of the power yoga class. As a former gymnast, I loved believing I was the best in the class. It was all about going for the "perfect pose."
After losing my dad to suicide in 2004, I quit my job and moved to an ashram, the Himalayan Institute in Northeastern Pennsylvania, where I learned that yoga is much more than just postures. Through my loss, I found the encouragement to slow down, breathe and listen to exactly what I needed.
And so now, after 10 years at The Ranch, I still love yoga for the physical benefits and for healing the body on many levels. But even more, I appreciate taking the time to slow down, listen, and pay attention, to myself, and the world around me.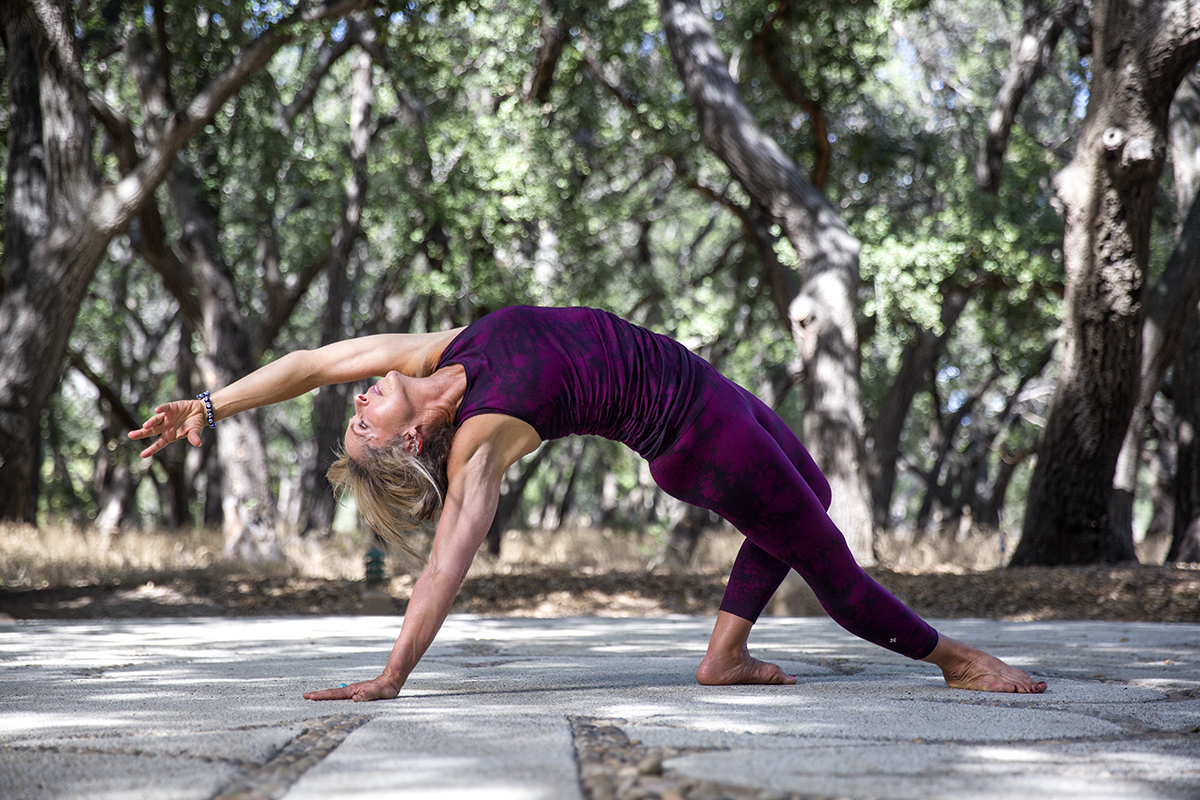 Susan Gwaltney is in her fifties.
My yoga journey started at Rancho La Puerta (where all good things in my life began). I was teaching fitness classes, and noticed the beautiful energy and joy that surrounded the yoga teachers. And so, with every free hour I had from my teaching schedule, I took classes from The Ranch teachers. On my days and evenings off, I drove to San Diego and took more classes, taking as many classes as I could fit into my day. I drenched myself in yoga.
I completed my teacher's training and studied with my mentor Phyllis Pilgrim. She worked weekly with me on my lessons, and to this day, I go to her with questions regarding a yoga pose or philosophy…  That was in 1996 and I have never stopped teaching or being curious about the ancient practice of yoga.
When I first started, like most western students, my practice was physical.  I liked it and could do most poses, but in the "doing," I missed the essence of the pose.  My "asana" [yoga pose] teaching and practice today still have the physical component to it, at 56 years of age. I like to feel grounded and strong, balanced and challenged and we practice that on the mat, in a kind way. Having moved into teaching Kundalini Yoga and meditation, my personal practice is more of mind expansion, chanting, and using yoga as my "medicine box" for good health and true wellbeing. When I am teaching a Level II Yoga class at The Ranch, I notice that my cuing has changed to focus more on the chakra system and the 10 Yogic Bodies philosophy while offering a challenging physical practice.
I love this practice and know that I will take it with my life's ever-changing journey! Yoga is my steady friend.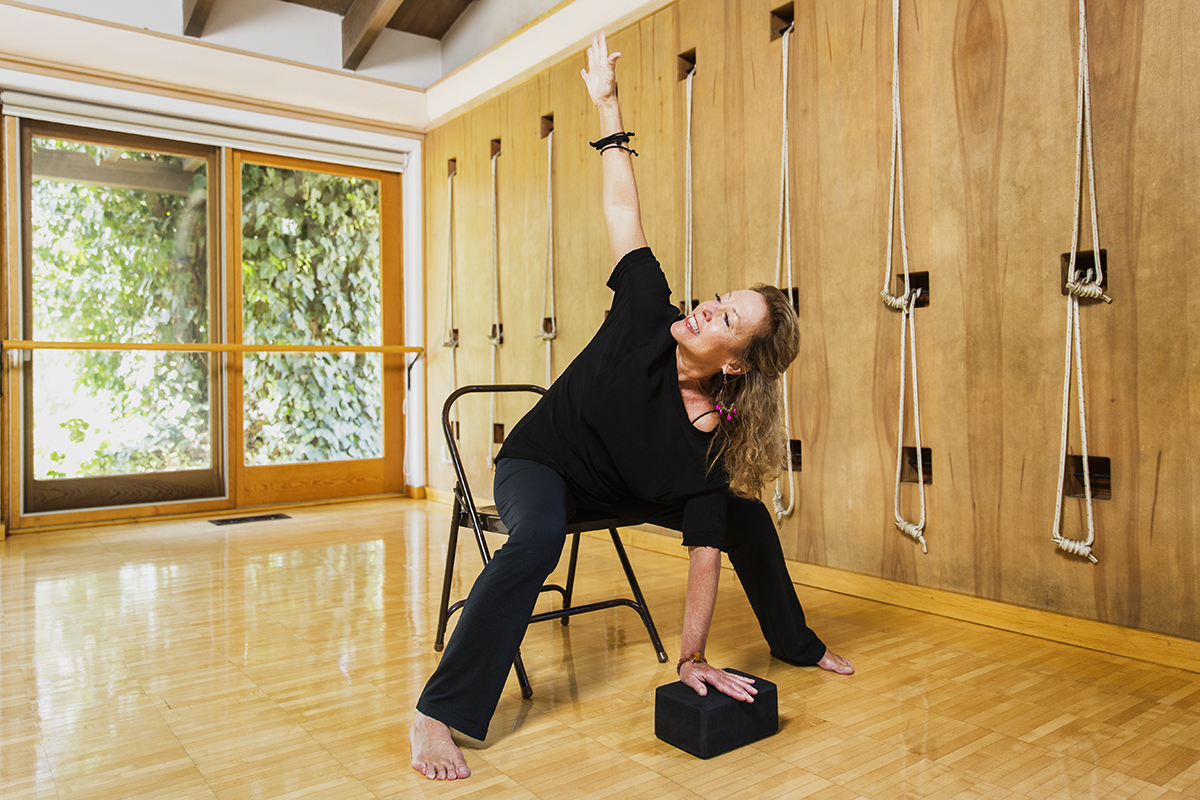 Susana Moore is over fifty.
I first began practicing yoga when I was a guest instructor here in the 80s. At that time, we did yoga in Kuchumaa gym. I remember getting to take classes there with a teenage Baron Baptiste (who is now a great yoga star) but I thought it was rather boring sort of "lie around on the floor and breathe."
In 1989, when I was the program director at the Shiley Sports Center of Scripps Clinic [in San Diego, Califonia] I began practicing the very athletic, gymnastic form of yoga called Ashtanga. The greatest American teacher was in Encinitas, California: Tim Miller. I was drawn to the athleticism and difficulty. At the time I was a runner and have since completed several marathons.
One of the popular Ashtanga teachers of the time, Dominic Corigliano, had the inventive idea of using music in his yoga classes. That was unheard of at the time. His classes were packed. I taught Hatha/Ashtanga inspired classes for eight years at Frogs Gyms in Solana Beach and Encinitas, California.
At that time, I began coming to The Ranch as a regular guest instructor. There was a diverse array of visiting master teachers. It was a great learning ground; they would always provide a workshop just for the yoga staff. We got to study with Aadil Pallhivla, Eddie Marks, Mary Obendorfer, and Aman Keyes, among others.
Since I got injured in 2012, my yoga practice has been much more in the therapeutic realm.  I often practice in a chair. I think once you have yoga habituated into your body and nervous system, you always carry with you that sense of ease in moving, walking and sitting. Although I can no longer practice with athleticism, I enjoy yoga from a restorative and therapeutic perspective.
For more perspectives on yoga and maturing, read Part I here.  Learn more about our yoga program.