A week at The Ranch is not an easy one to describe. When you pull a chair up, ask anyone you dine with, and they will tell you the same thing! We all share a similar sentiment about a genuinely indescribable experience; the gathering of incredible people, instructors, staff, weather, and experiences is unique to that week! In essence, you will never be able to replicate it – that's what makes it so special. The exact makeup of events, interactions, laughter, and joy will be different the next week and exceptional for those joining.
The week I spent at The Ranch was Specialty Pickleball Week – we had people joining us from all over to learn the game, grow their skills, build their strategy, and have a great time doing it. A handful of people shared with me that The Ranch is where they first came across the sport and have been playing ever since. We also had some guests picking up a paddle for the first time. No matter the skill level, there was a lot of laughter and fun on and off the courts.
One surprise was that from my last visit to The Ranch, the program has grown twice in size as the sport's popularity has grown. People came already knowing how to play and were seeking more advanced knowledge and information than before.
I LOVED the Energy that the guests brought. We ended up being family! Pickleball fits in GREAT with The Ranch. Guests want to move, exercise, and laugh. Pickleball provides the whole package.
I am grateful for the experience, and the time people invested with me. I left the week invigorated by the fantastic people I met and coached and I'm thankful for the heartfelt connections I made through the week.
Paddle up!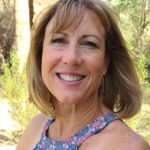 Nancy Meyer came to the sport of pickleball five years ago, and her passion and enthusiasm for the sport are boundless. She is a Certified Pickleball Professional with the International Pickleball Teaching Professional Association (IPTPA) and holds a Professional Pickleball Instructor (PPR) certification. She is a long-time tennis player as a Certified Teaching Professional (USPTA). Her expertise in racquet sports started young, playing tennis and badminton in college, which turned into teaching and coaching youth across the valley in Phoenix, AZ.
Learn more about our Pickleball Specialty Weeks and more of our offerings.