The uplifting aroma of rosemary permeates the air at Tres Estrellas Organic Farm and The Ranch, where large green bushes of this herb line the pathways. It's used in recipes like Shrimp and Red Peppers on Rosemary Sprigs and in body treatments such as Rosemary Loofah Salt Glow. Guests are treated to an aromatic bundle of rosemary sprigs in their casitas, and the water in the dining hall is often infused with rosemary.
Naturally it made sense to incorporate Rosemary in the  La Puerta Core Essentials™ hair, face and body collection. Rosemary can help relieve stiff joints and muscle aches, improve mental clarity, promote circulation, and increase energy. It's a great addition to skin and haircare products. And while Rosemary essential oil can be helpful in preventative care, it is not a substitute for professional medical treatment.*
Rosemary Sage Hand and Body Wash
Use Core Essentials hand and body wash in your morning shower to put an extra bounce in your step. Rosemary and Sage essential oils are known to uplift spirits and refresh the body, and this popular hydrating wash has an incredible aroma.
Lavender Rosemary Shampoo and Conditioner
In haircare, Rosemary essential oil stimulates circulation on the scalp, nourishes hair roots, and increases luster. Lavender is also added to regulate sebum production, which is helpful in treating oily scalp.  It is known to improve blood circulation, bringing more oxygen to the scalp and improving the healthy appearance of the hair. Rosemary Lavender Shampoo gently cleanses and maintains the health of hair, and Lavender Rosemary Conditioner revitalizes, hydrates, and smooths the strands.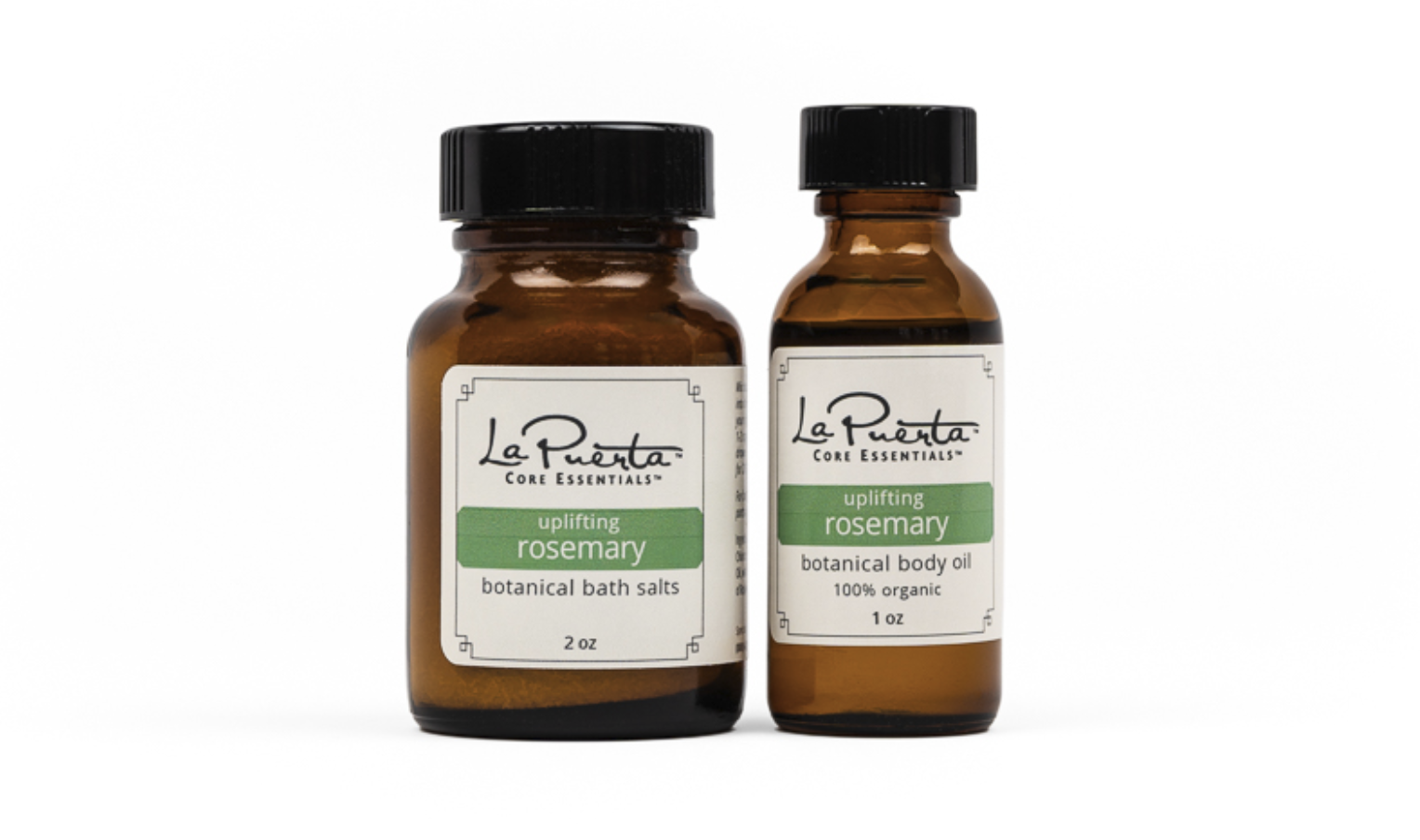 Uplifting Rosemary Botanical Body Oil
La Puerta Core Essentials™ Uplifting Rosemary Botanical Body Oil is formulated with 100% Organic Rosemary Essential Oil in a base blend of certified Organic Oil. The name says it all – it can uplift your spirits while nourishing and conditioning the skin. Use it on its own as a massage oil or as a body oil after a bath or shower.
We love rosemary at The Ranch. If you have a garden we encourage you to grow this perennial evergreen and use it in your water, cooking, and as a natural aromatherapy. Try out our Core Essentials rosemary products as well, and let us know what you think.
*Rancho La Puera makes no health claims for these essential oils.