I'm standing at the edge of the main pool looking at the sea of floating rafts and asking myself, "What am I doing here? You don't practice yoga much, and you're going to embarrass yourself and fall into the water." I did all that and had a blast. It's time for Aqua Board class with Ranch Health and Fitness Specialist, Adam Gallo, and I'm thrilled. This is the perfect class for summer. Every Health and Fitness Specialist at The Ranch has a slightly different approach to teaching the class. Adam's focused on building and maintaining stability, while others may focus on strength.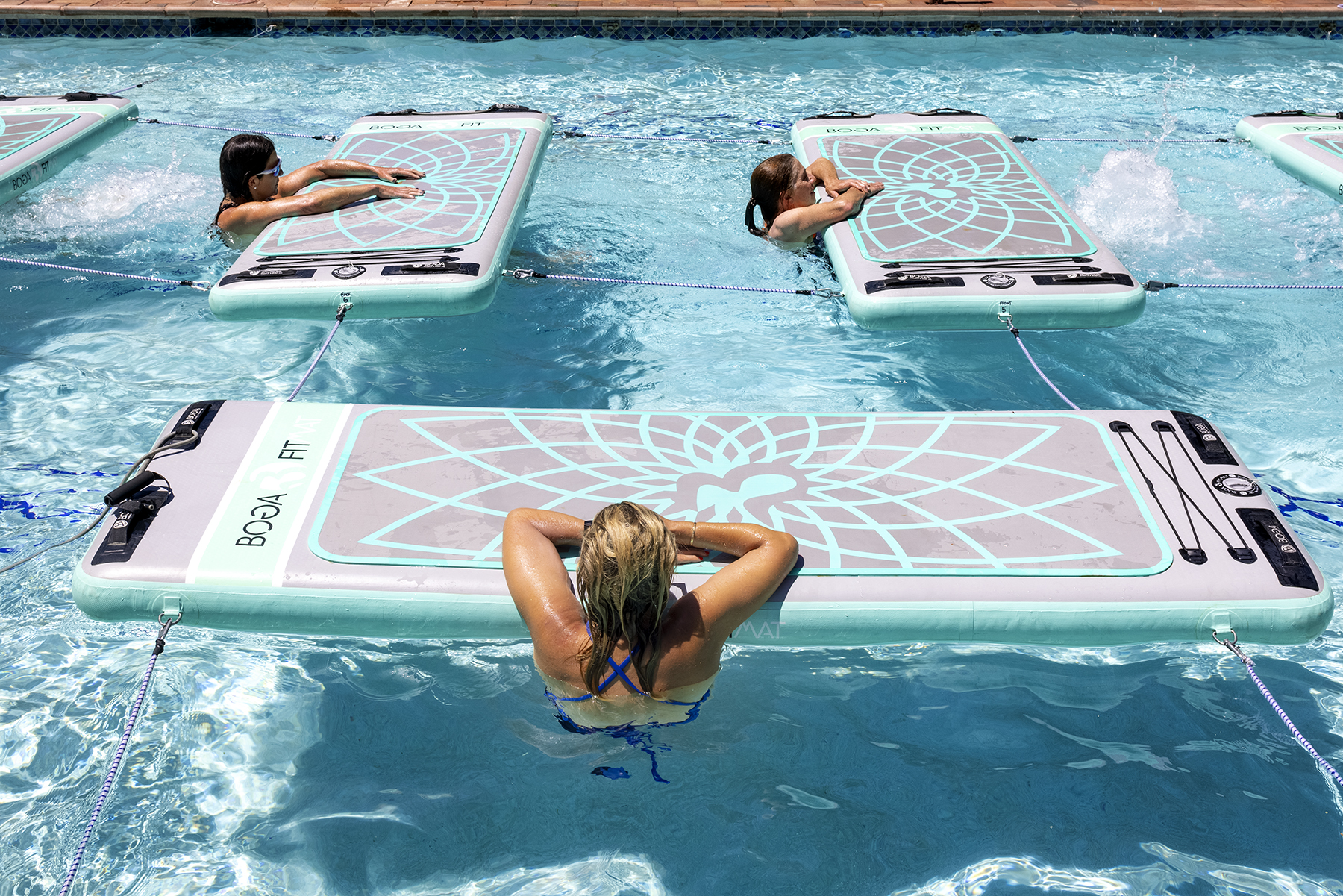 We start by dropping into the pool, holding the ropes on the board, and kicking with straight legs. The pool is wavy, but the board is surprisingly stable. They're' tethered to each other at their four corners.  This is starting to be better than I thought.
From there, Adam has us jump up on the board like a baby seal sunning at the beach; palm down on the board, proud chest, head held high. As we jump and place our hips onto the board, he shows us how to swing our legs up to be on all fours. So far, I'm looking good. I got this.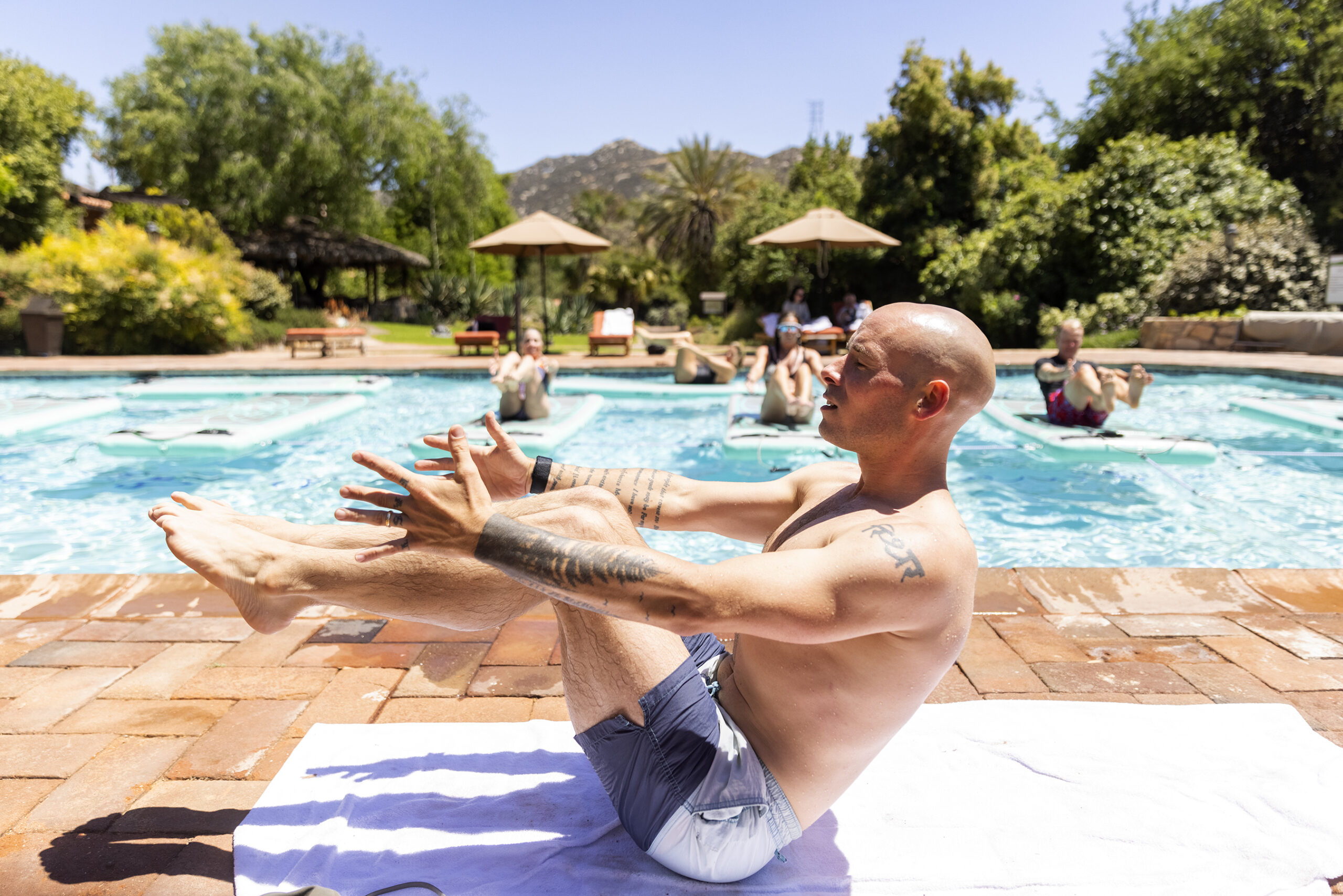 Then we began rocking our boards from side to side, front to back. The grippy surface is enough to keep me planted on the board. After a few repeats of jumping on the board and rocking on all fours, I hear Adam say the words I've been dreading. "We're going to stand up now."  Wait. What? I'm like a toddler on this bobbing floor. Am I ready for that? Like a good parent, Adam demonstrates poolside how to go from all fours to standing.
And like a wobbly toddler, I was the first to fall into the water. It's not that the board is so unstable. It's that I was standing to one side of the board like a rookie and slid right into the water. Believe it or not, I can surf, ride a skateboard, and love snowboarding. I know how to stand on a board while it's moving. But today is special. We're combining yoga, Pilates, and paddleboard into one fitness class and bringing elements of all of them into the moment. And I love it.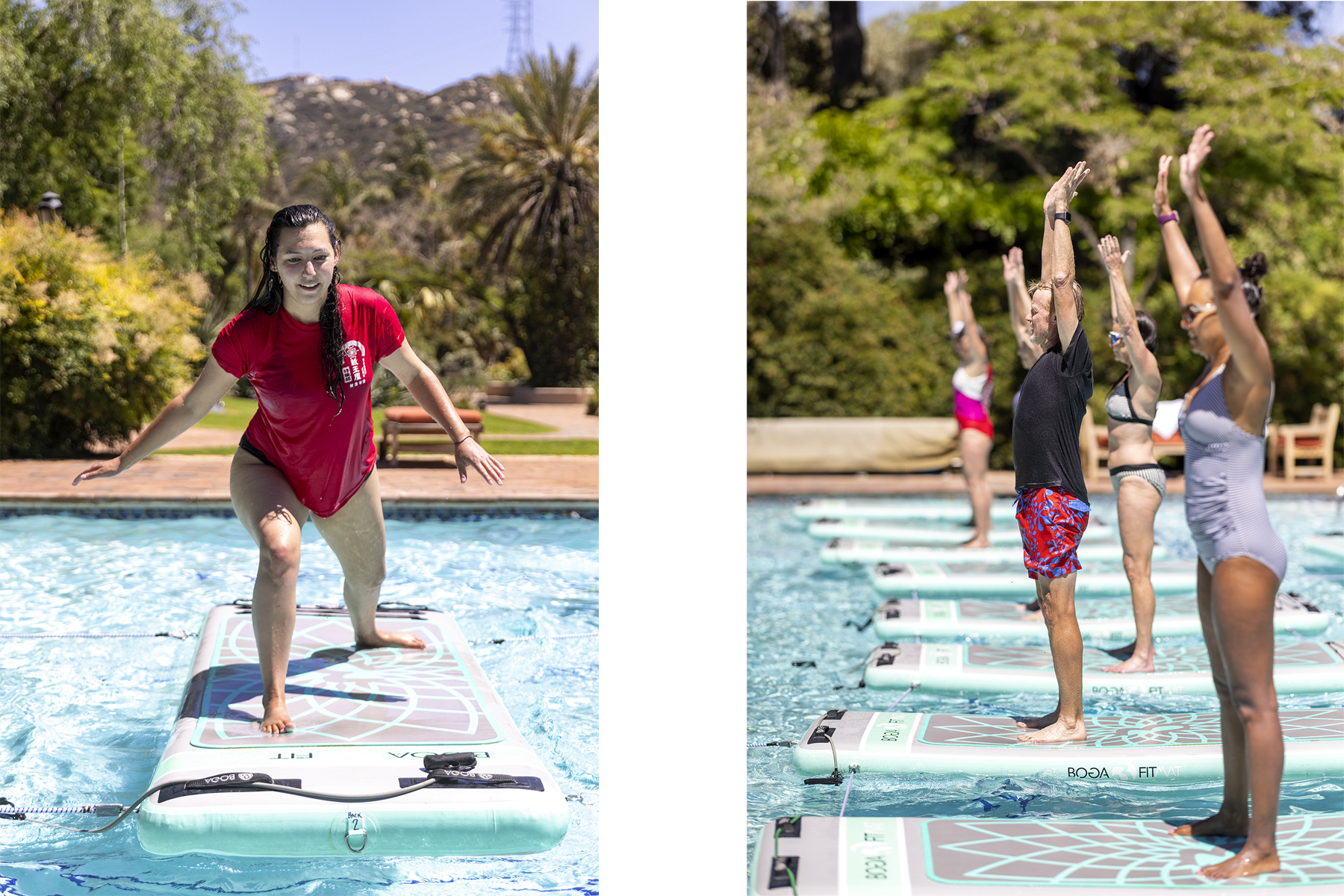 "My main goal is to help you with stability," Adam tells us. "But my secondary goal is to get you to fall off.  Once you've fallen off, you loosen up, and then the fun really begins. It's a challenging class, but it's a great way to enhance your balance and stability." And he reached his secondary goal pretty quickly with a few holdouts with excellent balance and stability falling in last. And as they fell, Adam did a victory lap with a slow jog around the pool with his arms in the air as if he just won gold at the Olympics.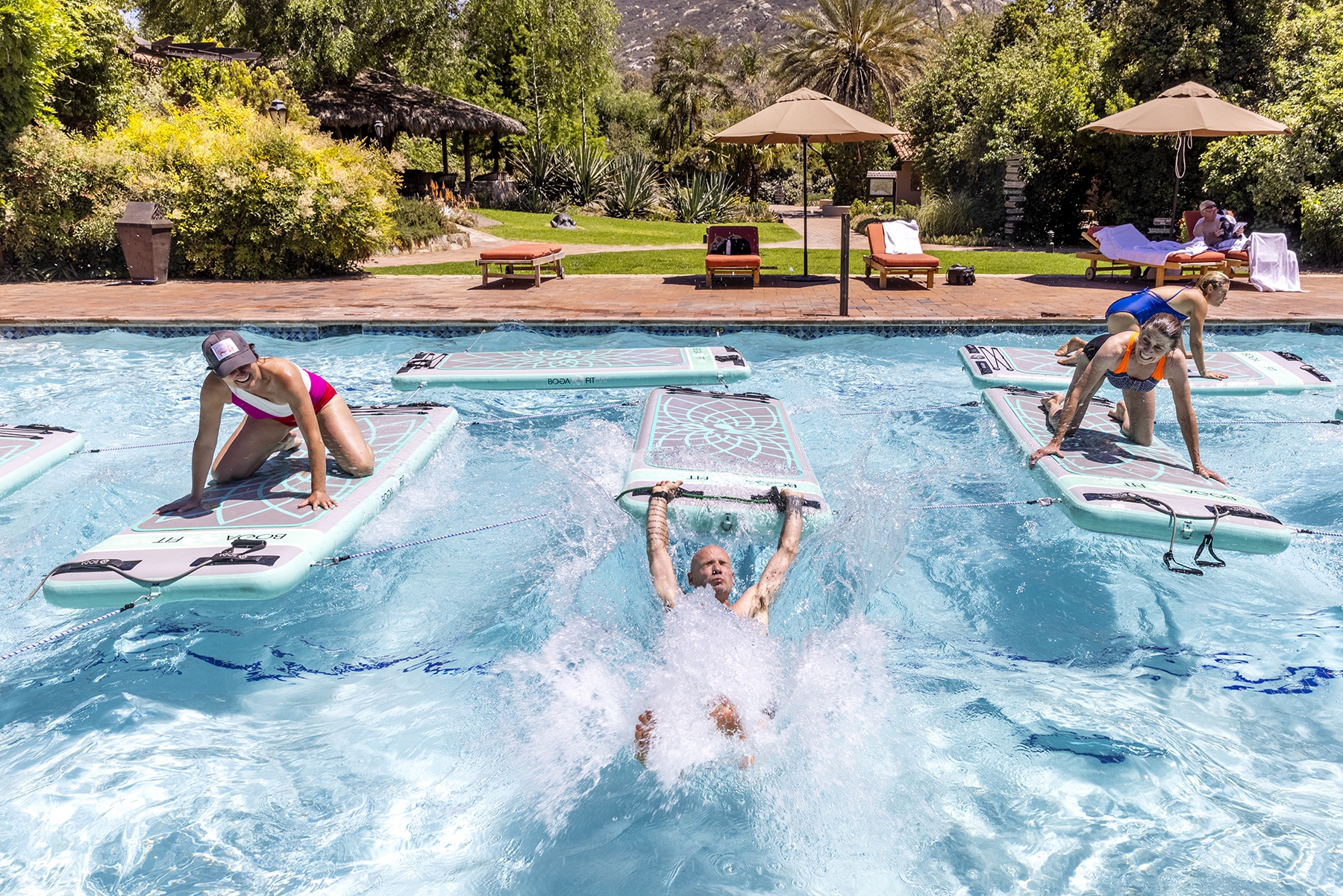 After falling into the water, it was time to get into the workout. First, we worked our core with crunches, planks, and pushups. Then, we focused on our stability with downward dog, upward dog, bird dog, and a few other dogs before attempting Warrior poses and falling back into the pool. I started thinking of the class as a yoga class with a refreshing pool dunk between poses. It was the perfect afternoon class on a beautiful day. And, it got out with enough time to dry off and head to sound healing. It was a great afternoon.
Learn more about our activities or learn more about The Ranch.